Riding on 'Azadi' wave, Shehla Rashid encounters cyclone of J&K politics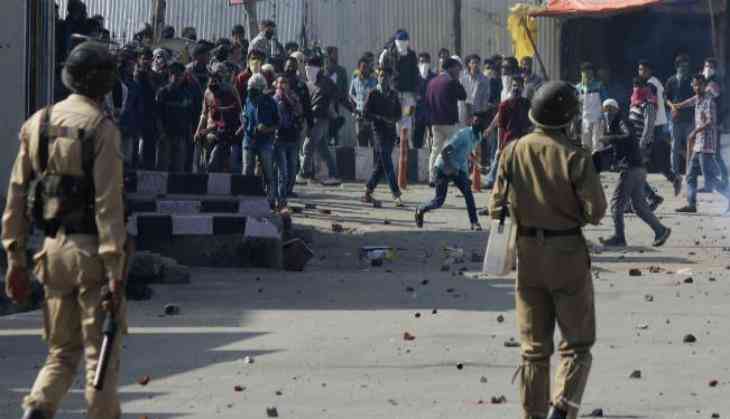 Operating from her office in Srinagar's posh Rajbagh, the student leader turned J&K politician Shehla Rashid's day begins early in the morning. It is here that she gives interviews to the media and sets off to meet people in far-off villages to mobilize support for her fledgeling party J&K People's Movement headed by the IAS officer turned politician Shah Faesal.
"It doesn't involve much of an expenditure as of now," she says when asked how does the party fund its activities. "The activities are largely arranged by our supporters in the areas. Besides, we have some money arranged through crowd funding which suffices for now".
But she agrees that the party would need money to contest Assembly polls planned after the ongoing Lok Sabha election. The JKPM has given a miss to the Parliament election choosing to devote time to build its presence on the ground.
And here Shehla is playing a critical role. Her experience and reputation as a student leader at JNU is coming handy. It has made her easily identifiable and as a result easier for her to connect with people. But this won't be enough - and Shehla admits it - to carry conviction in Kashmir.
She agrees that the troubled nature of the state has made the job deeply challenging. And more so for a new entrant. His or her personal bonafides easily come into question. The motivation to join politics is questioned. There are entirely different metrics to test the personal and political credibility. It is determined on the basis of one's stance on the conflict in and over Kashmir. More hard-line you are in your call for its resolution in accordance with aspirations of the people of the state, more your acceptability. And more you define yourself in adversarial terms towards New Delhi, more you become worthy of public support.
Shehla knows it and like the party president Shah Faesal is determined to echo the "aspirations and expectations" of the people. But politics in Kashmir remains a daunting prospect nevertheless. And Shehla has decided to plunge into the thick of it.
Hailing from a middle class family in downtown Srinagar, it has been quite a journey for her so far. She went to JNU in 2013 and soon rose to become one of its prominent student voices along with her colleagues Kanhaiya Kumar, Umar Khalid and others. As Vice President of the JNU Students Union she along with her colleagues was instrumental in building a counter narrative to the then ascendant Hindutva. This lent her a national prominence.
What made her also conspicuous was being a student from Kashmir where a majority of people are perceived to want out of India. Her success lay in taking on the ruling ideology of the country without losing faith on either side of the political divide -with people of her state and that from rest of India.
Now as a politician in Kashmir, it is this credibility that stands her in good stead. And she does assert it in the service of her new calling.
"Dr Shah Faesal and I have no political legacy, dynasty or blood on our hands. We do not come from elite backgrounds," Shehla says. "If we ever come to power we will stand by our core principles and not make compromises for power".
But at the same time practice of such principles in the conflict-ridden politics of Kashmir will be easier said than done. For now, the JKPM has been sprung upon people of the state almost unsuspectingly. And that too closer to the polls. This certainly has set the party up as a potential alternative to the establIshed parties but its challenge so far is more imaginary than real.
The JKPM may have generated some buzz but much of it is due to the personalities of Shah Faesal and Shehla themselves and their exciting individual stories and career trajectories. The party is still struggling to build a coherent narrative or find a distinct place for itself in Kashmir's ideological spectrum. It is speaking to the issues of the people and trying to offer a hope but it is far from inspiring credibility.
"We are still in the process of getting people into our organization. And we are trying to build trust," Shehla says. "We have a position on the issues but it would need some fleshing out to do which would happen with time".
Having built her reputation as a fiery anti-establishment activist, and that too by opposing the all-powerful BJP at the centre, Shehla slots snugly into the role of a politician. She bravely fought for democratic freedoms framed appropriately as a fight for Azadi at JNU. But politics in Kashmir is not only about a normal democratic contestation between the ruling party and the opposition. It has to wrestle with a full blown separatist struggle in the state and the conflicts arising from the place of Kashmir at the heart of the contending nationhoods of India and Pakistan.
"We are for the resolution of Kashmir. And our party will be here to facilitate this resolution," she says. "It's imperative that this solution is acceptable to Kashmiris".
But there is little in this position that differentiates the party from the other established regional parties, some of whom are rhetorically more belligerent on the demand for a Kashmir solution. JKPM has thus a job on its hands before it plunges into active electoral politics in the Assembly polls, .
Shehla, however, is not fazed. Bred in the political conflict over the state and having witnessed it play out from the vantage point of her residence in downtown Srinagar through the nineties, she knows the sensitivities involved.
"Our goal is to introduce a politics of integrity in the state," Shehla says. "This will be the compass for position from governance to political issues. We believe this alone will serve us right".