Reading the tea leaves: Will Modi rejig his Cabinet before the Budget Session?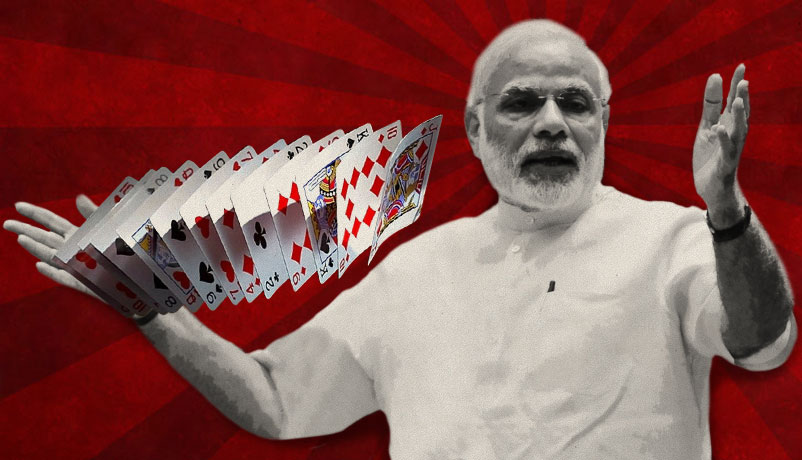 The speculation
There are rumours that PM Modi will rejig his Cabinet before the Budget
Some say FM Arun Jaitley will be replaced by Piyush Goyal
The ministers
Some of the ministers from Bihar may lose their berths
Sports minister Sarbananda Sonowal may move to Assam full time
More in the story
How reliable is the speculation?
What are Jaitley\'s failures?
How have other ministers performed
Once again, speculation is rife in Delhi about a possible reshuffle in the Union Cabinet ahead of the budget session of Parliament. The dates for the session are yet to be announced, but it is likely to begin somewhere around 20 February.
With less than a month left for the budget, this is conventionally not the most appropriate opportunity for changes in the Union council of ministers. However, this government has tried to give out the impression right from its swearing-in two years ago, that it is not really a big fan of upholding conventions.
If some sources within the government and a few media reports are to be believed, here are some of the ministries that might see a change.
01
Finance: Is Jaitley on his way out?
There is strong speculation that Arun Jaitley might be on his way out of the finance ministry.
Many of the fires that Jaitley was supposed to douse, are still burning. Retail inflation is still at a high of 5.61%, private investment in the economy is yet to pick up, net job creation just fell by 43,000 and exports have declined by 16.52%, in a long series of bad news for the economy.
If taken out of north block, Jaitley could then be given the defence portfolio. Now, this is not meant to be a defence for him, pun unintended, but replacing the Finance Minister just a couple of weeks ahead of the budget just defies common sense. If it happens after he delivers the budget, well that's another story.
Also read:
Declining exports, few jobs, falling rupee: Is this 7.5% growth, Mr Jaitley?
Lost jobs, shut factories: India's dark export story
7.4% growth in last quarter: But economists question govt data
02
Power: Piyush Goyal tipped as the new FM
It is said that Power Minister Piyush Goyal has caught Prime Minister Narendra Modi's fancy and he might be brought in as Jaitley's replacement. The ministries under Goyal - power, coal and renewable energy - are said to be doing well.
Coal production in the country is reported to have shown a growth of 9.1%. Goyal also recently launched a scheme to turn around the debt-ridden state electricity distribution companies.
Also read: Piyush Goyal's formula to help power distribution companies doesn't add up
If Jaitley moves to defence, which he earlier held as additional charge, it will be quite a verdict on present Defence Minister Manohar Parrikar's performance. The minister has faced a lot of flak for the alarming rise in infiltration and firing from across the line of control in Jammu and Kashmir.
Also, the defence ministry is yet to recover from the One Rank One Pension storm. Of course, the recent terror attack in Pathankot has turned the heat on the entire security establishment, including the defence ministry.
Unfortunately, the only times Parrikar manages to make the headlines, is when he makes a gaffe, something he has been doing with remarkable regularity.
04
Bihar ministers face the heat
Agriculture, Skill Development, Drinking Water and MSME - The factor common to these ministries is that they are all held by ministers from Bihar - Radha Mohan Singh, Rajiv Pratap Rudy, Ram Kripal Yadav and Giriraj Singh, respectively. The PM is reportedly unhappy with them because of the BJP's rout in the Assembly polls in the state.
Radha Mohan Singh faces additional scrutiny because of the government's failure in preventing farmers' suicides and improving agricultural growth.
Also read:
Growing economy, failing agriculture: why this is a disastrous mix for India
Agriculture Minister's explanation for farmer suicides -- love affairs, impotency and drugs
Agro minister says yoga can help deal with global warming
This group might also include MoS Railways Manoj Sinha and MoS HRD Upendra Kushwaha.
Consumer Affairs, Food and Public Distribution - Food minister Ram Vilas Paswan too shares a significant part of the blame for the NDA's electoral debacle in Bihar, but apparently he is likely to be spared the boot.
The BJP is facing a massive onslaught of being labeled anti-Dalit and anti-backward. Conscious that it doesn't have any Dalit among the party organisation's top office-bearers, it may decide against letting go of the Dalit leader from the Union cabinet. In fact, it may even allot him a bigger portfolio.
Sports - The current sports minister Sarbanand Sonowal has been appointed as chief of the BJP in Assam. He has also been nominated as the party's chief ministerial candidate for the assembly polls in the state, likely to be held in March-April. It is quite likely that he may exit the Union cabinet.
It is believed that Olympian Rajyavardhan Rathore, currently, MoS, Information and Broadcasting, may be given the charge of the sports ministry.
06
Is it just speculation?
However, it is quite possible that the Cabinet reshuffle before the Budget Session may turn out to be mere speculation.
In fact, a report in the Hindustan Times confidently claims that the Prime Minister has no plans to revamp his Cabinet in the "immediate future".
The BJP is also believed to be seriously mulling an organisational reshuffle, with party chief Amit Shah having started a fresh term. That may also have an impact on the Cabinet, as the party and the RSS may summon some leaders to serve the organisation.