Rahul set to take over from Sonia Gandhi. Young turks may replace old guard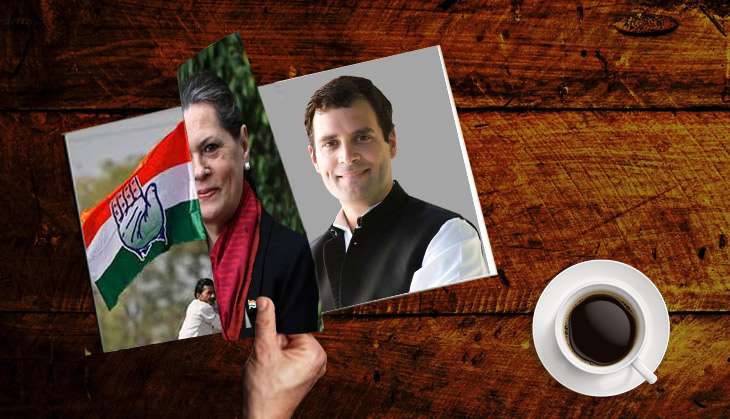 Change of guard
Congress leaders are now saying that Rahul Gandhi must take over the reins of the party
This might be formalised in the CWC expected to take place later this month
The impact
Congress\' old guard might be weeded out. General secretaries may face the axe
Young leaders set to assume greater responsibilities
More in the story
Who are the probables for Rahul\'s team?
Will senior leaders be accommodated?
As rumors of Rahul Gandhi taking over as the Congress President from his mother Sonia Gandhi are gaining ground, Congress on Wednesday fielded party spokesperson Sushmita Dev who took on the Modi government on its policies. While interacting with media, she was asked about the speculation on Rahul's elevation, she said, "Many party leaders and cadres have been waiting for Rahul Gandhi to become the party president. We would like Rahulji to take the lead."
Did she speak her heart out on how the next generation leaders, like her, aspires to see Rahul take absolute control of the party? Even Punjab Congress leader and former chief minister Amarinder Singh expressed his desire to see Rahul take over from his mother.
Also read:Big guns: Congress picks Chidambaram, Jairam, Sibal for Rajya Sabha
While addressing a press conference in Chandigarh, Singh said, "Sonia Gandhi is a brilliant leader. I have said that she has been working for the last 20 years. If she feels that time has come to give it to a new generation, then she should pass it on and we will fully support Rahul."
Rahul's elevation is almost a certainty and it is a matter of time before a formal announcement is made. The decision is likely to get a formal stamp during the Congress Working Committee (CWC) meeting that is likely to happen in the next few days. "In all probability it will be held after the Rajya Sabha elections that are due on 11 June," said a Congress leader.
While the prospect of Gandhi scion's elevation is being welcomed by the young leadership, seniors are resisting this change and are unnerved with the prospect of them being shunted out for the simple reason of accountability. To substantiate their claims, party veterans are citing Rahul's poor electoral record and style of functioning as the reason for Congress' poor performance. They resisted the change after the 2014 Lok Sabha debacle and blamed Rahul for Congress's dismissal performance winning only 44 seats.
However, sources close to Rahul Gandhi claim that the decision has been made and accountability is being fixed on those playing a game of musical chairs in the party. "They vacate one crucial position and go on to hold another equally powerful profile despite their shoddy performances. Rahul has had enough and wants to present a new face of Congress. With Soniaji retiring, her loyalists too would be shunted out as they have not been able to deliver on many fronts. Instead, they have misled the senior leadership on multiple occasions which have hurt the party interests," he said.
Organisational overhaul
Meanwhile, the organisational shake up will have Rahul written all over it and could come as a shocker for some of the Congress heavyweights who have been holding crucial positions for years. General secretaries like Digvijaya Singh, Janardan Dwivedi, CP Joshi, Shakeel Ahmed, BK Hariprasad, Mukul Wasnik, among several others are likely to be stripped of their duties. Instead, they will be asked to return to their respective states and work towards making the Congress a formidable force that it once was.
In fact, days after Digvijaya Singh's "major surgery" remarks didn't go down well with the leadership, Congress veteran and former union minister KC Deo suggested sending 15-20 senior leaders on a "compulsory holiday" for few years. Even Congress leader Abhishek Manu Singhvi asked for advisory roles for veterans and indirectly criticised Digvijaya for making such comments in public. In a series of tweets, Singhvi asked for an organisational shake-up and called for a new Congress Working Committee members and general secretaries.
Their claims were not unfounded after several of these functionaries have been accused of not having any connect with ordinary party workers which has hurt the party. State in-charge of Andhra Pradesh, Digvijaya Singh took it upon himself to oversee the process of bifurcation of the state and despite that Congress has lost its footing in the two states. "We have been pushed to the margins in Andhra and Telangana.. Why didn't he ask for a surgical intervention then? Can he help the party win Madhya Pradesh where he was a chief minister for two terms?" said a senior Congress leader who is expected to be one of the faces of Rahul's team.
Also read: Congress declares V Narayanswamy as next CM of Puducherry
Another General Secretary V Narayanasamy's performance has damaged the party's prospect in the north-east. During his tenure as in-charge, multiple rebellions erupted in the Congress ruled states while he was busy positioning himself as the chief ministerial candidate for Puducherry. Under his watch, Congress even lost power in Arunachal Pradesh to dissidents and similar incidents are unfolding in other states.
"His performance was the worst and still he has been named as the chief minister of Puducherry. This is exactly what is wrong with the party. We need to stop this culture," said another Congress leader who has been waiting forever for a promotion.
CP Joshi, Mukul Wasnik, BK Hariprasad, Mohan Prakash and Shakeel Ahmed are likely to face the axe. The two general secretaries that are unlikely to bear the brunt of this exercise include Ambika Soni and Madhusudan Mistry since they hold charge of Uttarakhand and UP respectively. It is unlikely that Rahul would want to disturb the status quo since these states go to poll early next year.
Even the octogenarian treasurer, Motilal Vora, will retire and questions over who will succeed him has led to intense speculations. Sources claim that names of Ahmed Patel and Milind Deora are being considered by senior leaders. "With Sonia Gandhi taking a backseat from party politics, Patel would no longer hold the same powers as he once did. His legendary fund managing skills could see him getting the post, but only if he agrees," said one leader.
Apart from these high profile general secretaries, some non-performing secretaries, heads of departments and state PCC chiefs are likely to get axed. For instance, PCC presidents of Bihar and Karnataka have not been changed since the last assembly elections. Similarly, other states would see new faces taking over from veterans. Some leaders have even suggested creating a BJP like margdarshak mandal for the seniors.
Meanwhile, those likely to replace these heavyweights include young turks like Jyotiraditya Scindia, Ajay Maken, Sachin Pilot, RPN Singh, Randeep Surjewala, Jitin Prasada, Prakash Joshi, and a handful of other young faces. These are well-known Rahul supporters and have been waiting in wings for ever. The Gandhi scion's elevation, a long standing demand, will also of end the confusion over the dual power centres in the party.
Also read: Congress goes into a huddle after Assembly poll debacle. CWC meet soon