Rahul Gandhi set for 25-day mahayatra in UP: will it change Cong fortunes?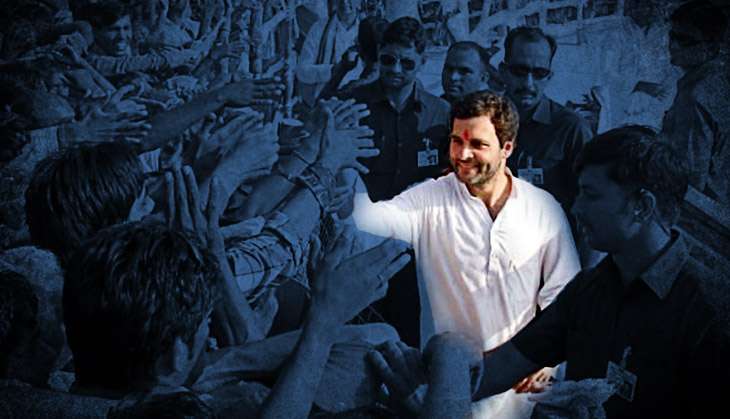 Rahul Gandhi is set to embark on a whirlwind tour of Uttar Pradesh, beginning 6 September, to build up support for the Congress party ahead of the crucial 2017 Assembly elections.
The month-long mahayatra will begin from Deoria in eastern UP, and culminate in New Delhi.
Spanning over 20-25 days, this is set to be the longest period Gandhi has spent in the state at a stretch.
During the yatra, the Gandhi scion will cover 2,500 kilometers, traversing through 55 Lok Sabha constituencies and 223 Assembly segments, according to party general secretary and the state in-charge for UP, Ghulam Nabi Azad.
He further added that the mahayatra will pass through 39 districts, and the Congress vice-president would have small meetings in 21 districts.
Seeking a turnaround
The Congress is hoping Gandhi can revive its fortunes in the poll-bound state, where the party has been on a steady decline since the late 1980s. That was the decade which witnessed the emergence of the Mandal-Mandir politics.
Out of power since 1989, the party has been desperately seeking a turnaround, which has eluded it ever since.
Gandhi did make serious attempts to bring back the glory days in 2011, when he extensively campaigned in the state. But he failed. In the run up to the 2012 Assembly elections, he addressed 211 big public gatherings over a period of 48 days between November 2011 and December 2012, but that didn't translate into votes. The party ended up winning only 28 seats, an addition of only six seats since 2007.
Interestingly, while making the announcement about the mahayatra, Azad repeatedly stressed that there would be no "big public meeting", and cited gathering large crowds as one of the prominent reasons for the decision.
The design of the campaign
The results of 2012 still seem to be haunting the Congress, and could well be the reason for not letting Gandhi address large meetings. However, a highly-placed source in Congress strategist Prashant Kishor's team denied this was the reason.

"This is how the campaign is designed. Instead of holding large meetings, we thought of letting him meet people in all these constituencies, and the 36 khat meetings are likely to attract lot of people. So, instead of doing a few large meetings, we decided to let him interact with people across constituencies," said the source.

Ever since Gandhi took the plunge into electoral politics, he has never campaigned in any election bound state for 20-25 days at a stretch. Previously, the maximum time Gandhi spent at a stretch in an election campaign was in 2011, when he spent five days in UP, holding back-to-back rallies in Gorakhpur, Deoria, Ballia, Mau and Azamgarh.

Having managed to create a buzz in the poll-bound state, the Congress is hoping Gandhi's mahayatra will be as successful as Congress president Sonia Gandhi's roadshow in Varanasi, which attracted thousands. At least that is what Kishor is hoping for. He even informed senior leaders that Sonia's rally was just a glimpse into what he had in store for the Congress.

Gandhi's mahayatra comes hot on the heels of two yatras led by state Congress chief Raj Babbar and the party's chief ministerial candidate, Sheila Dixit, beginning 2 August.

Sources from Kishor's team informed Catch

that

Gandhi would be using a bus for his roadshow. "It will have all the equipment, ensuring he can address the crowds wherever he goes," said a source.

Gandhi is expected to aggressively take forward the "27 saal, UP behaal" campaign, which was coined by Kishor's team and launched by Sonia Gandhi during her Varanasi roadshow.
Azad's hopes high
Meanwhile, Azad was ecstatic about the prospects of such a yatra, and claimed it would be as successful as other yatras that have been flagged off recently.
"There will be a roadshow in every city and town through which Rahul Gandhi would pass. During the course of this yatra, he would interact with farmers, artisans from the unorganised sector, men, women and youth," Azad said.
He also announced Congress leaders RPN Singh, Rajeev Shukla and Meem Afzal as the people in charge of the party's media in UP, and said they would be camping in the state to address all media queries.
Edited by Shreyas Sharma
More in Catch
Sheila Dikshit as UP CM face: 5 reasons why Congress has aced it
How Prashant Kishor plans to deliver UP for Congress in 2019
Uttar Pradesh polls: Desperate for a tie-up, Congress woos both BSP & SP