Rahul Gandhi might grow old waiting for generational change in Congress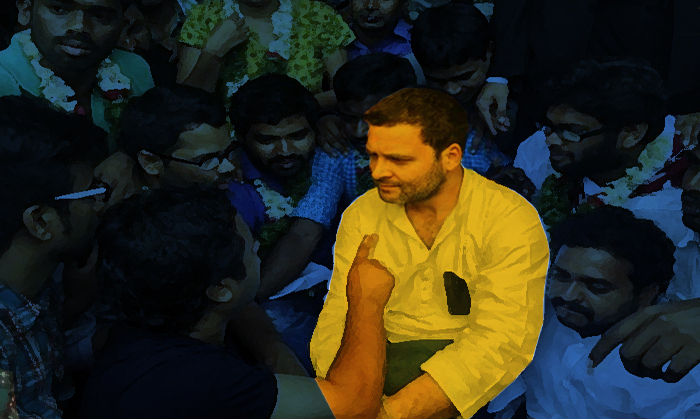 Congress Vice-President Rahul Gandhi's idea of giving more representation to the youth in assembly elections is not being implemented as per his wishes. The Assembly elections of 2016 is a case in point. While the formula has fared well in Assam, it has fallen flat in West Bengal where the average age of Congress candidates is 65 years. In fact, one Congress candidate in West Bengal is aged 91.
Even in Kerala, only 22 candidates out of 83 are below the age of 40. However the national president of NSUI, Roji John, has been given a ticket from Angamaly.
Also read - Cong crisis: Uttarakhand & Arunachal are symptoms. Rot begins at the top
It seems chief minister Oommen Chandy has had a major say in candidate selection since four tainted ministers were given tickets despite opposition from state party president and high command on charges of graft.
The Congress vice president has on multiple occasions reiterated the need for allotting tickets to youth with a clean record. But in its attempts to choose winnable candidates, the party had to go against his wishes. Those close to him claim that Rahul Gandhi is of the opinion that young faces should be allowed to contest and in case they lose, they should be allowed to work in the area. This he believed could eventually help them win elections in future.
Considering that the party is in no position to form the government in Tamil Nadu and West Bengal, Rahul sympathisers claim that this formula could have worked and help these young faces gain popularity in their respective constituencies. However, the trend suggests that there are not many takers for Rahul's formula.
Senior Congress leaders claim that Rahul has to take blame as he does have a say in the allocation of tickets. "Nothing gets approved without his consent and to say that he is unaware of the ticket distribution process would be unfair," says a senior Congress leader.
West Bengal overrules Rahul Gandhi
Reportedly, the West Bengal unit of the party could not adhere to Rahul's diktat since they have a handful of seats to contest and there was no room for experimentation. "Old is gold. They have experience and acceptance," said Adhir Ranjan Chowdhury, President, West Bengal Pradesh Congress Committee.
He cited example of 91-year-old Gyan Singh Sohanpal who fought his first election in 1962 and has been a Congress MLA for ten terms. "He is in huge demand in Kharagpur and we can't replace him because chances of him retaining the seat are quite high. Similarly, in other constituencies, chances of veterans is high and we didn't want to take any risk by introducing new faces," Chowdhury said.
Also read - How Prashant Kishor plans to deliver UP for Congress in 2019
Meanwhile, in Assam, the party has fielded 40% young leaders which many believe was influenced by the party vice-president. But veterans have not been left out and 20 candidates with average age of 60 and three candidates above 85 years are contesting.
Another senior party leader said that Rahul Gandhi is trying to accommodate new faces but his suggestions are being stone-walled by the state leadership because of the winability factor. However, he says that the party had to tread cautiously in these Assembly elections since they have aligned with other regional outfits and only those with greater chances of winning were chosen.
Rahul Gandhi has been very keen on ushering in a generational change in the grand old party and giving it a makeover. Unlike party president Sonia Gandhi, his core team has a large youth representation. In fact, his decision to consult young leaders has been a point of contention among the party veterans who were ruling the roost till Gandhi scion took over.
In Kerala, only one fourth of the candidates declared so far are under 40 years of age
In 2014, after the party suffered a humiliating defeat, a section of senior Congress leaders questioned Rahul's leadership qualities and blamed him for the debacle. Several senior leaders including GK Vasan, Jayanthi Natarajan, Natwar Singh, Bhanwar Lal Sharma, TH Mustafa, Gufran Azam, among other quit the party citing Rahul Gandhi's working style. While quitting the party, Natwar Singh had quipped, "For politics, you must have fire in your belly. I don't think he has that fire."
In fact, rising voice of dissent forced the party to form a committee to probe reasons for the 2014 poll debacle. As expected, the committee gave a clean chit to Rahul Gandhi and claimed that the reasons for Congress defeat were something else. Even now, the senior leadership of the party is not convinced whether Rahul can really take on Prime Minister Narendra Modi in 2019.
Meanwhile, it is very unlikely that Rahul's vision of infusing young blood into the party can be implemented any time soon. It seems that the Gandhi scion would have to wait till the party is in the position to take the risk of experimenting with youth at the cost of upsetting some veterans.
More in Catch - Congress in crisis: Grand Old Party, same old problems
Prashant Kishor's biggest obstacle isn't Amit Shah. It's the Congress old guard