Puttar Pradesh: RLD's Jayant Chaudhary set to join Akhilesh's govt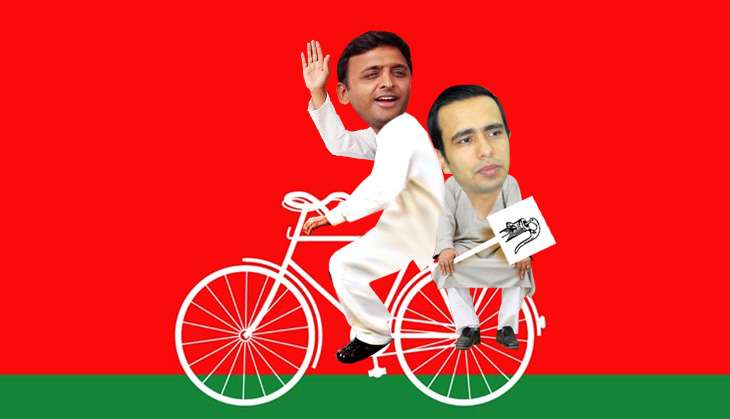 A cabinet expansion to accommodate some members of the Rashtriya Lok Dal in Uttar Pradesh is imminent. "It may happen in a week or even two-three days," said a source in the UP Assembly secretariat.
Those whose names are doing the rounds for a ministerial berth include Jayant Chaudhary of RLD, Ambika Chaudhary, former revenue minister who was earlier dropped for non-performance and chief minister Akhilesh Yadav's trusted lieutenants Anand Bhadauria and Sunil Yadav alias Sajan.
The induction of Jayant Chaudhary is considered important as it is expected to follow, and not precede, a seat-sharing arrangement between the Samajwadi Party and the RLD.
Also read - What Hindu exodus! Kairana has always been peaceful
The state president of the RLD Munna Singh Chauhan denied that Jayant Chaudhary will join Akhilesh Yadav's ministry. "He is not even an MLA," he said.
Asked who else in the party could join the ministry, Chauhan said that till an agreement was reached on seat sharing any talk of RLD, joining the government would be pointless.
He did say that meetings between RLD chief Ajit Singh and Samajwadi Party leaders Mulayam Singh Yadav and Shivpal Yadav have taken place. Whether or not an agreement on a pre-poll tie-up has been reached was not yet known.
Despite that the two other names in circulation include those of Barauli (Aligarh) legislator Thakur Dalveer Singh and Ghaziabad MLA Sudesh Sharma, who hogged headline space for taking off his shirt while the House was in progress in February 2014.
Ever since the recent Rajya Sabha poll in which all the eight RLD legislators voted for the Samajwadi Party, there has been a talk of some pre-2017 poll understanding between the two parties. If sources are to believed, two rounds of talks have already taken place between the leaders of the two parties.
Chauhan dismisses any conjecture based on Rajya Sabha elections. "If that is the logic then we also voted for the Congress in the legislative council elections," he said.
It is understood that Ajit Singh was initially interested in a seat-sharing arrangement with the BJP, which did not work out because of the latter's lack of interest.
Then the alleged exodus of Hindus from Kairana happened and both Ajit Singh and his son Jayant began attacking Hukum Singh and the BJP. The development was again seen as RLD's growing proximity with the SP.
The SP and RLD both have their compulsions to go hand in hand in the 2017 assembly poll, likely to be held in January-February. The ruling party's image in western Uttar Pradesh took severe beating in the aftermath of Muzaffarnagar riots. So much so, that even Muslims of the region have lost faith in the SP. Even Ajit Singh was said to have lost some ground among the Hindu Jats.
To make up for that loss the two now must go together to prevent the BJP and the BSP from gaining ground.
Besides RLD's representation, the chief minister's close aides - Sunil Yadav and Anand Bhadauria -whose names are doing the rounds for a possible induction into Team Akhilesh, were expelled from the Samajwadi Party in December 2015.
So upset was Akhilesh with his father's action that he boycotted the Saifai Mahotsav and went there only when the order for their expulsion was revoked.
Ambika Chaudhary is another probable for a ministerial berth. He was one of the five cabinet ministers to be dropped in December 2015. Although the official reason was non-performance, sources said that the party leadership was angry with some of his land deals near Lucknow.
Ambika Chaudhary had then moved into the shadows until the Jawahar Bagh carnage led fingers to be pointed at Shivpal Yadav. Chaudhary then faced the arc lights to defend Mulayam's younger brother.
More in Catch - Mulayam salvages Ajit Singh's dying career, momentarily
Is Nitish harming his 2019 campaign by banking on Ajit Singh?