'Punjabi Muslims are heirs to a broken civilisation, but Sikhs are on our side'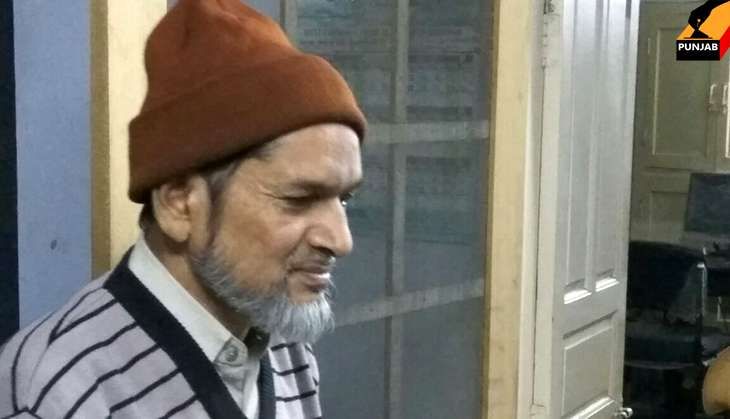 Elections are not just about politicians. They're about people and issues. And what will really drive their vote.
Catch is, therefore, starting a 'People of Punjab' series, which will capture what different impact groups across the state are feeling. This is true insight on the Punjab election: up-close and hyper-personal.
In British India, Punjab was one of the provinces with the highest population of Muslims. After partition, the only Muslim enclave that remains in Punjab is Malerkotla, a small city in Sangrur district.
Hailed as an abode of communal harmony, Malerkotla survived the ghastly communal violence that characterised India's Partition.
"In all the other cities, Muslims either migrated or were killed," says 66-year-old Ramzan Syed.
Though he was born a few years after 1947, Syed was witness to the consequences of Partition.
"It wasn't just a partition of land and people. An entire civilisation was broken," Syed says.
A retired school teacher, Syed is now an office bearer with the Malerkotla unit of the Jamaat-e-Islami.
The language question
Having taught Punjabi for decades, Syed says he is in love with the language. He learned the language in the Shahmukhi (Persian) script, he taught it in Gurmukhi for his entire professional life.
With language and script being a deeply communalised issue at the time of independence, Shahmukhi was seen as 'Muslim' and Gurmukhi as 'Sikh'.
"Both Punjabi and Urdu suffered as a result of Partition. How can people truly appreciate Punjabi if they can't read the rich body of literature that is written in Shahmukhi?" he asks.
"Today, most people here, Muslims as well as others, won't even know what Shahmukhi is," he says.
Moving on to Urdu, Syed says:"Punjab's contribution to Urdu language and literature is immense. But that is seldom acknowledged."
Syed narrates that in the years following Partition, while Malerkotla continued to remain a haven of peace, "there was an overall atmosphere of hostility towards Muslims and anything constructed as 'Muslim', be it language, culture or architecture... There seems to have been a clear attempt at denying Punjab's Muslim heritage in the initial decades after Partition," he says.
"It is quite likely that people on the other side of the border showed similar hostility towards Hindu and Sikh heritage," he adds.
According to him, as a result of this trend, for many years, Malerkotla didn't get the kind of respect it deserved.
"It is strange why Malerkotla was made part of Sangrur district. Sangrur was nothing but a small qasba. Malerkotla was a flourishing city," he narrates.
Malerkotla was a princely state ruled by Afghan origin Nawabs, descendants of Sher Mohammad Khan, who protested against Mughal governor Wazir Khan when the latter was getting the sons of Guru Gobind Singh bricked alive. The legend is that Guru Gobind Singh heard of this and blessed the Nawab and Malerkotla.
After independence, Malerkotla became part of what was known as Patiala and East Punjab States Union (PEPSU).
When Sangrur district was formed, merging Malerkotla with the Punjabi-speaking areas from the Jind princely state, the Nawab's city became just a block within it.
"We (Muslims) represented a defeated civilisation. It is but natural that our history would be erased, or at least downplayed," he says.
The present generation
Though Syed laments that the present generation of Muslims in Malerkotla don't entirely understand this heritage, he adds that this isn't necessarily a bad thing.
"The younger generation in Malerkotla - even people who are in their forties - have no baggage. They have no sense of loss. They don't have the kind of fear and insecurities that we were affected by," he says.
Syed joined the Jamaat-e-Islami in 1970, when he was in his early twenties. "The atmosphere greatly improved by then, and it was no longer problematic to show one's Muslim identity," he says.
"Today there are hundreds of mosques in Malerkotla and several Islamic-oriented schools. Both the Tablighi Jamaat and Ahl-e-Hadith are very active here. The city also has a very strong Sufi following," he says
Locals say the Tablighi Jamaat is working actively to prevent drug addiction among youngsters.
Now, Malerkotla isn't the only Muslim pocket in Punjab. Cities like Ludhiana have a sizable Muslim population as well.
"Ludhiana has close to 2.5 lakh Muslims. But they are all migrants from other parts of India. Malerkotla is the only centre for Punjabi Muslims."
Sikh-Muslim relations and the Akalis' positive role
Syed says Sikhs and Muslims in Punjab have actively worked to normalise relations between the two communities.
"We (Sikhs and Muslims) had a lot of baggage to overcome. Baggage that went much beyond Partition," he says
Syed gives part of the credit for improving relations between the two communities to the Shiromani Akali Dal.
"The Akalis have immense love for us Muslims. They, too, represent a minority community and understand perfectly the challenges other minorities face," he says.
The Anandpur Sahib resolution, a key ideological document for Akalis, does include a clause on the rights of all religious minorities in India.
Simranjit Singh Mann, the breakaway Akali leader who hails from Sangrur, had gone on protest against the massacre of Muslims in Gujarat in 2002.
"Akalis have always made it a point to take our community along. But their present ally, the BJP and RSS, have always been hostile towards us," Syed says.
Many Muslims in Malerkotla spoke positively of the Akalis, and said that privately, Akalis don't really like the BJP.
The election
In the upcoming election, Syed says that it will essentially be a fight between the Congress and Akalis in Malerkotla city, with the Aam Aadmi Party doing well in the villages.
"AAP would have won hands down had they put up a good candidate," Syed says.
Interestingly, according to Syed, the Jamaat-e-Islami central leadership had given them a directive to vote for AAP during the 2014 Lok Sabha elections.
Like most people Catch spoke to in Malerkotla, Syed says that the main priority while voting is "to maintain peace" in the city.
"We have preserved this peace through very difficult times. We cannot let anyone ruin it for political ends," Syed says.
Edited by Shreyas Sharma
More in Catch
Punjab polls: How Bhagwant Mann has become the Badals' worst nightmare
How a 'Muslim hater' failed to instigate a communal riot in Malerkotla
New low in Punjab politics: AAP Delhi MLA was framed for Quran desecration