Punjab polls: How Sikander Maluka became a symbol of Akali arrogance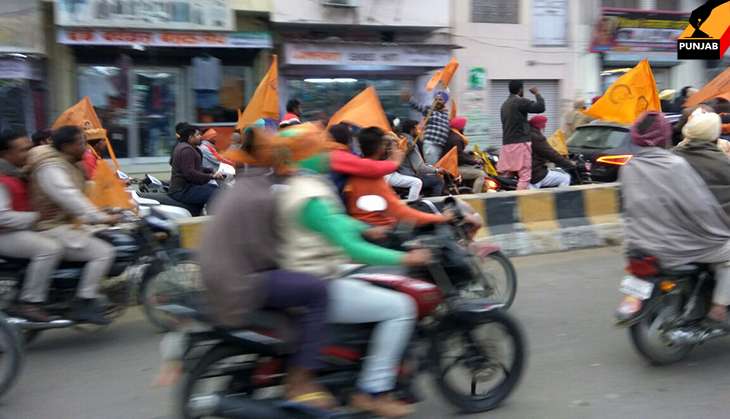 It was nearly dusk at Rampura Phul, a town 37 km from Bathinda. Despite the evening chill, the main market was crowded. The entire town suddenly got engulfed in a wave of saffron as hundreds of bike riders carrying Shiromani Akali Dal flags whizzed through the streets. People hurriedly moved towards the side of the road, fearing that they may come in the way of bike riders.
"Sardar Sikander Singh Maluka" the Akali workers shouted the name of their leader. "We shall win, we shall finish everyone else," they shouted in Punjabi, often looking at passers-by in the eye, asserting their dominance in the area.
A couple of Akali workers stopped their bikes at a small chaat stall near the main market and approached the vendor, who was busy handing out aloo tikki to customers. "
Kaun hai tu? Kidhar ton aaya?" they interrogate the vendor, who seemed to be in his late teens.
"Mai koi bhi nahi ji. Kahin se bhi nahi aaya" the scared young chaat wala replied.
Fearing a confrontation, the customers moved aside, but the Akali workers left soon.
The chaat wala moved back to his shop but didn't resume work immediately, visibly rattled.
He gathered his wits and muttered under his breath, "it is better to be invisible here".
The chaat wala later narrated that he came to Punjab from Bihar a few years back. After working in a factory near Bathinda for a while, he opened this chaat stall in Rampura Phul and runs it with the help of an associate.
Controversial leader
Maluka is presently the minister for rural development and panchayats in the Parkash Singh Badal government and he has earlier held other important portfolios like education.
He rules the area like a fiefdom. In 2013, his son Gurpreet Singh Maluka was elected unopposed as the chairman of the Zila Parishad from the Bhagta zone in Bathinda district. Maluka village, from where the minister hails, lies in this zone. Before that Gurpreet was also chosen as the MD of the Bathinda Central Cooperative Bank Limited.
"Many of the factories near Rampura are controlled by Maluka or his associates. They employ thousands of workers, many of whom are migrants from UP and Bihar," said a migrant from Saharanpur who has been living in Rampura for the past one year.
"No one will speak against Maluka, least of all migrants. But that doesn't necessarily mean people will vote for him this time on," he added.
For many, Sikander Singh Maluka embodies the arrogance that has characterised the Akalis' rule in Punjab, particularly in the past five years.
During Prime Minister Narendra Modi's rally in Bathinda in November last year, Maluka and his men had allegedly "manhandled, threatened and abused" a policeman on duty.
All that the cop had done was to ask them to park their car at the venue's parking place but Maluka and his supporters insisted on parking at the entrance. The cop claimed that they even tried to run him over.
In March 2014, a video surfaced in which Maluka, then minister for education, was seen assaulting government school teachers who were protesting against him.
But the biggest controversy that Maluka recently got into was when he was found guilty of disrespecting the Sikh ardas. Hindu shlokas were recited in the manner of the Sikh ardas at a political function in Maluka's presence. The five jathedars of the Akal Takht found Maluka guilty and instructed him to perform service and pay a fine as penance for his act. This was a huge embarrassment for the Akali Dal, which prides itself as a party that defends Panthic values.
The challenge
Maluka has been a constant target for the Akalis' rivals and his antics have given them enough ammunition.
Addressing a political meeting in Rampura Phul last week, Congress leader Captain Amarinder Singh said anyone found guilty of disrespecting religious symbols will be given exemplary punishment. This was obviously with reference to Maluka.
Aam Aadmi Party leader Bhagwant Mann says that Maluka's narcissism will be his undoing.
"People say I disrespect the law...do I disrespect the law or does someone like Maluka who attacks police personnel who are doing their job?" he said.
Mann mentions Maluka in almost every speech he gives across Punjab, targetting him for promoting dynastic politics and treating his area like a fiefdom.
In Rampura Phul, Maluka is facing Gurpeet Singh Kangar of the Congress and Manjit Singh Sidhu of AAP. The Congress candidate, hails from Kangar village, which isn't very far from Maluka. He has defeated the the Akali strongman twice, as an independent in 2002 and under the Congress symbol in 2007. He lost to Maluka in 2012. In all the three contests between Kangar and Maluka, the margin of victory has been less than 5000 votes.
The entry of the AAP has added another twist to the battle as some locals say that the Congress wasn't fighting Maluka hard enough.
AAP's direct targetting of Maluka seems to have struck a chord.
AAP convenor Arvind Kejriwal addressed a public meeting at Rampura Phul on Wednesday evening and it drew a large crowd despite the cold weather.
Facing Congress' Kangar and a rising AAP, Maluka's citadel is shaky. The "silent" public of Rampura Phul may finally speak up.