Punjab polls: AAP banks on party hands, star power in first list of 19 candidates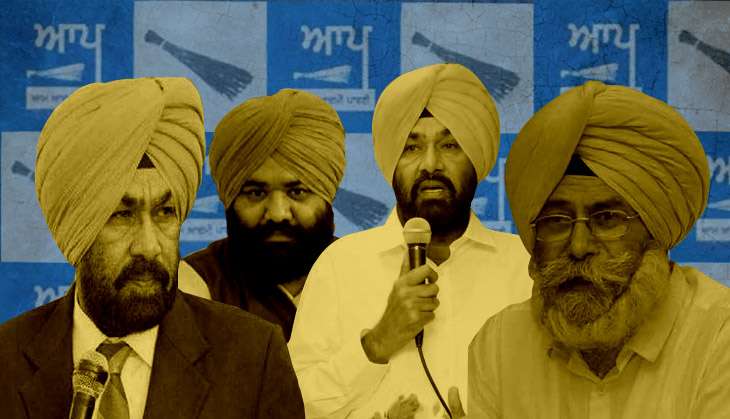 Amid growing dissent, the Aam Aadmi Party has come out with its first list of 19 candidates for the assembly election in Punjab, scheduled for early next year. The list includes HS Phoolka and Himmat Singh Shergill who had unsuccessfully fought the 2014 parliamentary polls, from Ludhiana and Anandpur Sahib respectively.
AAP is the first party to announce its candidates in Punjab. It has mostly picked leaders from its organisational set-up and some of the prominent people who have joined it over the past few weeks.
Here are the candidates and the constituencies they have been fielded from:
HS Phoolka Dakha
Himmat Singh Shergill Mohali
Ahbab Singh Grewal Ludhiana West
Sajjan Singh Cheema Sultanpur Lodhi
Inderbir Singh Nijjer Amritsar South
Mohan Singh Phalianwala Ferozepur Rural
Samarbir Singh Sidhu Fazilka
Rajpreet Singh Randhawa Ajnala
Jagdip Singh Brar Muktsar
Gurdit Singh Sekhon Faridkot
Brigadier Raj Kumar Balachaur
Gurwinder Singh Shampura Fatehgarh Churian
Gurpreet Singh Lapran Payal
Rupinder Kaur Ruby Bathinda Rural
Jasvir Singh Sekhon Jassi Dhuri
Amarjit Singh Roopnagar
Santokh Singh Salana Bassi Pathana
Kultar Singh Sandhwan Kotkapura
Harjit Singh Bains Sahnewal
Ahbab is general secretary of AAP's farmer and labour wing, Samarbir is vice-president of its youth wing, Santokh is general secretary of SC wing, and Harjot is president of the youth wing.
Also Read: Punjab polls: once the odds-on favourite, AAP is now beset with problems
Sajjan is a former international basketball player and an Arjuna awardee. Gurdit is a national basketball player.
Phoolka and Shergill, both senior lawyers, are known for having taken up the causes of victims of the 1984 anti-Sikh carnage as well as the Sikh farmers in Kutch whom the Gujarat government is allegedly trying to displace from their homes. Rupinder, 28, is pursuing a doctorate in law.
Raj Kumar served with the Indian Peace Keeping Force in Sri Lanka, and Kultar is an activist who has been to ensure affordable treatment to cancer patients.
Phalianwala was president of the BSP in Punjab for 15 years and was twice elected MP from Ferozepur. By fielding him, AAP has conveniently played the caste card in the constituency.
The other candidates mostly include farmers and zonal or district level party functionaries.
Deep fissures?
The list comes amid noises of dissent over the choice of candidates. Several party leaders had openly opposed the candidature of Shergill from Mohali as also those of Gurpreet Singh Ghuggi, Jasbir Singh Bir and others who were reportedly being considered for the seat. A group of party workers had even passed a resolution opposing their nomination. They argued that Shergill had not even attended the meeting to shortlist candidates. It was also pointed out that he had rarely visited Mohali, his constituency in the Lok Sabha election.
As for Ghuggi, the workers said he too had not attended the meeting. Also, they argued that he might be a good comedian but he was not the seasoned politician the party needed.
Samar Bir Singh also faced protests from AAP workers in Fazilka who wanted the ticket to go to a local person. Samar is from a village nearby. Ahbab Grewal's name was also opposed by party workers.
Meanwhile, former bureaucrat Hardip Singh Kingra resigned from the party Wednesday after he was denied a ticket from Faridkot. The former chairman of the National Scheduled Caste Finance and Development Corporation had joined AAP in 2013 and was the party's spokesperson and head of its finance committee. He was one of five people who were considered for a ticket from Faridkot.
Going on attack after his resignation, Kingra said AAP had "degraded" and become worse than the traditional parties. He said the "Delhi AAP team" led by Durgesh Pathak had "destroyed the party in Punjab and made sycophancy a norm".
AAP's Punjab in-charge Sanjay Singh did not respond to Kingra's allegations. He said, "I think it's better to utilise my time in working for the betterment of Punjab."
Also Read: What's making AAP click in Punjab? It's not just anger against Badals
Reportedly, AAP's volunteers had suggested nearly 500 names of prospective candidates for 26 assembly seats to the party's campaign committee, which in turn passed the list on to the screening committee. The latter shortlisted about 130 names and sent them to the political affairs committee headed by AAP's national convener and Delhi Chief Minister Arvind Kejriwal. Before leaving for a 12-day "Vipassana break" in Dharamshala, along with Durgesh Pathak, Kejriwal is said to have cleared 23 names, of which 19 have been announced.
Opening move
The party's list of candidates had been hanging fire since February, with the leadership postponing its release on one ground or the other. It was Kingra's resignation, it's said, that eventually forced the party's hand.
AAP is facing a peculiar problem in Punjab, where a groundswell of support for it is quite visible. The party has enough volunteers, but lacks known faces that can contest the election. This is one of the reasons the party has refused to project a chief ministerial candidate. It has remained practically faceless in the state and all most of its campaigns have been highly localised. The AAP leadership has been saying that if it wins the chief minister will be someone from Punjab, but hasn't clarified whether he or she will be a Sikh or not - an important issue in the Sikh-majority state.
In any case, AAP has rolled the dice by declaring some of its candidature nearly six months ahead of the election. It remains to to be seen how the other key players in the state, the Congress and the Shiromani Akali Dal, respond.
SAD chief Sukhbir Badal has claimed the advance declaration of tickets by AAP would not make the "slightest difference" to the SAD-BJP combine, it would only bring to fore the internal factionalism in AAP. He claimed AAP's leaders are "openly alleging bias and dictatorial methods in the distribution of tickets", which makes it clear that only those people matter in AAP who pander to every whim and fancy of Kejriwal.
He also alleged that AAP was giving away tickets for Rs 1 crore each, and claimed this had been revealed by "none other than its own party workers".
Also Read: Campaign season: how AAP is trying to win over Punjab's voters