Punjab politicking moves to the border, Badal under pressure from Opposition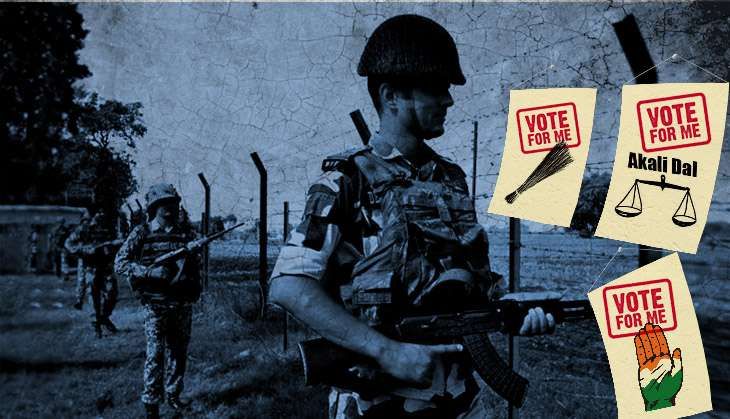 With an eye on next year's Assembly elections, politicking in Punjab has moved to the villages along the International Border (IB), where the state government had ordered large-scale evacuation.
While state Congress president Captain Amarinder Singh has already announced his decision to stay put in these villages from 10 October, CM Parkash Singh Badal is already hopping from one village to another trying to woo the villagers with sops cleared by his cabinet. Aam Aadmi Party (AAP) cadres are also engaging the villagers with a 24-hour helpline, with their leaders being in constant touch with the populace.
A new dimension to the game of allegations and counter-allegations has been added by media reports quoting the BSF top brass that it never ordered the evacuation, and that it may have been ordered by the civic administration.
The state government, in its statements right from the day of India's surgical strikes across the Line of Control in Jammu and Kashmir, said it ordered the evacuation following a call from Union Home Minister Rajnath Singh and directives from his ministry.
But BSF officials have been quoted as saying that firing along the Punjab border is unlikely, as both sides are densely populated, with the agrarian population looking forward to harvesting paddy in the next week.
Media reports also suggest that the evacuation is not based on any security assessment from Central agencies.
The Shiromani Akali Dal (SAD)-BJP government has been put on the back foot, following aggressive campaigns by both the Congress and the AAP.
Amarinder's question
Amarinder toured the Khemkaran sector on Tuesday, asking villagers to stay put. Meanwhile, the AAP leadership demanded that Badal come clear on the evacuation in the light of the statement from the BSF.
Another dimension that added fuel to the fire is that Deputy Chief Minister Sukhbir Singh Badal, also the home minister of Punjab, has not figured anywhere in the discourse.
On Tuesday, Amarinder, after travelling through the villages of Khemkaran asked Prime Minister Narendra Modi: "Are we really at war with Pakistan?"
He addressed a series of meetings in villages Kals, Khalra, Chhinna Bidi Chand, Havellian and Naushera Dhalla in Khem Karan and Tarn Taran, along the International Border. He pointed out that on the one hand, Modi is emphasising the need for de-escalation, and on the other, poor villagers are being forcibly evicted.
Amarinder insisted that the Congress strongly supported the surgical strikes, and in case there was further, need it would again support I. But he underlined: "We will certainly not support any move that is obviously aimed at reaping political dividends at the cost of people's lives and well-being."
Asking villagers to stay put in their homes and carry on with their harvesting, he said Modi and the BJP were deliberately trying to create war hysteria, with an eye on the elections in Uttar Pradesh and Punjab. He added that, unfortunately, Badal was blindly following Modi's and the BJP's diktats without bothering about how much harassment and difficulties they would cause to the people, particularly the farmers whose crop was ready for harvest.
"The only reason for uprooting you is to create war hysteria, so that the BJP gets some advantage in the UP elections," he told villagers at Chhinna Bidhi Chand.
AAP's suggestions
AAP leaders, including state vice president Colonel (Retd) CD Kamboj, head of NRI Wing Jagtar Sanghera and AAP candidate from Balachaur, Brigadier (Retd) Raj Kumar, along with state convener Gurpreet Singh Waraich aka Ghuggi pointed to BSF DG KK Sharma's tweet: "India never gave orders for evacuation of villages near IB post. There is tension at IB but no exchange of fire has taken place yet."
Ghuggi said residents of border areas should be clearly told how long they need to vacate their houses for, and if war is imminent.
Kamboj deplored: "Not even a single word on compensation to farmers has been uttered by both the Centre and the state."
Sanghera added: "If war is imminent, why doesn't Badal order special girdawari (land record) in the border areas, so that adequate compensation of at least Rs. 50,000 per acre can be given to affected farmers who are apprehending huge losses in view of forcible evacuation?"
The party condemned the state government for not making adequate arrangements for comfortable and smooth evacuation of villagers.
Government clears sops
The Badal government has come out with a series of sops for the population residing in the border areas. These were cleared at the cabinet meeting held on Tuesday after Badal's whirlwind tours of the villages along the IB over the last three days.
The cabinet approved to initiate the process of disbursement of cash grants to eligible war widows and legal heirs, as per the decision taken by his cabinet on 11 August 2016.
It also approved several demands of the local residents, like the opening of four new veterinary dispensaries in Bharyal village in Gurdaspur, along with Khalara, Chhina Bidi Chand and Maidipur in Tarn Taran district.
The government also approved setting up three Primary Health Centres (PHCs) in Bharyal village in Gurdaspur, Chhina Bidi Chand in Tarn Taran and Dhariwal Uddar in Amritsar. Similarly, it decided to upgrade the middle school in Machiwal in Amritsar to a high school, the high school in Maidipur in Tarn Taran to a higher secondary school, and the middle school in Margend Pura in Tarn Taran to a high school.
The government also sanctioned two boats for Ferozepur, the erection of power grid pylons, a stadium and a commemorative gate at village Gonnewal in Amritsar.
Badal also approved for a special provision of employment opportunities for unemployed youth on the Zero Line, issuing release orders for lifting paddy on priority basis in border districts, and constructing bridges at various places near the Zero Line area in the border districts.
After being put on the back foot, the government also ordered the opening of all schools in the border belt from Wednesday. Education minister Dr Daljit Singh Cheema said the decision had been taken keeping in mind that students were in the middle of an academic session, and their studies were being affected.
Edited by Shreyas Sharma
More in Catch
'Why only us?': Evacuated Punjab farmers ask SAD-BJP
Village evacuations put Akali-BJP combine on the back foot in Punjab
Punjab farmers suffer: Was evacuation of border villages avoidable?
Punjab braces for Indo-Pak stand off, armyman Amarinder advises caution