Punjab exit poll: AAP & Congress in dead heat. Badals to be decimated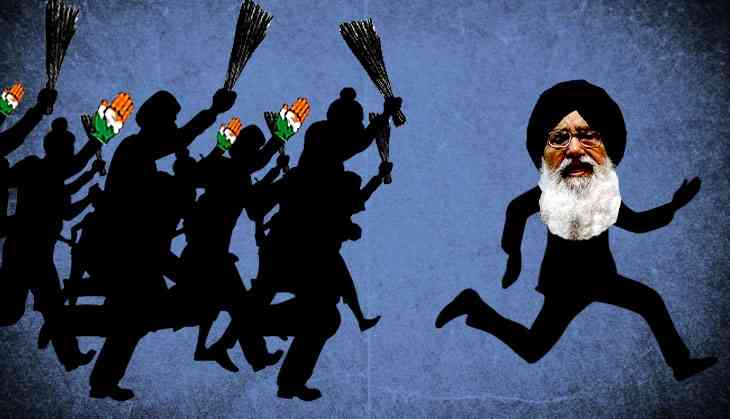 Punjab is witnessing the most exciting Assembly election ever and the exit polls have only added to the suspense. The Congress and the Aam Aadmi Party (AAP) are in a dead heat, with at least two polls predicting a tie between the two parties. Even in terms of vote share, the polls admit that the two parties are either evenly matched or separated by 2 percentage points or less, which falls within the margin of error.
Here's what the various polls have predicted.
Projections
India Today-Axis
Congress: 62-71
AAP: 42-51
SAD-BJP: 4-7
News 24-Today's Chanakya
Congress: 54
AAP: 54
SAD-BJP: 9
India News-MRC
Congress: 55
AAP: 55
BJP-SAD: 7
India TV-CVoter
Congress: 41-49
AAP: 59-67
SAD-BJP: 5-13
ABP News-CSDS
Congress: 46-56
AAP: 36-46
SAD-BJP: 19-27
NDTV poll of polls
Congress: 54
AAP: 52
SAD-BJP: 10
In terms of vote share, nearly all the polls place both the Congress and AAP in the 32-37% range. If there's one consensus among all the polls, it is that the SAD-BJP combine are being wiped out and might even be reduced to single digits. The only outlier is the ABP-CSDS poll.
From this, one can draw an inference that Akali stalwarts like Chief Minister Parkash Singh Badal, Deputy CM Sukhbir Singh Badal and senior ministers like Bikram Singh Majithia, Tota Singh, Adesh Partap Singh Kairon could well end up biting the dust.
Regional variation
The polls also point towards a split verdict across the various regions in Punjab.
India Today
Malwa
AAP: 33
Congress: 27
SAD: 2
Doaba
AAP: 5
Cong: 14
SAD: 0
Majha
AAP: 2
Congress: 21
SAD: 0
CVoter
Malwa
AAP: 42
Congress: 16
SAD-BJP: 5
Doaba
AAP: 6
Congress: 19
SAD-BJP: 2
Majha
AAP: 15
Congress: 10
SAD-BJP: 2
Today's Chanakya provides a community-wise break up of the vote share. According to it, the Congress leads AAP among Forward Castes, SCs and OBCs. However, AAP is ahead among Jatt Sikhs, who are the numerically largest community in Punjab.