DD lives up to expectation; presents Modinama II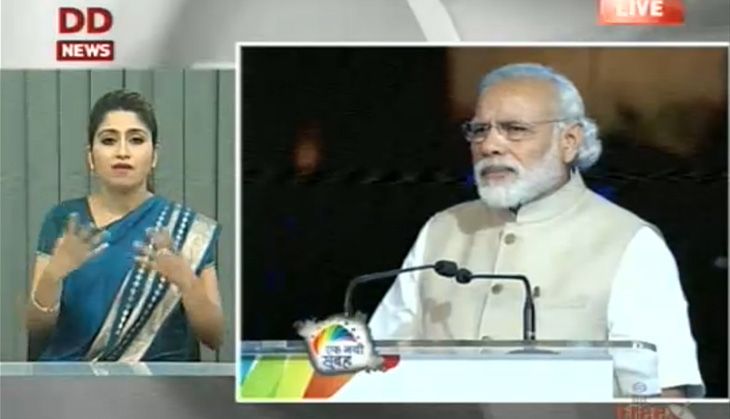 India's premier public service broadcaster fulfilled its utility Saturday night: For six hours on 28 May, Doordarshan (DD) served its 400 million viewers non-stop propaganda of the National Democratic Alliance government.
The much-hyped event telecast live from near India Gate in New Delhi to celebrate the completion of two years of the government was essentially a prolonged TV panel-discussion. Prime Minister Narendra Modi's speech at the end was possibly the only high-point.
Featuring over 20 Union ministers, six Bollywood stars and a handful of businessmen and social workers as panelists, the talkathon showcased key government schemes through short videos.
The theme of the event, unmistakably, was 'how to glorify the persona of Modi' - every minister on the show held up every scheme that was discussed as a tribute to the PM's 'genius' to think about it for the first time ever.
Modi's speech was the icing on the cake - the man bettered his own record, blatantly admitting he was not interested in merely doing work without getting recognition for it. The focus of his speech was corruption and how his government has made it hard for those living off it so far to live an easy life now.
Here's a look at 'Ek Nai Subeh - A New Dawn'
Actor R Madhavan was the main anchor, along with DD veteran Neelam Sharma.
The Bolly-brigade included (as anchors and guests) Amitabh Bachchan, Kajol, Raveena Tandon, Vidya Balan. Among the performers was singer Kailash Kher while adman and lyricist Piyush Pandey participated.
'Achievements' discussed: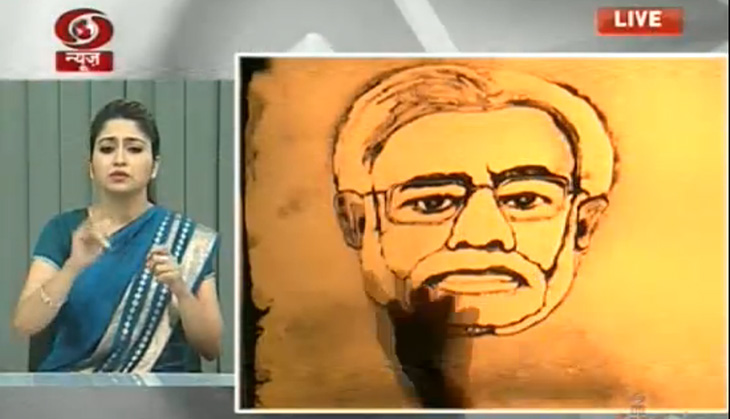 Beti Bachao Beti Padhao
Indradhanush
Sukanya Samriddhi Yojana
Swachch Bharat
e-boats in Varanasi
rural electrification
Ujwala
Jan Dhan
Jan Suraksha
Mudra
skill development
Digital India
Among ministers who attended were:
Rajyavardhan Rathore
Babul Supriyo
Maneka Gandhi
JP Nadda
Harsimrat Kaur Badal
Kiren Rijiju
Chaudhary Birender Singh
Ram Vilas Paswan
Jayant Sinha
Najma Heptullah
Radha Mohan Singh
Jual Oram
Jitender Singh
Mahesh Sharma
Nitin Gadkari
Smriti Irani
Santosh Gangwar
VK Singh
Rajiv Pratap Rudy
Ravi Shankar Prasad
Harsh Vardhan
Highlights of PMspeak
The government should be regularly assessed in a democracy and his government was being evaluated minutely in every corner of the country for the last 15 days.
Some people are compelled to oppose because of political reasons. On the one hand of this so-called divide is vikasvaad (editor's note: that's 'development-ism', loosely); on the other is virodhvaad ('oppose-ism').
We should not commit the mistake of pushing the country in a pit of despondency without any reason.
If my government claims it has uplifted the coal sector, it will be considered just another task. The full significance will be felt only after looking at what happened under the previous government.
Corruption had become a termite; but I took many steps, one after another, to plug leakages.
We saved Rs 15,000 crore by weeding out corruption through direct transfer of gas subsidy. My countrymen will tell me Modiji you did the right thing.
We have identified 1 crore 62 lakh fake ration cards. We saved Rs 540 crore only in one state by identifying fake teachers.
In all, leakages worth nearly Rs 36,000 crore have stopped, and this is just the beginning.
Some people ask me: "You work so hard, why people oppose you so much?" I tell them those who have lost this much money, what else will they do?
Through the LED bulb campaign in 500 cities, nearly 20,000 megawatts electricity was saved. This translates into savings of Rs 1 lakh crore required for setting up a power company.
About 1 crore 13 lakh people gave up subsidy on my casual request. We have given new gas connections to nearly three crore households in one for the first time ever in India.
Through the soil health card mission, we started trusting people by enabling self-certification. Country belongs to them too. I have asked Railway Minister Suresh Prabhu to run a train without TTE any one day.
We did away with interviews for Class 3 and 4 employees, because corruption revolved around these interviews.
If I started counting achievements in two years, DD will have to run this event for a week.
There you go.