Pride & Politics: 5 takeaways from Nitish, Lalu and Sonia's Swabhiman rally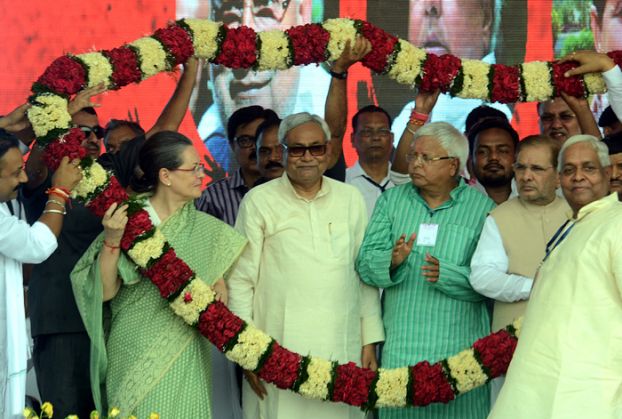 After a series of attacks by Prime Minister Narendra Modi in Bihar, Nitish Kumar and Lalu Prasad have finally responded in unison.
The Mahagathbandhan or grand alliance comprising Janata Dal (United), Rashtriya Janata Dal, Congress and Samajwadi Party, held a massive Swabhiman Rally in Patna on Sunday.
The combined strength of Lalu and Nitish was buttressed by the presence of Congress president Sonia Gandhi and Samajwadi Party's Shivpal Yadav on the stage.
Though the size of the crowd in rallies doesn't necessarily reflect which direction the wind is blowing, many have begun saying that the BJP juggernaut may not be unstoppable after all.
Here are 5 key takeaways from the rally.
Bihar's swabhiman (pride) was the theme of the rally. Nitish's speech was a full fledged reply to Modi as he repeatedly taunted the PM for attacking his DNA.
Elaborating on Bihar's rich history and its contribution to human civilisation, Nitish slammed Modi for what he claims was an attack on Bihar's DNA.
He said that if any power in the world attacks Bihar's pride, they will be responded to in the same coin.
The chief minister also rebutted Modi's allegation that he is "driven by arrogance".
"Ahankaar mere khoon mein nahi lekin swabhimaan rom-rom aur rag-rag mein hai. (There is no arrogance in my blood. But there is pride in every vein in my body)" Nitish said.
While Nitish's speech followed the narrative of Bihari pride, Lalu stressed more on Yadav pride.
Even Sonia Gandhi took on Modi for "making fun of Bihar" and promised that she would defend Bihar's pride at any cost.
02
Nitish may be the face but Lalu is the backbone of the alliance
The Swabhiman Rally made it evidently clear that even though Nitish Kumar is the unquestioned face of the grand alliance, the political strength comes from Lalu Prasad.
Apparently about 80% of the crowd comprised RJD supporters, with the JD(U) and Congress forming the rest.
It is clear that the JD(U) is the weaker party in the alliance. Lalu's RJD has a far stronger and more organised machinery.
As the bulk of the crowds were brought by the RJD, the party's core support base - Yadavs - formed a substantial chunk of those present. But it wasn't just the crowds, Yadavs dominated the stage as well. Four important Yadav leaders were present on the stage - Lalu Prasad, Rabri Devi, JD(U) president Sharad Yadav and Shivpal Yadav.
In rallies, it is customary that the star speaker speaks the last. At the Swabhiman Rally, it wasn't the alliance's chief ministerial candidate Nitish Kumar, but Lalu Prasad who was the last speaker. Apparently this was because the organisers feared that if Lalu spoke earlier, people might start leaving without listening to the remaining speakers.
[twittable]It's a Modi-centric election. Every major speaker - Nitish, Lalu, Sonia, Sharad and Azad - attacked the PM[/twittable]
Lalu's speech was loaded with images of Yadav pride. He cited examples from mythology and social justice movements and made powerful statements on caste. He also invoked Lord Krishna to counter Modi, who has done the same in number of rallies.
Pitting Yadav pride against Modi, he said: "Jis yadav ko bhains nahi patak saki, usko Modi patakne chale hain (Modi wants to make Yadavs fall, something that even a buffalo couldn't do)."
Lalu's aim is clear. He wants to thwart the BJP's attempts to nibble at his Yadav vote bank.
04
The alliance is more united than expected
Contrary to predictions that Nitish, Lalu and the Congress won't be able to work together, the alliance partners actually seem to have been co-ordinating well.
The speeches made by the leaders complemented, rather than contradicted, each other. Sonia largely kept her perspective national, attacking Modi for his failures as the PM. "1/4th of the Modi government's tenure is over, but they've done little except showmanship". She further said that Modi leads an anti-farmer government and all he has done is to give benefits to his rich friends.
Besides invoking Bihari pride, Nitish listed his achievements and laid down his plans for the state.
Lalu was the show stealer as he repeatedly poked fun at not just Modi but also Union minister Ram Vilas Paswan. Paswan changes allegiances with the weather, Lalu said.
What was common in the speeches of every speaker is their focus on Modi. From his image, his performance, his policies and his comments, attacking Modi was a central theme in the rally.
Modi is both the BJP's strength as well as weakness. From the grand alliance's point of view, it could go both ways. Modi forms an effective antagonist in Nitish's narrative of Bihari pride as well as the alliance's secular politics. It also helps expose the vacuum in the BJP's state leadership. But it could also turn voters in Modi's favour as it did during the Lok Sabha elections.