Prashant Kishor needs a helping hand in UP. Will Priyanka oblige?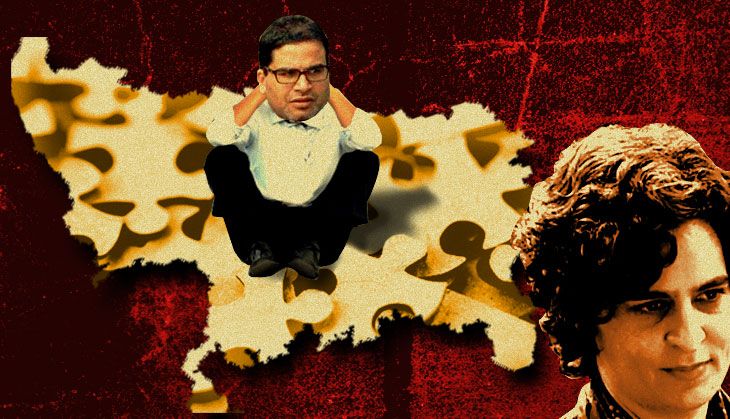 With 29 legislators in the Uttar Pradesh assembly, the Congress party roped in poll strategist Prashant Kishor in the hope that his magic will help improve its tally in the 2017 elections.
Read- Cong crisis: Uttarakhand & Arunachal are symptoms. Rot begins at the top
PK, as Prashant Kishor is known, must be finding his UP assignment far tougher than that of Bihar where Janata Dal (United) and Rashtriya Janata Dal enjoyed a strong cadre base. In contrast, the grassroots organisation of the Congress in UP is in a shambles. Even the party, which has been out of power in the state for the last 27 years, is in a moribund state.
Factionalism
Also, infighting in the party is no hidden secret. It came out in the open in Varanasi last Wednesday when two factions of Youth Congress workers exchanged blows in front of team PK which had gone there to get a feedback on the organisational shortcomings in the 2012 assembly elections.
Youth Congress coordinator Raghvendra Chaube and Varanasi parliamentary constituency chairman Zafarullah came to blows over who would meet Team PK first.
Before Varanasi the team had gone to Allahabad where the party workers' rowdy behaviour made it so angry that it left the venue in a huff.
Also read: How Prashant Kishor plans to deliver UP for Congress in 2019
This factionalism is not confined to lower level workers. The party's senior leaders may not come to blows but they are not accommodative of one another. Rajeshpati Tripathi and Rajesh Mishra in Varanasi, Sriprakash Jaiswal and Ajay Kapoor in Kanpur, PL Punia and Beni Prasad Verma in Barabanki are some leaders with deep differences. Even in Lucknow, Rita Bahuguna Joshi has her set of camp followers versus the rest.
Congress spokesperson Satyadeo Tripathi denied any infighting but said that the outcome will depend on how much is PK able to deliver. "He is trying to activate whatever work force is available. Whether he succeeds in doing that remains to be seen," he said.
Former UP Congress leader Ramesh Dixit compared PK with an event manager who has been given the contract to improve Congress' tally in 2017. This, according to Dixit, "is a new element in politics and shows the bankruptcy of policies, ideas and leadership of a political party as also its disconnect with the masses".
"It is a shortcut to success which the party is trying to take. Give the contract to PK to manage things and go to sleep," Dixit said, suggesting that PK model may not work in UP.
Dixit could be right as there is a clamour to make Priyanka Gandhi the election in-charge of UP. Some Congress men see it as resentment against PK.
This was not all. One of the first tasks that PK set out to accomplish was to find five booth level workers in each constituency. A questionnaire was accordingly sent to all the assembly constituencies. However, three VVIP constituencies --- Rae Bareli, Amethi and Sultanpur --- refused to provide the details. The non-compliance showed the limited elbow room the master strategist was going to be allowed by the party's leaders.
His suggestion that senior leaders contest assembly elections was shot down by some of them.
One of the important demands of Congress workers is to declare a chief ministerial candidate. Even if the party can't even remotely expect to get majority, the workers feel that doing so would substantially increase their numbers.
The party high command is so far silent on whether Priyanka would play an enhanced role in UP. Nor can one expect it to announce its CM candidate. That leaves PK with the onerous responsibility of breathing life into a dead organisation with leaders unwilling to lend a helping hand.
Edited by Aditya Menon
More in Catch:
Why AAP approached SC to define Centre-Delhi relations
Why Ahmed Patel is losing his most guarded possession: anonymity
Here's every Bollywood female protagonist from 1980-2015. It's depressing
#AgustaWestland: why ED has called ex-IAF chief SP Tyagi for questioning