Political awakening: Una may just change the lack of Dalit leadership in Gujarat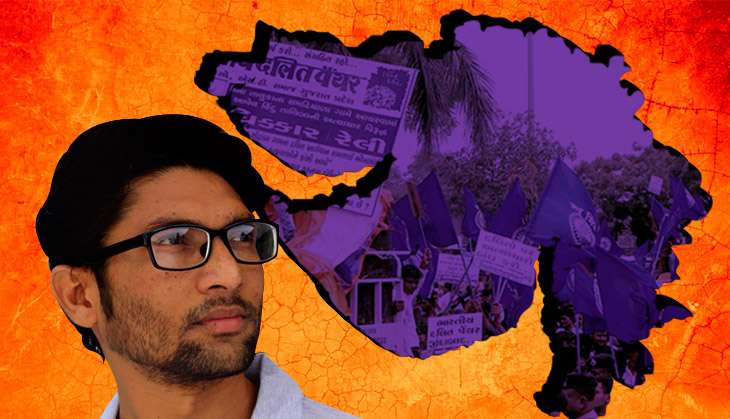 Thanks to Gujarat's long history of oppressing Dalits, no real political leadership has ever emerged from a community that constitutes around 7% of the state's population.
In light of the ongoing Dalit protests in the state, particularly the Dalit Asmita March from Ahmedabad to Una in Gir Somnath district, it is necessary to try and understand why Dalits still have no political say in this post-Independence era.
Also read - Una flogging: As Dalits march for freedom in Gujarat, global support puts in
Lack of effort?
Over the past few years, many national-level Dalit leaders have made small incursions to the state whenever there has been a communal or caste disturbance in which Dalits have been one of the parties.
Observers say that be it Mayawati, Ram Vilas Paswan or more lately, Udit Raj and others, all of them have made small trips to the state in the wake of instances like the 2002 riots, the 2012 Thangadh killings and more recently the flogging of Dalit youths by cow vigilantes at Mota Samadhiyala village of Una.
But none have made any effort to set up a functional result-oriented political wing of their parties. The two main parties in the state, the Congress and the BJP, have Scheduled Castes cells. But these cells have never played the role of addressing the core Dalit issues.
Observers say that while Gujarat has several NGOs and other institutions working on Dalit issues and Dalit rights but their efforts have remained outside the political domain.
Looking ahead
Jignesh Mevani, one of the youngsters leading the Una march, says that the main reason why Dalits do not play any significant role in the dynamics of electoral politics can simply be answered using basic arithmetic.
"With Punjab having 32% Dalit population, Uttar Pradesh having 26% and West Bengal having 22%, Gujarat's 7% are no match. Of these 7%, 60% do not vote. Hence we remain insignificant in electoral politics."
He points out that if the marginalised people of the state want to achieve their goals, the 7% Dalits, 12% Muslims and 15% tribals will have to join hands.
"By making land rights the core of this agitation, we want to force the government to do something and achieve something for ourselves. The Dalits want to give up the inhuman vocations that they have been pursuing for their livelihood. That is why the slogans being chanted include ones like 'Gai ki oonch chod do, humein hamari zameen do' and 'Adani. Ambani, Essar ko zameen; Dalit, Adivasi, OBC ko kyun nahin'. These are different from the routine Dalit rhetoric that one gets to hear. By raising the issue of progressive land reforms, we want to give a class perspective to the issue," he told Catch.
A lengthy fight
Observers point out that while neighbouring Maharashtra saw the rise of leaders like Bhim Rao Ambedkar and Jyotirao Phule, nothing of this sort happened. Thus, no Dalit leader of substance really emerged.
"Mahatma Gandhi's approach was also questionable as he always talked of reconciliation while never talking about issues in terms of right and wrong. In the post Independence period, the Congress continued to be anti-Ambedkar as it has been since the days of Poona Pact, as they preferred the Gandhian approach of compromise and reconciliation. It was only in the 1970s that some leaders like Valjibhai Patel and Praveen Rashtrapal emerged but their emergence was more at an individual level," said a political observer and senior media person based in Ahmedabad.
He pointed that this was followed by the Congress pursuing the KHAM (Kshtriya-Harijan-Adivasi-Muslim) coalition idea of Jinabhai Darji that brought it back into power after the party was in a bad shape in the post emergency years. KHAM was the alliance of Kshatriyas, Harijans, Adivasis and Muslims and this combination ensured Congress victory.
"While KHAM ensured a victory, the Congress never made efforts to bring together Adivasis, Muslims and Harijans together. This led to a continuing disconnect between the three at both the emotional and political levels. And this remains a challenge for any progressive movement that wants to question the existing conditions with respect to either of the three. Under BJP rule, there was obviously no scope for either of the three. The Hindutva forces just ensured that the 'H' and 'A' of KHAM were weaned away from the Congress and the result was all to see in 2002 when these two communities were used against Muslims," the observer explains.
Eminent social activist and political observer Achyut Yagnik told Catch, "Gujarat has a peculiar situation where it has a 7% Dalit population and 15% tribal - which is the reverse of the national scenario. Forming just 7% population, the Dalits have always been on the sidelines of the state politics whereas tribals like Amarsinh Chaudhary did manage to become the chief minister of this state."
More so, he adds, "Almost 48% of Dalits in Gujarat are from the Bunkar (locally called Vankar) community, unlike the north where they are placed in the Other Backward Castes (OBC) category. This community of weavers has always had an urban connect whereby they weaved clothes in villages and sold them in cities. Hence they have had mercantile traits and politics has never been their priority."
A turning point?
Referring to the ongoing Dalit protests and the Una march, Yagnik said that this event is a turning point in the social history of Gujarat as the movement is being led the new generation with barely any organisation. But he does question why Dalit literary personalities are maintaining a stoic silence over the developments.
Whether a political leadership emerges from the current churning amongst Dalits remains to be seen, but what's clear to see is the growing concern of politicians who are seeing a community make a consolidated stand after years of simply being treated as a vote bank.
More in Catch - Being a Dalit in Vibrant Gujarat: Ahmedabad's Mehul recounts the struggle
Una Dalit march: Meet the men taking on Gujarat's Hindutva brigade