People can die for any reason. Don't blame note ban: BJP's Keshav Maurya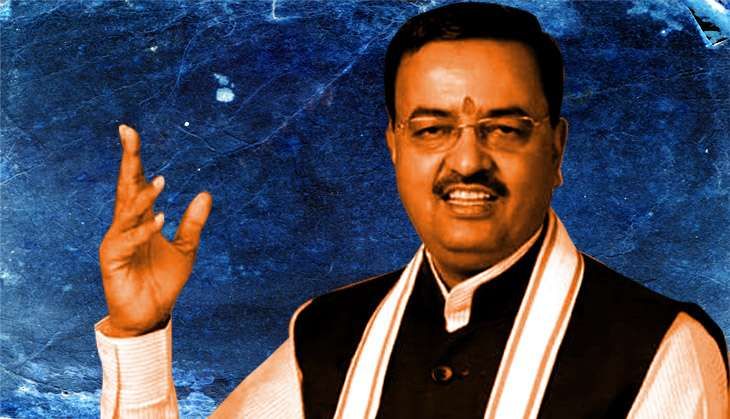 Even as reports pour in of people dying because of shortage of cash, of angry queues and empty markets, the BJP continues to live in denial of the people's anguish.
The party's Uttar Pradesh unit president Keshav Prasad Maurya refused to admit that people have died as a result of the Narendra Modi's government's demonetisation policy. Instead he says that "those who died of heart attacks may have been suffering from heart disease, one can't blame demonetisation".
On being asked if the BJP plans to help people who died, he said "there is no such precedent in the party".
Maurya is a busy man these days given the upcoming Assembly elections in Uttar Pradesh.
The ongoing 'Parivartan Yatras' in four different parts of the state are keeping him occupied. The themes of surgical strikes against Pakistan and demonetisation are dominating his speeches on every stage.
Addressing a rally in Azamgarh, Maurya courted controversy by stating that "Pakistan ran a factory of terrorists and made Azamgarh as one of its centres". The BJP National President Amit Shah was also present at the rally.
There is a clear communal undertone in Maurya's election campaign. He is probably trying to consolidate Hindu votes through his remarks on Azamgarh. His party has gone a step further by digging into the city's history. According to BJP, Azamgarh was actually Aryamgarh in earlier times and its lost glory needs to be restored.
Atul Chaurasia caught up with Keshav Maurya to discuss all these issues. Excerpts:
Q: The common man is facing a lot of difficulties due to demonetisation. There is a visible anger on the streets. Will it adversely affect your party's chances in the upcoming elections?
A: There is no anger in the public. I can say with full authority that people are happy with Modiji's decision. The election outcome will prove how demonetisation has worked in our favour. The move has helped the country in various ways.
It has dealt a severe blow to the financial network of Pakistan-sponsored terrorists. People involved in the fake currency business have been forced to shut their shops. It has exposed the people with huge amounts of black money.
Q: Your party is also facing the allegations of using the black money. The opposition is alleging that Modi's Ghazipur rally would not have been possible without the use of black money?
A: I will only say that 'Khisiyani bill khamba noche (a cat not able to catch mice will scratch the pillar in frustration).' BJP is the biggest party in the world. It does not need any black money.
Q: The note ban could also affect your election campaign. People are saying that the state BJP unit was informed about the decision in advance and it had already accumulated enough money to meet election expenses?
A: This is not correct. It is a good thing even if election preparations are affected. It will be the first election free of black money. What could be better for the country?
Q: A woman died of a heart attack in Gorakhpur after hearing about the note ban. Such reports are coming from across the country. Has your party contacted the family of the deceased woman or helped her in any manner?
A: This is the duty of the state government. One can die because of any reason. But people are attributing every such incident to the note ban. The person was suffering from a heart disease and it resulted in her death. What has demonetisation to do with it?
Q: So you are denying that the woman lost her life because of demonetisation?
A: I am not aware of the details of this incident. Therefore, I will not make any claim. However, people are linking any death to the government's decision. This is not right.
Q: The woman belonged to the constituency of your leader Yogi Adityanath? Should your party not help her family?
A: Our party has no such precedent. It is the duty of the state government.
Q: Earlier, the party was raising the issue of surgical strike in a big way. Now, demonetisation is dominating BJP's political discourse. What will the biggest poll issue for your party?
A: Surgical strike is not a political issue for us. It is a question of country's pride. The nation has given a befitting reply to Pakistan under Modiji's leadership. Even he has stated that it should not be politicised. But we will go to the masses with the issue of demonetisation.
Q: Yet, your party felicitated Defence Minister Manohar Parrikar after the surgical strike. A rally was organised for this purpose. Is it not a strategy aimed at gaining political mileage out of surgical strike?
A: That rally was not a political event. We just wanted to honour Parrikar for this courageous decision. Obviously, the Prime Minister cannot attend every such event and army chief cannot be invited. Therefore, we decided to call the Defence Minister.
Q: You have called Azamgarh as a hub of Pakistani terrorists during a rally attended by Amit Shah. Can you substantiate this claim?
A: I had stated that Pakistan is the factory of terrorism. It exports terrorists to our country and Azamgarh is a big centre of such activities. I did not mean to say that the entire area is the hub of terrorism.
Q: But not even a single person arrested from Azamgarh has been found to be linked to Pakistan. You are maligning an entire region as the factory of terrorism. Are you aware of the dangers involved in such tactics? Does this not make life difficult for people from Azamgarh living overseas?
A: I do not know about the judicial status of terrorism cases related to Azamgarh. I am not singling out this region. There are several other parts where Pakistan-sponsored terrorists are finding shelter.
Q: Is Ram Mandir an issue in your election campaign?
A: No. It is an issue of faith for us. We want to see a Ram Temple in Ayodhya. It could either be through a court decision or mutual compromise.
Q: Has your party taken some initiative in this direction?
A: No. We have not taken any step in this regard. However, we will accept any decision based on consensus. We will not make the first move.
Q: Are you in contention for the post of Chief Minister?
A: The BJP is a cadre-based party. All of its decisions are taken by party's Parliamentary Board. It decides whether we need to project a CM candidate in an election or not. It will depend on the circumstances. The party will take a call based on the time and situation. We went into polls without announcing a CM candidate in Maharashtra, Haryana and Jharkhand. Whereas, Sarbanand Sonowal was projected before elections in Assam. The top leadership decides these matters.