Parties make last ditch effort to woo Punjab, resort to mud slinging over Bathinda blast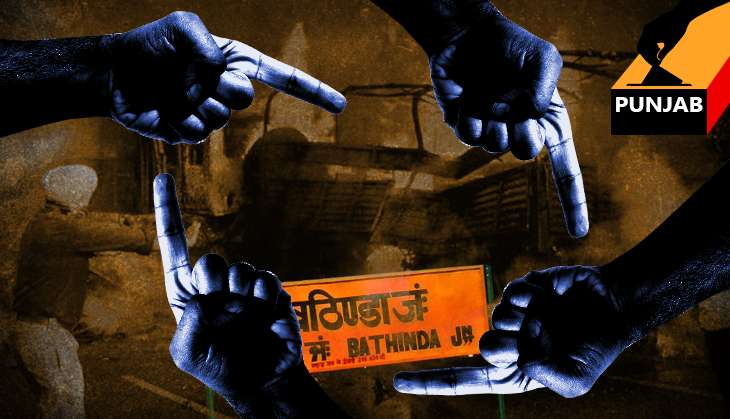 With just two days to go for the voters to decide on the next government in Punjab, political parties are making their last ditch efforts to secure public support. Be it small corner meetings, public rallies, one-to-one campaigns or anything to draw public attention - the milieu in Punjab is electric.
The Congress had resorted to a massive show of strength on the ground. It has launched yet another campaign under the slogan '2/3 Bahumat' (two third majority) with Congress President Captain Amarinder Singh telling people that every vote will add towards the Congress getting a two third majority.
Besides the leaders addressing rallies, the party put thousands of bikers, 300 dhol walas, 1,500 volunteers on ground with an aim to address hundreds of nukkad sabhas by 2 February.
Sources running the Congress campaign said, "The effort was to come out with massive shows of strength, take out bike rallies, roadshows, door-to-door exercise, mega rallies, street plays, padyatras, and dhol bajas creating an atmosphere of an apparent victory. The slogan 2/3 Bahumat (do tihaai bahumat) is plastered all over the state - while the campaign song, 'Chahunda Hai Punjab - Captain Di Sarkar' (Punjab wants Captain's government) was being played through these activities."
Areas of focus
Both the star campaigners Amarinder and Navjot Singh Sidhu have been pulling massive crowds in their rallies with the focus on the Malwa region where the rival Aam Aadmi Party (AAP) supposedly has an edge.
Most of the Congress heavyweights have been concentrating on this region. The party claimed that it is in a comfortable position in the region while dispelling reports that AAP is leading there.
Congress workers have also been distributing merchandise with Amarinder's 'Naun Nukte' (Nine points for the electorate) to the people. These included small foot rulers that have become very popular with school children.
Also read: Battle for Punjab: Congress banks on Majha, Doaba. Draws 9-point map to gain upper hand in Malwa
Rallying forces
The Aam Aadmi Party (AAP) fielded its volunteers from across India and even its NRI support base across Punjab for the last, but most crucial, phase of campaign.
The NRIs toured their respective villages, particularly in the Doaba region, asking local residents to support the party candidates. Some of them parked themselves in their palatial houses with their phones, consistently calling up acquaintances, asking them to vote for the AAP candidates.
"Their appeals cannot be taken lightly. They simply dictate terms in their families because they are the ones who send the money back to them. The affluence that is visible here is simply because of the wealth transferred from abroad. Even I have had my relatives calling up my family," said a journalist working with a vernacular daily in Jalandhar.
The AAP volunteers from other parts of India who have landed here can be seen standing at every cross road with AAP scarves around their necks and a broom in hand waving to all passers by. Some of them can even be seen at traffic lights asking people in the vehicles that halt there to vote for AAP.
In the remote villages, small groups of volunteers are carrying out padyatras shouting slogans and appealing to the people on region-specific issues - be it drug menace or farm distress.
Pacify & proceed
The Akalis have also resorted to massive contact programmes with the electorate. Apart from their rallies and corner meetings, top leaders have been constantly calling up people who are opinion leaders within their communities, to lend support to them.
They are also trying to pacify those who are annoyed with them telling them to let bygones be bygones. They are also invoking the Punjabi pride among masses besides playing up what they would do in the next five years in terms of improving civic amenities.
Blame game
Meanwhile, the issue of the car-bomb blast that took place Maur Mandi, close to where the Congress candidate Harminder Jassi was addressing a gathering at that time, has led to the parties taking to mud slinging against their rivals.
Six persons were killed while 15 others were injured in the blast. While the police are investigating the matter, the parties are leveling charges at each other. Jassi is a relative of controversial Dera Chief of Sirsa Gurmeet Ram Rahim Singh.
Amarinder blamed AAP's national convenor Arvind Kejriwal for promoting extremist forces such as the Khalistan Commando Force (KCF). He said the Maur bomb blast and the subsequent firing in Bathinda showed that the inoperative terror cells of the Khalistanis are getting active again.
He said that Kejriwal, who had himself stayed at a KCF extremist's house in Punjab, is fanning terror forces through his actions, led by the dangerous mix of AAP's extreme left and extreme right ideologies.
Asserting that 'fascist' forces like AAP and the Akali Dal, whose leader Parkash Singh Badal is clearly to blame for the increasing incidents of religious sacrilege in Punjab, Amarinder said both could go to any extent to grab power.
AAP on the other hand while condemning the incident has said that it was a well-planned bomb blast and has vowed to ensure the harshest possible punishment to the perpetrators of the crime.
"We strongly suspect that the deputy chief minister of the state Sukhbir Badal is behind the plot. Serial target killings in the state, jailbreak in Nabha, shoot out in Jalandhar and then meeting of Sukhbir Badal's party men with liquor mafia and criminal Shivlal Doda in Fazilka leaves no suspicion that the free-run to criminals has been given in the state only under the instructions of Sukhbir Badal," said a statement released by AAP.
This statement came after Sukhbir said that the blast at Maur Mandi was a direct result of the nexus between AAP and radical elements.
He said, "We have been asking the Election Commission to take note of the manner in which Kejriwal is consorting with extremist forces. The bomb blast proves that our apprehensions were correct and that radical elements have infiltrated into Punjab in league with AAP."
He added that the manner in which the bomb blast was carried out was a hallmark of the blasts done during the days of terrorism.
"It has been reported that there were twin ED devices and that the scooter and car used for the attack sported fake numbers and even the numbers of their chassis and engine had been struck off," Sukhbir said.
Edited by Jhinuk Sen