Padmavati vandalism : BJP bowing to vigilantes doesn't befit its status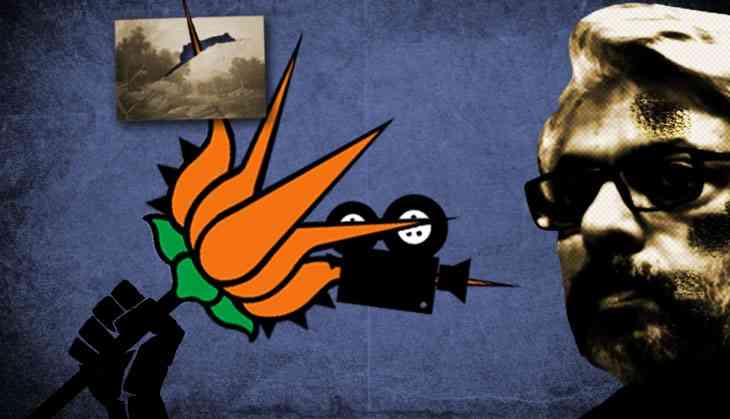 The Bharatiya Janata Party's state units in Delhi, Rajasthan and Maharashtra have been united by a series of recent events.
On 14 March, Tajinder Pal Singh Bagga, founder of the vigilante outfit Bhagat Singh Kranti Sena, was appointed as spokesperson for the Delhi BJP. Not too long ago, Bagga was arrested and remanded to judicial custody for participating in a brutal physical assault on senior advocate Prashant Bhushan.
The BJP's open endorsement of lumpen elements has now found resonance in Rajasthan as well, with a state cabinet minister announcing that Sanjay Leela Bhansali's film Padmavati will be released in the state only after securing the assent of a string of vigilante outfits.
A delegation of members of the Shri Rashtriya Rajput Karni Sena (SRRKS), Rashtriya Brahman Mahasangh and Rajasthan Vaishya Mahasabha reportedly met Rajasthan's Social Justice and Empowerment Minister Arun Chaturvedi. Following the meeting, Chaturvedi announced that the state government will no longer allow shooting of the film in the state, and "if it is released" at all, that will happen after screening the film before these outfits.
Hooligans targeting Bhansali's film
The SRRKS is reportedly a splinter group of the Shri Rajput Karni Sena (SRKS), whose members had stormed the shooting of the film at Jaipur's Jaigarh Fort in January, vandalising the set, damaging equipment and roughing up Bhansali. They said they were angry at the possibility of a dream sequence in Padmavati, in which queen Padmini and emperor Allauddin Khilji share intimate scenes.
The SRKS had, earlier in March, destroyed two mirrors at Chittorgarh Fort, a UNESCO World Heritage Site. The mirrors were believed to be the ones in which Khilji had caught a glimpse of Padmini and had fallen for her.
In more evidence of its hooligan mindset, the SRKS has hailed those who vandalised and burnt sets of the movie in Kolhapur, Maharashtra, on 15 March. "We salute the Hindutva organisation which vandalised the sets... It was undertaken by a like-minded organisation, and we have been in touch with them," Mahipal Singh, state president of the SRKS, told the media.
Under ordinary circumstances, Singh would have been immediately apprehended by the Maharashtra Police for complicity in the attack, since a case against unknown persons has already been lodged. However, that would be too much to expect at a time when governments want private caste-based pressure groups and vigilante organisations to take up the role that's supposed to be fulfilled by the Central Board of Film Certification.
Then again, perhaps that's a fitting proposition, since the Censor Board has in any case been filled up with political cheerleaders.
BJP mustn't go the Shiv Sena way
Cinema is increasingly becoming an easy target of goons sponsored by political parties.
A film-maker gets thrashed, his sets and props are burnt, heritage properties are destroyed, and instead of punishing the assailants, the BJP wants to honour them and seek certification from them.
Padmavati, Raees, Ae Dil Hai Mushkil, Bajirao Mastani, PK – movie after movie is falling prey to political controversies. But it is only a symptom of the mainstreaming of goondaism that political parties like BJP are indulging in.
Many will recall how Shiv Sena supremo Bal Thackeray had forced director Mani Ratnam to agree to several cuts in his movie, Bombay, that was based on the 1992-93 riots in Mumbai.
The Shiv Sena was a regional party then, and still is one.
The BJP, however, was never a regional party. Now, it has become the party with the largest number of MPs and MLAs across the country.
As it gradually becomes the largest national party in one of the world's most thriving democracies, shouldn't the BJP shun the sensibilities that shape parochial and sectarian outfits?