Old wine in older bottles: Congress picks Nath and Azad to helm Punjab, UP polls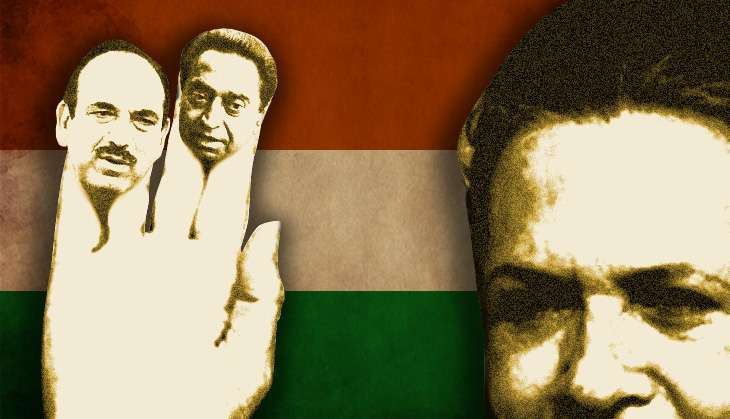 Vital elections
It is vital for Congress to win UP and Punjab to remain viable in the country
Old hands like Nath and Azad have been brought in as party in-charges in these two states
Bring in the veterans
Congress has chosen experience over fresh blood in both the states
Insiders say that candidates have been chosen to avoid internal feuds
More in the story
Political parties in Punjab slam Congress for selecting Kamal Nath
What is Congress actually hoping for from these veterans
A day after the results of the Rajya Sabha elections were announced, Congress decided to bring in party veterans Kamal Nath and Ghulam Nabi Azad as in-charge of Punjab and UP - two states that go to polls next year.
Nath has also been given additional charge of Haryana after an internal bickering led to cancellation of 14 party votes during the Rajya Sabha polls which resulted in the victory of BJP-backed candidate Subhash Chandra.
Within hours of Congress announcing the decision, political opponents in Punjab lashed out at the Congress for inducting Kamal Nath who was indicted by the Nanavati Commission on allegations of involvement his in the 1984 Sikh riots in Delhi. He was later let off in abscence of credible evidence.
However, Congress state party chief Captain Amrinder Singh welcomed the decision and claimed that he needed an experienced hand in Punjab.
Giving a clean chit to the former Union Commerce minister, Singh said that Nath had no role in the 1984 riots and that his name was dragged into the riots during his visit to the US in 2010.
Political backlash
The plan to introduce an experienced leader in Punjab seem to have backfired with rival political parties slamming Congress for brazenly backing those who allegedly participated in the Sikh riots.
Nath's appointment as state party chief was ridiculed by Delhi Chief Minister Arvind Kejriwal, a favourite in the upcoming the Punjab polls, who tweeted: "Capt Amarinder shud state his stand on Kamal Nath. Does Capt absolve Kamal Nath?"
While his party's state convenor Sucha Singh Chottepur called it an "act of the Congress to rub salt on the wounds of Sikhs."
Even Shiromani Akali Dal was quick to launch an offensive against the beleaguered Congress and its spokesperson, Daljit Singh Cheema, questioned why the Gandhi family continues to "honour the perpetrators of the 1984 riots" with important party posts.
Under these circumstances, it remains to be seen whether Nath manages to turn party's electoral fortunes in the states or ends up damaging it further.
Change of guard
Nath was given the charge after Shakeel Ahmed, party in-charge of Punjab and Haryana, went abroad on a two-month leave to attend to his ailing wife.
Amid all this, the Rajya Sabha elections in Haryana exposed the widening rift between the central leadership and the state leadership with former chief minister Bhupinder Singh Hooda leading the revolt over party's decision to support INLD candidate RK Anand.
Insiders claim that Nath's appointment had other reasons as well.
They point out that Nath was eying the role of Madhya Pradesh Congress Committee chief and since Arun Subhash Chandra Yadav is close to Rahul Gandhi, Nath had to be accommodated elsewhere to avoid yet another internal feud in another state.
Along with Nath, Congress also appointed Azad as the state in-charge of UP that goes to poll in early 2017.
The veteran Kashmiri leader was also the observer for the UP Rajya Sabha elections where some Congress legislators cross voted during the crucial polls giving jitters to Congress candidate Kapil Sibal.
In fact, insiders point out that differences between former UP in-charge Madhusudan Mistry and poll strategist Prashant Kishor was also the reason for bringing Azad in.
However, Mistry, a close confidant of the Gandhi scion, will continue to lead the AICC's Central Election Committee and remain general secretary.
Insiders claim that a decision to appoint Azad was done in consultation with Mistry.
Eye on the prize
Another important reason for Azad's elevation are his skills in dealing with allies which gives him an edge over others.
He had been successfully negotiating with partners in Tamil Nadu, West Bengal, Assam, among others.
With an eye on the UP elections, Congress is hoping that Azad ropes in like-minded parties for a post-poll alliance to keep BJP out of power in the state.
His induction is also a move to woo the minority community that is expected to play a key role in determining who grabs power in UP.
Appointments of Azad and Nath are being seen as the first step towards the organisational reshuffle that has been on the cards ever since the results of five assembly elections were announced.
Though there were rumors that Rahul was planning to induct new faces in the party hierarchy, but these two names suggest otherwise.
It seems the party central leadership has yet again chosen experience over fresh blood.
Edited by Jhinuk Sen