Not many in BJP take on Modi. So who is Nana Patole?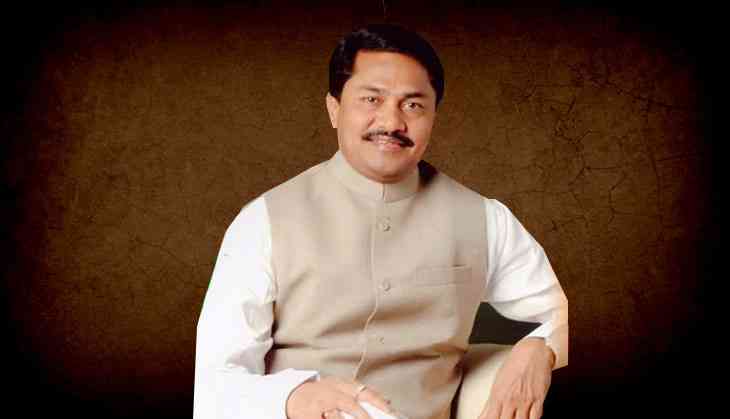 We are used to the Opposition raising the pitch against the ruling Bharatiya Janata Party, but here's a BJP parliamentarian who has been criticising Prime Minister Narendra Modi agenda and style of functioning. Meet Nana Patole, who represents Bhandara (in Maharashtra's Vidarbha region) in Lok Sabha.
Patole, earlier a Congress legislator, joined the BJP ahead of the 2014 Lok Sabha elections. He proved detractors wrong by defeating Praful Patel (Nationalist
Congress Party) by 1.5 lakh votes.
Of late he has been attracting national limelight:
In the first week of September he kicked up a storm , alleging Modi did not like being questioned by anybody -- even by a member of Parliament. The PM was angry with him for raising issues regarding Maharashtra's ministry for Other Backward Classes and farmer suicides during a meeting between BJP MPs and Modi, Patole said in Nagpur. As it was a public event, giving fellow BJP leaders little leeway to defend the PM.
"Mumbai contributes the most in taxes to the central coffers. Still, the Centre's treatment of Maharashtra is step-motherly and Fadnavis is not capable enough to get central funds," Patole said.
Naturally, the Opposition as well as ally Shiv Sena took the opportunity to lambast the BJP.
Later Patole also alleged that central ministers were constantly living with the fear of the Prime Minister. However, he also said he was misquoted.
That's not all
Barely after a fortnight, Patole again targeted Fadnavis over increasing of farmer suicides.
"Farmer suicides have been a blot on the image of Maharashtra. They have been taking place in the past also, but the number has increased in last three years.
"CM Fadnavis is my friend, but I can not look the other side when a friend, who is at the highest post in the state, is committing mistakes," Patole said.
Advising Fadnavis to work towards the betterment of the people, Patole joined those demanding a blanket loan waiver for farmers. He also objected to "insensitive" remarks by state Revenue Minister Chandrakant Patil that nearly 10 lakh loan waivers applications were fraud.
Understanding the outburts
There were speculations that Patole, known to be close to several BJP leaders, could have been inducted into the Union Cabinet. This rattled Patole, BJP sources said.
"Both of them are from Gondia district and are known rivals. He could defeat Patel only because of Modi wave in 2014," a senior BJP leader said.
"Had it not been for the Modi wave, Patole wouldn't have joined the party in first place, let alone contesting against Patel. Back then he realised that the Modi wave could salvage his political career, hence he joined the BJP. Now he seems to have changed his mind. His recent activities indicate he may soon find a new alliance," the leader said. The buzz is Patole is considering joining the Sena.
Not new to controversy
Patole earlier took on the party leadership over a tiger gone missing from Umrer Karhandla Wildlife Sanctuary near Nagpur. The tiger, Jay, who went missing April last year, was hunted by poachers and forest department officials neglected the issue, he had alleged. But he couldn't produce any evidence to back his claim.
He had also shocked party leaders by tabling a private member's Bill in the Lok Sabha, seeking statehood for Vidarbha.
So who is Patole?
Nana Patole emerged as a giant killer in the 2014 Lok Sabha elections, defeating former Union minister Patel in his bastion Gondia.
Patole started his political career as a member of the Bhandara Zilla Parishad. He contested the 1995 Assembly elections as an independent, as the Congress denied him candidature, but lost to the BJP. In 1999 and 2004, Patole won the Lakhanur Assembly seat on Congress tickets.
He is known for raising public issues. During the winter session the Assembly in 2008, Patole locked horns with the government for the paddy growers of east Vidarbha. Following differences with party leaders, he resigned from the Congress and contested the 2009 Lok Sabha elections as an independent candidate, but
lost to Patel for a huge margin.
He later joined the BJP and won the 2009 Assembly elections with the highest margin in Vidarbha. He kept targeting Patel over every possible issue in the
constituency.
Son of an agriculture officer, Patole is a native of Sukali village in Sakoli taluka of Bhandara district. His brother is a deputy superintendent of police. Bhavana Gawali, member of Parliament from Yavatmal, is the sister-in-law of his elder brother.
During the infamous Khairlanji massacre case, Patole openly sided with the OBCs against Dalits. He aggressively took up the case of rape and murder of an OBC girl by a Dalit youth and got the mother of the victim a compensation of Rs 3 lakh. Since then he has been extremely popular among OBCs while Dalits consider him to an enemy.
Will his recent outbursts cost him politically? Only time will tell. But by then he may have jumped ship.