Northeast: After Assam & Arunachal, BJP sets out to achieve Congress mukt Manipur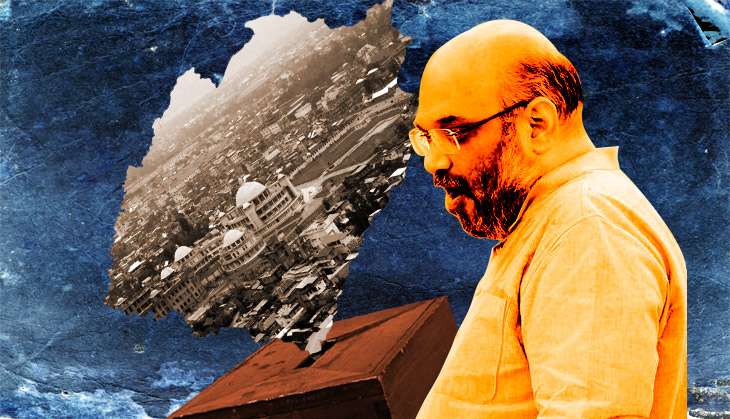 After uprooting the Congress from Assam and Arunachal Pradesh, the BJP has launched its new mission in the Northeast: Congress mukt Manipur. The state is due for assembly election next year.
BJP's president Amit Shah has appointed Himanta Biswa Sarma, the health and education minister of Assam, to look after the party's affairs in Manipur. Sarma is also the convener of the newly-constituted Northeast Democratic Alliance, or NEDA.
Also Read: Arunachal Pradesh: Congress dealt with massive blow as 45 of 46 members quit
The Northeastern states have traditionally been strongholds of the Congress. While the party still has a strong presence on the ground in most of the seven "sister states", it has lately suffered multiple setbacks in the region. The party was voted out in Assam and then lost the government in Arunachal Pradesh after an inner-party rebellion.
This has apparently given the BJP reason to believe that the Congress could be routed in Manipur as well.
The BJP failed to win a seat in Manipur's last assembly election in 2012, but it was emboldened after winning two bypolls last year. It has since registered a presence in the Imphal Municipal Corporation, winning 10 of its 27 seats. The Congress currently holds 48 seats in the 60-member Manipur assembly.
Also Read: Achhe din for the BJP: Assam conquered, Congress-mukt Bharat next?
The Congress has accused the BJP of trying to destabilise its governments in "several states" through money power, citing Arunachal and Uttarakhand as proof.
Two-pronged strategy
In Manipur, the Meitei, who constitute the dominant ethnic group, hold the key to power. And the BJP is going all out to win them over. The RSS cadre has been working in the community for years and the BJP's strategists seem to think this will yield electoral dividends next year.
The BJP is also wooing state Congress leaders known to be disgruntled with the party high command. Sources in the BJP claimed Sarma was "personally" in touch with several such leaders and suggested that the Congress could see an exodus of MLAs just before the next election.
HRD Minister Prakash Javadekar, who is tasked with overseeing the BJP's election preparations in Manipur, is scheduled to visit the state on 2 October "to take stock of the preparations" and hold consultations with leaders of the NEDA.
The NEDA, formed soon after the BJP came to power in Assam, comprises the ruling party and regional parties from across the Northeast, including the Naga People's Front, Sikkim Democratic Front, People's Party of Arunachal, Asom Gana Parishad and Bodoland People's Front.
Also Read: Obsession with 'Congress Mukt Bharat' may cost BJP dearly. Here's how