Hindutva's poster-boy: can Mahesh Sharma be BJP's face in UP?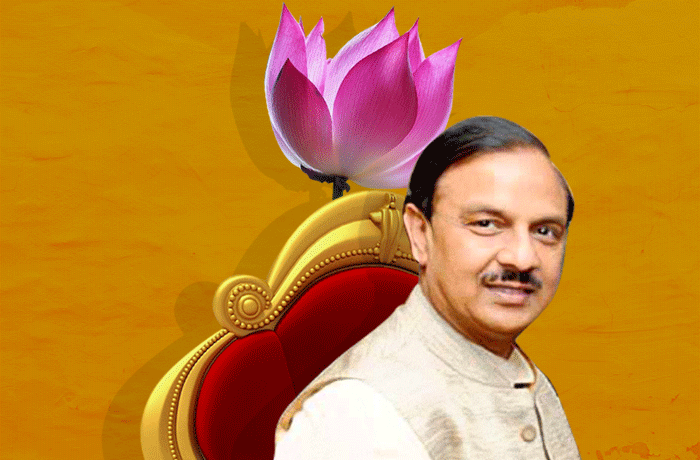 Meteoric rise
Mahesh Sharma contested his first election in 2009. He has come a long way since then
Currently MoS for Tourism and Culture, Sharma is said to be eyeing the UP CM\'s post
His comments on the lynching in Dadri could be a way of playing to the Hindutva gallery
Background
A doctor from Noida, Sharma runs the Kailash chain of hospitals
Though an RSS man, he has friends across the political spectrum
More in the story
How did Sharma get in the good books of the BJP leadership?
What explains his dramatic rise in the party?
From a doctor to a Union minister, Mahesh Sharma has come a long way. And with his controversial statements after the Dadri lynching, he has also made his name as a Hindutva spokesperson. Is he pitching himself for something bigger?
The speculations in the BJP is that the minister is trying to project himself as the party's chief ministerial candidate in Uttar Pradesh.
The rise
Last November, Sharma gained a wild card entry into Narendra Modi's council of ministers. He was appointed as minister of state with independent charge of tourism and culture. Additionally, he is also an MoS in the civil aviation ministry.
For someone who entered electoral politics only in 2009, Sharma's rise has been meteoric. His rising stature is a cause of envy for many senior leaders within the party.
Sharma's controversial statements seem to be giving even hardline Hindutva elements in the BJP a run for their money. He has become a part of the clamber to be the new Hindutva champion of the party.
If Yogi Adityanath was the face of the campaign against love jihad ahead of the September 2014 by-polls, Sharma has been the Hindutva lobby's poster-boy in the aftermath of the lynching of Mohammad Akhlaq.
Sharma, who is the MP from Gautam Buddh Nagar in which Dadri falls, came out in defence of those behind the lynching. He said that it was an accident provoked by news of a calf being slaughtered.
The image
Sharma's emergence as a pro-Hindutva leader doesn't quite match his track record. People close to Sharma know him as an amiable and inclusive leader.
"Sharmaji is a very sensitive human being. He has helped a lot of poor people through his hospitals.. The party fully supports what he has said," says Dr Chandra Mohan, general secretary of the BJP's UP unit.
The devotees coming to the Sanatan Dharm Sabha Temple at Noida Sector 19 swear by his good deeds.
"He is a frequent visitor to this temple. He doesn't give the air of being such a VIP. He came to this temple to seek blessings after taking oath as minister," says Arun Kumar, a local resident.
Hospital as a stepping stone in politics
A doctor by profession, Sharma is the owner of Noida's famous Kailash Hospital. Political analysts say it has been an important pivot in Sharma's rise within the Sangh Parivar and BJP. Many BJP stalwarts including Amit Shah and Rajnath Singh have benefited from the hospital facilities. This brought him close to the BJP leadership.
The same applies to Sharma's relations with leaders in other parties. The politics of UP revolved around SP and BSP when Kailash Hospital was gaining business and popularity. Despite being a staunch RSS supporter, his business never suffered during SP or BSP rule.
BJP stalwarts like Amit Shah and Rajnath Singh have come to Sharma's hospital for treatment
"His capability to establish and maintain relations is extraordinary. Otherwise, it would not have been possible for a migrant from Rajasthan to find political ground in UP. He has many well-wishers in SP as well as BSP." says a BJP leader from UP.
Sharma hails from Alwar district of Rajasthan. His father Kailash Sharma migrated to Delhi long ago. Sharma has spent his childhood in Delhi's Daryaganj and did his MBBS from the Vardhaman Mahavir Safdarjang Medical College.
He started his own clinic after shifting to Noida in 1983. It has now grown into a full-fledged medical empire. Kailash Hospital has six branches across different states.
With his congenial nature, Sharma has charmed the media as well. Kailash Hospital offers special discount for the treatment of journalists.
Rajnath loyalist, Modi's pointsman
Sharma is known to be from the Rajnath Singh camp within the BJP. Rajnath regularly visits Kailash Hospital for treatment. In fact, Rajnath was party president when Sharma was given a ticket to contest the 2009 Lok Sabha elections. However, he lost the election.
Sharma tasted political success for the first time in 2012 when he won the assembly election from Noida. Already an MLA, he was fielded by the BJP in the 2014 general elections and a strong Modi wave ensured his victory.
BJP insiders say he has learnt to balance his loyalties between Modi and Rajnath. Increasing proximity with Modi and BJP president Amit Shah opened new avenues for Sharma.
He camped in Varanasi for 10 days to handle Modi's campaign from the seat. Yet, he managed to win by a margin of over 2 lakh votes from his own constituency.
Sharma's closeness to Modi ensured him a ministerial berth. The Prime Minister even assigned Sharma the task of monitoring all development projects in Varanasi. This showed the faith reposed by Modi on him.
Despite his ministerial responsibilities. Sharma hasn't neglected his work in the PM's constituency. On 4 July, he gave the PM a comprehensive list of what needs to be done in Varanasi. The list includes suggestions like building a training institute for women's security, improving power supply at various ghats of Varanasi and ensuring cleanliness.
What next for Sharma
Needless to say, success has given wings to his political aspirations. He is trying to stay in the news by any means, even if it is by making controversial comments. Recently, he had said that women going out at night is against Indian culture.
He came down heavily against so-called western influence on our society at the 3-day BJP-RSS co-ordination meeting. It is no secret that the Sangh Parivar has a particular interest in the ministry of culture to advance its agenda of cultural nationalism. RSS finds Mahesh Sharma as the most suitable man for this task.
Sharma is avowedly an RSS man. Both his personal website and Lok Sabha profile proclaim him to be a staunch Sangh supporter.
He made his intentions evidently clear in a recent interview:
"39 institutions, including the National School of Drama, work under the ministry of culture. Yet, we have failed to promote Indian culture so far. Therefore, the ministry is working on an alternative structure to transform all these institutions," said Sharma.
Clearly, this soft-spoken leader seems to have taken a cue from his party colleagues like Yogi Adityanath and Sakshi Maharaj. All these leaders are eying the UP assembly elections that are due in 2017.
All of them realise that the party doesn't have an established face in the state and they have a fighting chance if they can win the support of the Modi-Shah high command.