No kiddin'. That's Rahul Gandhi doing Aikido
Catch Team
| Updated on: 2 November 2017, 0:50 IST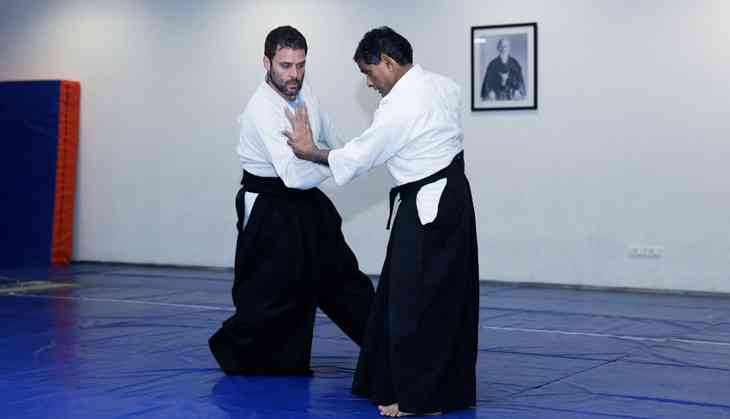 (Twitter / @GauravPandhi )
The Congress's new-found social media mojo was on display again when Gaurav Pandhi and other partymen tweeted photographs of Rahul Gandhi practicising martial arts. As expected, the twitterati lapped it up.
If it interests you, here are a few pics of Rahul Gandhi with his Aikido coach Sensei Paritos Kar, from one of the training sessions. pic.twitter.com/KsHAiAHPul

— Gaurav Pandhi (@GauravPandhi) October 31, 2017
It wasn't all out of the blue really: Just a few days ago, the Congress vice-president had an engaging chit-chat with Olympics hero Vijender Singh at a public event.
The pugilist reportedly asked the Gandhi scion about any plans of tying the knot. He deftly ducked that. Singh prodded on: "I have rarely seen a lawmaker do any sports." To that Gandhi replied: "I do exercise, swim; am a black belt in aikido. But I don't talk about it."
Some quarters say the boxer then urged him to share some snaps to encourage the youth to take up sports.
It is a matter of conjecture whether Pandhi's tweet is a follow-up of that, but they have surely been a hit on Twitter: some made fun while some lauded Gandhi's chops and blocks. Whatever the reactions, one thing's for sure: Love him or hate him, it has now become tough to ignore RaGa.