No healing, no touch: Why Modi govt needs to rethink its Kashmir policy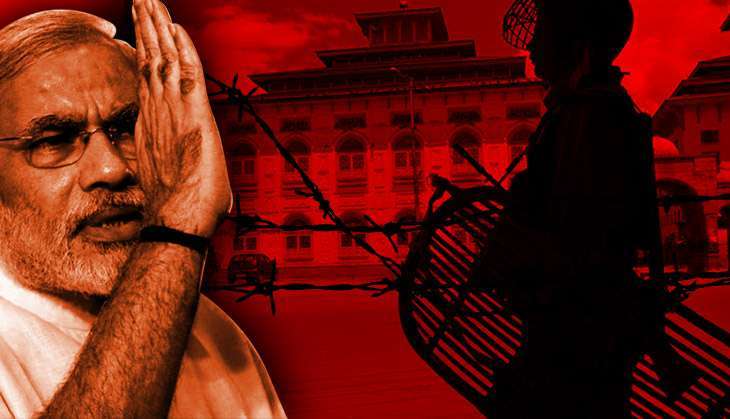 Kashmir is mourning its children, those killed, maimed and blinded. Daily life is thrown completely out of gear by unpredictable violence, a persistent sense of grief and hopelessness. There is no sign of normalcy returning any time soon.
Yet the ruling elite in Delhi believes that the situation is under control and that things are improving. This clearly obviates the need for a dialogue with anyone in Kashmir.
The new "state doctrine"
There is an expectation that the government's new found hard-line on Kashmir - of conceding no political ground and tiring out the protestors - should be endorsed by everyone.
All patriotic Indians are expected to tacitly support this muscular approach - a new "state doctrine" on national security. It means asking no questions about the accountability of the security establishment.
In the context of Kashmir, this doctrine means doing nothing. It does not allow for the State reaching out to the people. There is therefore no attempt to share the grief of the families of those killed by the security forces or formulating short-term and long-term policies to rehabilitate those who have been blinded or partially blinded by pellet guns.
There is no attempt to make the security forces accountable for excessive use of force against protestors. For less than what has gone on in the Kashmir Valley since early July, judicial inquiries have been ordered in the rest of India. There is also no move to open up the political space and allowing Kashmiri society to heal itself.
In a democracy, nobody rules for ever. Nor will the current dispensation. Meanwhile, it cannot be the duty of Indian citizens to be mere bystanders to the "doctrines" that change with seasonal change of government.
Consensus on the use of force to tame a people is not a formula for nation building.
In the run up to1971, there might have been a consensus in West Pakistan about not letting the Bengalis of East Pakistan get their due and try and control them through military means. However, that did not help it retain Bangladesh as an integral part of Pakistan.
A way out within the Constitution
India's own image as a promoter of democracy, federalism and human rights also militates against denying people their rights. This is evident not only within India but also in the immediate neighbourhood.
Within India, Articles 371 a, b and c of the Indian Constitution give special rights to the people of Nagaland, Assam and Manipur. The Indian Constitution does not seek uniformity in the relationship of the Centre with the States. Even the historic Framework Agreement signed by Prime Minister Narendra Modi's government with the National Socialist Council of Nagaland (Isak-Muivah) allows for renegotiating the federal relationship to the satisfaction of the Nagas.