No healing, no touch: Why Modi govt needs to rethink its Kashmir policy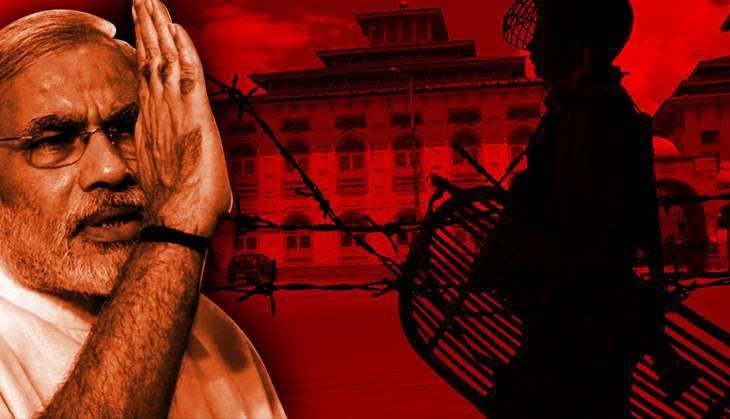 Kashmir is mourning its children, those killed, maimed and blinded. Daily life is thrown completely out of gear by unpredictable violence, a persistent sense of grief and hopelessness. There is no sign of normalcy returning any time soon.
Yet the ruling elite in Delhi believes that the situation is under control and that things are improving. This clearly obviates the need for a dialogue with anyone in Kashmir.
The new "state doctrine"
There is an expectation that the government's new found hard-line on Kashmir - of conceding no political ground and tiring out the protestors - should be endorsed by everyone.
All patriotic Indians are expected to tacitly support this muscular approach - a new "state doctrine" on national security. It means asking no questions about the accountability of the security establishment.
In the context of Kashmir, this doctrine means doing nothing. It does not allow for the State reaching out to the people. There is therefore no attempt to share the grief of the families of those killed by the security forces or formulating short-term and long-term policies to rehabilitate those who have been blinded or partially blinded by pellet guns.
There is no attempt to make the security forces accountable for excessive use of force against protestors. For less than what has gone on in the Kashmir Valley since early July, judicial inquiries have been ordered in the rest of India. There is also no move to open up the political space and allowing Kashmiri society to heal itself.
In a democracy, nobody rules for ever. Nor will the current dispensation. Meanwhile, it cannot be the duty of Indian citizens to be mere bystanders to the "doctrines" that change with seasonal change of government.
Consensus on the use of force to tame a people is not a formula for nation building.
In the run up to1971, there might have been a consensus in West Pakistan about not letting the Bengalis of East Pakistan get their due and try and control them through military means. However, that did not help it retain Bangladesh as an integral part of Pakistan.
A way out within the Constitution
India's own image as a promoter of democracy, federalism and human rights also militates against denying people their rights. This is evident not only within India but also in the immediate neighbourhood.
Within India, Articles 371 a, b and c of the Indian Constitution give special rights to the people of Nagaland, Assam and Manipur. The Indian Constitution does not seek uniformity in the relationship of the Centre with the States. Even the historic Framework Agreement signed by Prime Minister Narendra Modi's government with the National Socialist Council of Nagaland (Isak-Muivah) allows for renegotiating the federal relationship to the satisfaction of the Nagas.
Asymmetric relationships with the states which make the Union stronger have historically been actively negotiated and encouraged by India. Once a settlement is reached, it is incorporated in the Indian Constitution through amendments. This is how it should be in an inclusive federal state like India where the history of assimilation and accession of different states has varied. It is difficult to fathom, therefore, why a government which has the boldness to renegotiate shared sovereignty with the Nagas, is opposed to Article 370.
The concern for the rights of special communities and regions has also been demonstrated by India in its neighbourhood. India lent its unofficial support to a three month long blockade of landlocked Nepal when it felt that the new Constitution of Nepal would create instability on its borders by denying the people of Nepal's Terai their rightful political weight in a restructured Nepali State. While the policy caused immense misery in Nepal, it was expected to lead to a truly federal, stable and peaceful Nepal.
In Sri Lanka, India has consistently put its weight behind the rights of the Tamil minority and the implementation of the Thirteenth Amendment of the Sri Lankan Constitution for ensuring their political, financial and cultural rights. It led to disastrous consequences in India, including the assassination of former Prime Minister Rajiv Gandhi. India's support to governments in Colombo depended on their attitude to the Tamil minority - often at considerable strategic cost to New Delhi. However, India persisted with what it considered right and just.
Under Prime Minister Narendra Modi, India has come out openly in support of the rights of the Baloch people who have suffered untold miseries because of denial of human rights, excessive militarisation and by being reduced to a resource rich hinterland for mainland Pakistan to exploit.
Therefore, both morally and politically it is difficult for India to say that there will be no dialogue with Kashmiris if they think that they have been denied political rights or that the autonomy promised to them has been whittled down over time.
In short, the government's Kashmir policy needs a serious rethink. The only way out of the current mess is to change the doctrinal mindset about Kashmir and recognise that Kashmir is a political problem, which needs to be addressed along with all stakeholders.
Also Read
Why Kashmiris feel that India and the world have abandoned them
11,000 arrests, 150 missing boys, 1 problem: rise in Kashmir militancy