Nitish Kumar's JD(U) & 13 other parties report more expenditure than income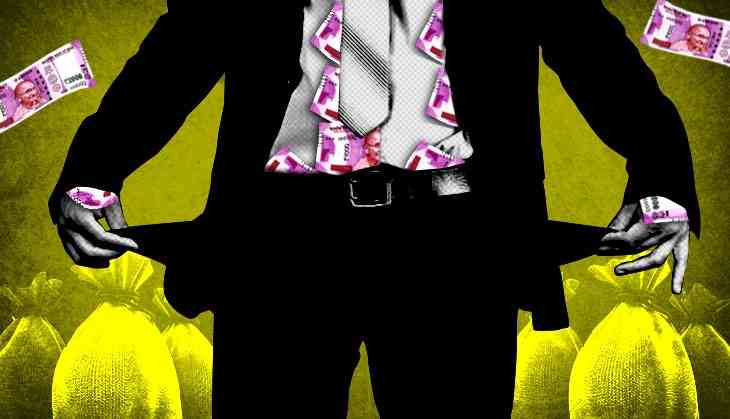 After national parties, it is time now for regional political parties to face some scrutiny over their funds. Association for Democratic Reforms (ADR) has analysed audited reports of income and expenditure of 32 regional parties submitted to the Election Commission (EC). The records pertain to the 2015-16 fiscal and the analysis has thrown up some startling facts.
Almost all parties appear to have taken EC's guidelines about the submission lightly, as at least 15 out of the total 47 parties did not submit the audit report, 16 parties delayed submission and at least two submitted incomplete audit reports.
The total income of all 32 parties that submitted their records stood at Rs 221.48 crore. To put that in perspective, seven national parties had reported total income of a little over Rs 1,869 crore in the previous fiscal.
Out of the 32 regional parties, Dravida Munnetra Kazhagam (DMK) registered the highest income of a little over Rs 77 crore. It's quite a travesty for Tamil Nadu that the party in opposition has reported greater earnings than the party in power. The governing All India Anna Dravida Munnetra Kazhagam (AIADMK) reported an income of nearly Rs 55 crore. Also, 80% of their income was unspent.
A striking aspect of this analysis is that a large number of parties have reported expenditure more than their income. At least 14 parties are in this category and Bihar Chief Minister Nitish Kumar's Janata Dal (United) tops this list.
JD(U) earned about Rs 6.5 crore in that fiscal and spent about Rs 23.5 crore, 256% higher. This was also maximum expenditure by any regional party. JD(U) said it spent most of this money (Rs 14 crore) on elections.
Next in line were the Telugu Desam Party (TDP), at Rs 13 crore and the newcomer Aam Aadmi Party (AAP) at Rs 11 crore. TDP spent Rs 8.93 crore out of this on 'administrative and general expenses'. For AAP, publicity deserved top priority, as the party spent Rs 5 crore on 'propaganda expenses', highest among all regional parties.
Parties with highest unknown sources of income were Telangana Rashtra Samiti (Rs 7 crore), TDP (nearly Rs 7 crore) and Shiromani Akali Dal (Rs 6.5 crore).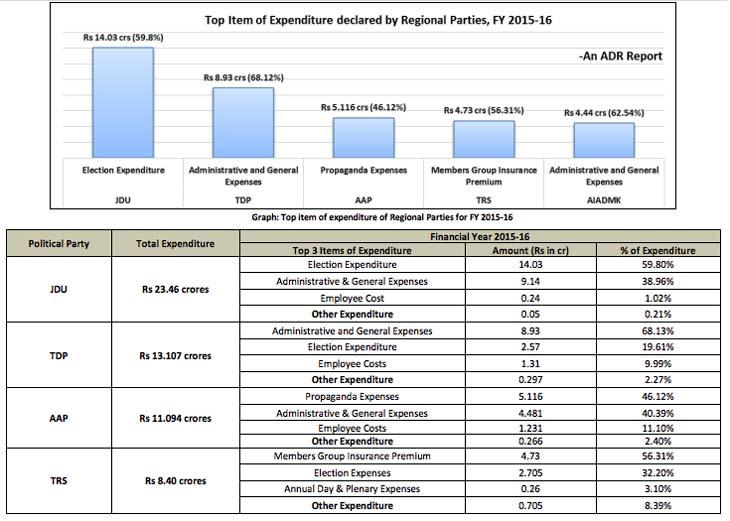 ADR (Association for Democratic Reforms)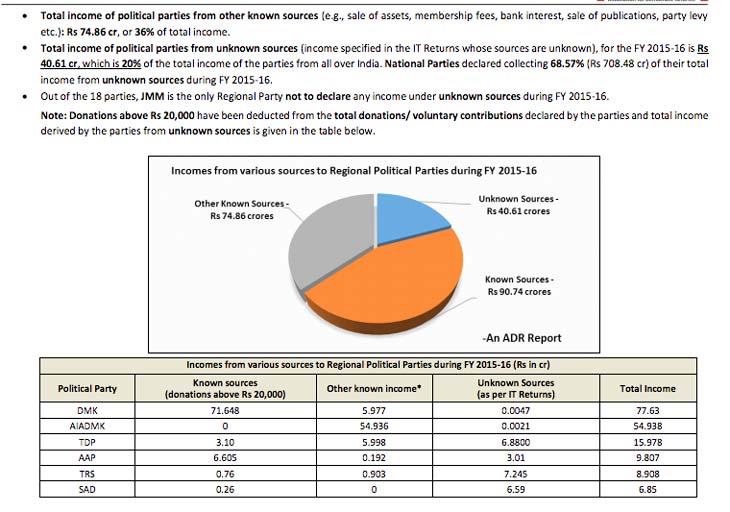 ADR (Association for Democratic Reforms)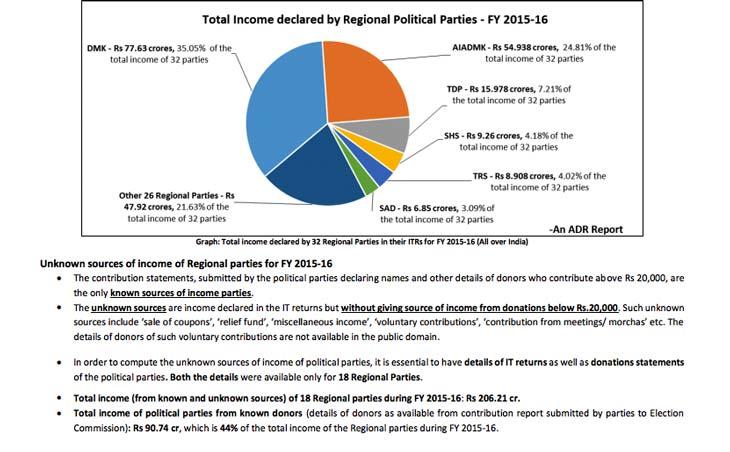 ADR (Association for Democratic Reforms)
ADR said that to calculate the unknown sources of income of political parties, it is essential to look at their IT returns as well as donations statements. Both these details were available only for 18 regional parties.
For better scrutiny, ADR has recommended that the EC should rule that no part of the Form 24A submitted by political parties providing details of donations above Rs 20,000 should be left blank and full details of all donors should be made public under the RTI.
Further, action should be taken against any party that fails to submit its IT returns or donation statement to the EC on or before the due date. Their income should not be tax-exempted and defaulting parties should be de-recognised.
ADR has also recommended that those parties that do not follow the ICAI guidelines for auditing of reports should be scrutinised by the Income Tax department.