Nitish climbs down on note ban: all's well in Bihar's Mahagathbandhan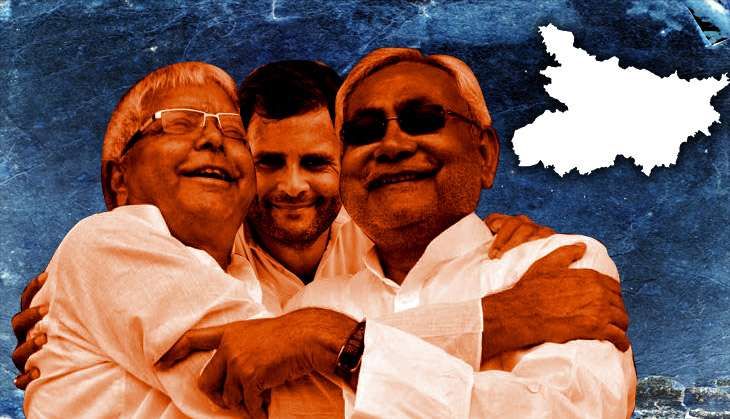 Under severe criticism from alliance partners over his unequivocal support for Prime Minister Narendra Modi's decision to scrap Rs 500 and 1000 currency notes, Bihar chief minister Nitish Kumar on Wednesday climbed down from his earlier position. He said that the idea of a cashless economy was not possible to fully implement in a country like India.
Addressing the media after the launch of his Lok Samvad programme in Patna, the Bihar chief minister said. "The world is slowly moving towards cashless economy, but it is not possible completely in India. Our social environment and behavioural patterns are such that cash transactions will always be a part of day to day trade. I don't think it will be possible to fully implement."
Reiterating his earlier position, Nitish said the prime minister should now target benami properties if he is serious about curbing black money in India. Subtly criticising the passage of the Income Tax Amendment Bill in Parliament, he said, "The common man is happy that black money is of no value now. However, if the black money of the corrupt doesn't go to waste, then the prime minister will have to answer."
Criticism addressed
Earlier, Nitish's Mahagathbandhan partners in Bihar -- Congress and RJD - were criticising the chief minister for his absolute support for the demonetisation scheme and not joining hands with the Opposition in holding protests across the country.
Former Bihar chief minister and RJD leader Rabri Devi recently made unsavory remarks against Nitish while Congress' state president Ashok Chaudhury said he would get out of alliance if the high command wished. Even West Bengal chief minister Mamata Banerjee without naming Nitish called him a traitor.
These developments fueled rumors that all was not well within the grand alliance in Bihar. However, Nitish's recent remarks have mellowed down the alliance partners who are now confident of the mahagathbandhan finishing its five-year term.
Leaders of Congress and RJD claimed Nitish's position on demonetisation is unlikely to impact the cohesiveness of the grand alliance which handed an embarrassing defeat to the BJP in the 2015 Assembly elections in Bihar. Defending Nitish, senior leaders of the two parties asserted how his position vis-a-vis demonetisation has more to do with his national ambitions and not state politics. They pointed how Nitish, like other parties, supported the demonetisation drive but criticised its implementation.
"Apart from being the chief minister of Bihar, he is also the president of JD(U) and harbours national ambitions. If he believes the government has done the right thing, he has every right to say so. The Congress also supported demonetisation but opposed its implementation and he too has done so. Where is the question of differences? If Congress feels Nitish has betrayed them then it should quit the alliance," said a senior Congress functionary.
He went on to add how Congress has no choice but to remain in the alliance if it wants to stay relevant in state politics.
Similar sentiments were echoed by a senior RJD leader who explained how hard it is for Nitish to move from his stated position. This, he believed, led to so much confusion amongst the alliance partners who were getting anxious about the chief minister's next move. "In a meeting with leaders of the alliance, Nitish assured the partners that he has no plans to destabilise the coalition. He is the national president of JD(U) and has every right to state his position as far as matters of national importance are concerned," said the RJD leader.
Nitish's power play
Nitish's refusal to join hands with the Opposition over its protests against the demonetisation scheme had created political ripples, fueling speculation of his growing proximity with the BJP. There were multiple reports of him meeting the BJP president Amit Shah and an "alleged" conversation with the prime minister to which the chief minister reacted harshly accusing opponents attempting to "politically assassinate" him.
Responding to these allegations, he said, "There have been baseless news reports in a section of the media about my meeting with BJP president and talks with PM. Just because we are supporting the NDA on the note ban does not mean that we are getting close to the BJP. My opponents are trying to politically assassinate me by spreading canards that we are getting closer to the BJP."
Citing previous instances of Nitish differing with coalition partners on such national issues, he said, "It is not for the first time he has done so." In 2012, Nitish differed with alliance partner BJP over their choice of presidential candidate and supported Congress' Pranab Mukherjee's candidature. Earlier this year, Nitish came out in support of Goods and Service Tax much to the chagrin of alliance partner Congress that was opposing the move.
A RJD leader asserted there are no differences within the alliance and that the party firmly stood behind the Bihar chief minister. "He wants to stand out from the rest of the crowd largely because of his national ambitions and as a leader of his political party he has every right to do so. To maintain his national image of a no nonsense leader, Nitish will never compromise on being an anti-corruption crusader," the RJD leader said.
These leaders ruled out any possibility of Nitish joining the NDA since it will derail his prime ministerial ambitions. He added, "With Modi being the undisputed leader of BJP, there is no room for Nitish's ambitions. Moreover, he has been criticising BJP's saffron agenda of love jihad and increasing attempts to weaken the federal structure. So, not too much should be made out of his support on BJP the issue of demonetisation "
Experts believe this to be yet another pressure tactics by the chief minister to keep his opponents in the Mahagathbandhan under check. "He has options and Congress and RJD don't. It is also Nitish's way of telling the partners, particularly RJD, that if he is pushed to the wall, he might pull out of the coalition to maintain his clean image," said a Congress functionary.