New role for 'Draupadi': Govt nominates Roopa Ganguly to Rajya Sabha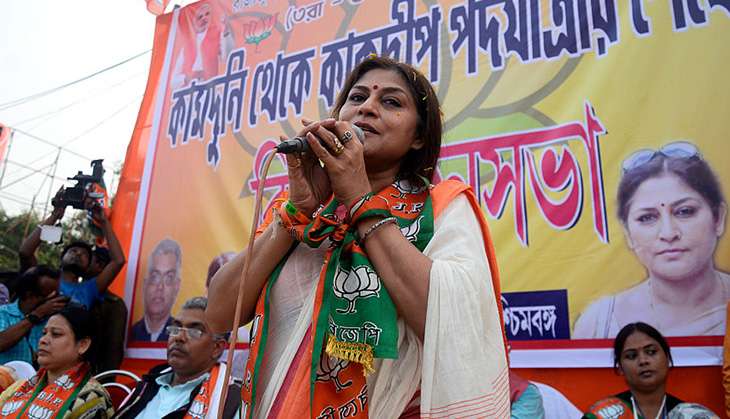 The Government of India on Tuesday nominated actress-politician Roopa Ganguly to the Rajya Sabha. Ganguly is currently the chief of Bharatiya Janata Party's Mahila Morcha in Bengal.
The Rajya Sabha houses 12 members directly nominated by the President. These members are achievers selected from the fields of art, literature, sports, science and social service.
Ganguly was nominated in place of Navjot Singh Sidhu, according to media reports. The former cricketer resigned from the upper house of Parliament and quit BJP a few months ago.
Journey from television to activism
Ganguly is known for her portrayal of Draupadi in BR Chopra's epic TV series Mahabharat, and that's what most news reports are focussing on. But it is unlikely to have much to do with her nomination.
Those who follow Bengal politics have seen her emerge as a key politician. She has been at the forefront during major political events in the state, be it helping rape victims or people at the receiving end of political violence by Trinamool Congress.
In fact, Ganguly's political career, in a way, is reminiscent of Mamata Banerjee's journey before she won the 2011 Assembly elections, especially through the 1980s and '90s.
The chief minister was known for being prompt in helping victims of political attacks and stood by those who faced atrocities by Communist Party of India (Marxist). She garnered support through her agitations. Due to her proactive opposition to the CPM, Banerjee was once beaten up by CPM-backed goons at Hajra crossing in south Kolkata.
Similarly, Ganguly has been at the receiving end of the TMC's ire, twice, once near Hajra and another time during the recently-concluded Assembly elections. Undaunted, she went on with her political campaign.
Win-win situation
Ganguly contested the 2016 Assembly polls from Uttar Howrah, against TMC candidate and former cricketer Laxmi Ratan Shukla and Congress stalwart Santosh Pathak. Though she lost, she did not take political retirement.
The Rajya Sabha seat comes to her after two-three years of serious political activism. Earlier, multiple reports stated that the Rashtriya Swamsevak Sangh had reservations about Ganguly due to her liberal lifestyle, including smoking and drinking.
However, it is a win-win situation for the BJP, as the party gets a person capable of being vocal in the upper house (where the NDA is in minority), and the decision may also infuse a new lease of life into the state BJP, which is in tatters due to infighting and backdoor political understandings with opponents.
With the fortunes of the CPM and the Congress on a steady decline in Bengal, Ganguly may just prove to be a big bet for the BJP in the state, where it is desperate to strike roots.
Edited by Shreyas Sharma
More in Catch
Kolkata: BJP's Roopa Ganguly attacked in South 24 Parganas
FIR filed against Roopa Ganguly following scuffle with TMC worker
West Bengal election results 2016: Laxmi Ratan Shukla defeats Roopa Ganguly