It's official: Navjot Sidhu to now bat for Congress under Amarinder's captaincy
Catch Team
| Updated on: 23 November 2016, 22:04 IST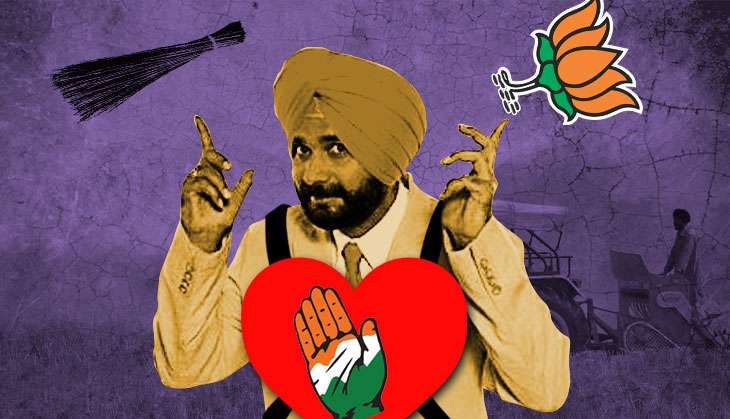 Ending months of speculation, cricketer-turned-politician Navjot Singh Sidhu is all set to join the Congress party. On Wednesday, Punjab Pradesh Congress President Captain Amarinder Singh announced that Sidhu's wife and former Hockey captain Pargat SIngh will join the party on November 28.
"I am pleased to announce that Dr. Navjot Kaur Sidhu & Pargat Singh will formally be joining Congress on November 28," Amarinder tweeted.
Sidhu's wife and Pargat met Congress Vice-president Rahul Gandhi on Wednesday and agreed to join the grand old party. Sidhu's joining and merging his newly formed Awaz-e-Punjab is now only a formality.
With barely two months to go for the state elections, Sidhu was left with no option after the Bains brothers, independent legislators from Ludhiana, forged an alliance with the Aam Aadmi Party (AAP). Apparently, the Bains brothers wanted an alliance while Congress was keen on a merger and sensing Sidhu too was keen on latter, Bains brothers left AeP to join AAP.
Sources have informed how Congress' poll strategist Prashant Kishor convinced party high command to accommodate Sidhu which he claimed could be a shot in the arm for the party before polls. It was at Kishor's insistence that senior Congress leaders, including Rahul Gandhi, held a series of meetings with the former cricketer trying to convince him to merge.
Sidhu was being wooed by both the Congress and AAP because of his popularity and tough stand against the Badal family. The Arvind Kejriwal-led AAP finally gave up on Sidhu after the Bains brothers confirmed the former cricketer's desire to join Congress.
However, the bone of contention between Sidhu and the Congress leadership is how the former would be accommodated in the party which is under the iron grip of state party chief Captain Amarinder Singh. Sidhu had been bargaining hard to be named Congress' chief ministerial candidate as claimed by the Bains brothers.
According to the Bains brothers, the Congress high command has even agreed to offer the chief ministerial berth to the former cricketer. However, these claims are dismissed by Congress leaders. They are of the view that if anything of this sort happens, Captain will revolt which could be detrimental to party's poll prospects in the state.
"The party would lose elections if anyone else is named as the CM candidate. It is Captain who has been at the forefront of reviving Congress in the state and no one would accept an outsider being offered the post. It is next to impossible," said a party leader from Punjab.
However, Captain's detractors, particularly former state Congress chief Partap Singh Bajwa, have been supporting the move to give Sidhu a prominent role in the party. Since the Congress has not yet announced its CM candidate for the upcoming elections, Captain's detractors are hoping Sidhu can derail his chief ministerial ambitions.
Sources say that in case the Congress wins, Sidhu would either be made deputy CM, or he would contest the Lok Sabha bypoll from Amritsar, which Captain has already vacated.
Earlier, Sidhu had mentioned that he would only join Congress if Captain was not a part of it and also alleged a nexus between the Badals and the state party President. However, things have mellowed down between the two since then and even Captain has welcomed Sidhu's entry into the Congress.
Sources say the two have reconciled and the Congress' state chief is in touch with Pargat over merger. The party has even responded positively to Pargat's desire to contest from Jalandhar Cantonment seat which he won in 2012 on SAD's ticket.
In what was considered as a game of perception, Sidhu's entry would give an edge to Congress which was on the back foot after Bains brothers tied up with AAP.