Nation wants to know: How can 2782 boys in JNU use 3000 condoms daily?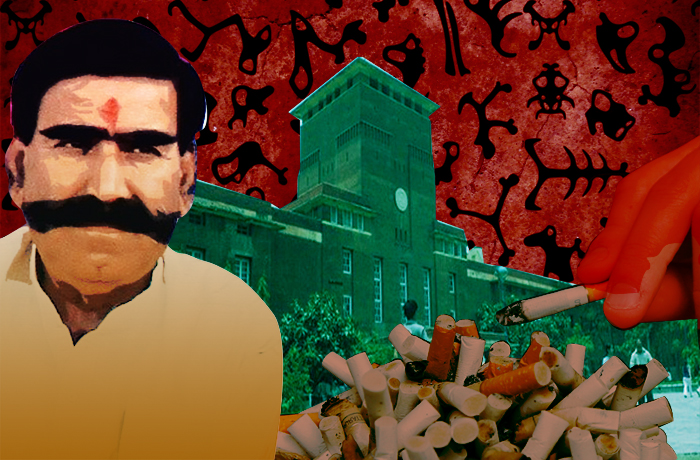 Let me start with a confession. I was not interested in the JNU controversy until BJP MLA Gyan Dev Ahuja from Rajasthan decided to spice it up with certain revelations of epic proportions.
He said that 3,000 used condoms, 10,000 cigarette butts, 2,000 alcohol bottles, 50,000 pieces of bones, 500 used abortion injections, 2,000 wrappers of snacks are found in JNU everyday.
Read- #BJPCountsCondoms: Twitter responds to BJP MLA Gyandev Ahuja on JNU and 'illicit activities'
His forensic investigation is based on information he gathered from authentic sources like social media and television channels.
I perfectly understand his concern. This is blasphemous for our national integrity. But before I explain why, let me admit that sex, drugs, rock and roll culture finds deep resonance to a person like me.
The reason - I studied in a university, the address of which was, ironically - 1, Reformatory Street.
I was surrounded by the allegedly haunted National Library, a 150 year old jail, a ladies mental asylum, zoo and a nondescript Christian cemetery.
Being a rock-star out there was unimaginable and the only option to have fun- sadly, was attending classes and scribbling abuses on the desk during boring lectures.
The worst were the cultural programmes. I never saw naked young men and women dancing, but some losers playing tabla and harmonium.
But today I feel sad. I wish I had studied in JNU. Not for my interest in studies, but of course of the fact that I drink, I smoke, I like to have namkeen with my drink, and who wouldn't like to see naked girls and boys dancing during cultural programmes.
Coming back to the point, his investigation has deeper ramifications. And I try to list out a few;
Did he mistake the university to be an archaeological excavation site? That was the first thought in my mind. But after talking to some people, I understood this was the age old vegetarian vs non-vegetarian debate.

So, according to my own investigation (inspired from this MLA), JNU consumes approximately 450 chickens daily, unless a few even end up chewing the entire bone, like me.

Now if the average weight of these chickens are 1 kg then 450 kg feeds can easily feed more than 1700 people.

Let us consider who are the most anti-national in JNU. Clearly, it is the students and the faculty going by recent diatribes against them. Their cumulative strength is 8,000.

By simple math, nearly one-fourth of JNU is eating meat daily and indulge in nefarious activities, probably due to the toxin intake.

I also found that 50,000 bones can mean 200 cows as well. So you never know- they might be consuming cow meat as well. Or even poaching Nilgai, which is found all over the campus.
Also read- #JNURow: Now academics from Japan say why JNU VC was wrong
This means JNU abnormally guzzles 360 litre of alcohol daily, which is a conservative estimate.

On further crunching of numbers, I find that nearly 5,400 pegs (60 ml) are consumed in JNU daily. Or it can be said 1/3rd (students + faculty) are having one large peg daily.

This is unpardonable behaviour, especially when an average Indian is known to consume only 4.3 litre of alcohol per year.
Gyan Dev Ahuja said 2,000 packets of chips and namkeen. Knowing that most chips packets are full of air, I think it is better not to entertain a gasbag's claims in this regard.
Cigarettes can cause cancer and lead to fire accidents. But for JNU students, money should be the primary concern.

If we consider Rs 10 as the average cost per cigarette then Rs 1 lakh is being spent every day on cigarettes.

Each of these 8,000 people are easily smoking at least a cigarette daily.

And spending Rs 1 lakh on cigarettes daily clearly shows that Smriti Irani is right. If students are given more money for research, it may be diverted into buying cigarettes and alcohol.
Read more: Umar Khalid & Anirban Bhattacharya surrender. But students vow to continue Rohith's fight
Finding used condoms around the campus suggests clear defiance of the government policy of Swachh Bharat Abhiyan and poor garbage disposal. But it indicates a preference for safe sex.

Now the total number of students is 7,360, which means about 40% are daily using condoms (hopefully only for having sex).

Coincidentally, number of used condoms approximately matches the number of boys in JNU hostels (2,782). There should be a further probe on these 220 condoms - are they being used by day scholars, foreign students, staff or for blatant defiance of Section 377. The nation wants to know.
One can surely understand from this analysis that JNU folks drink, smoke, organise fancy cultural festivals, and make love, with little time for nationalistic activities. In short, they have fun.
Also read- #JNURow: Arnab and the art of manufacturing nationalist outrage
Exactly the kind of fun Mr Ahuja had in a hotel in Varanasi during Lohri festival a few days back. He just wanted to loosen up from his daily drudgery.
But this is why I love JNU. Make love, not war -that should be the order of the day during such trying times.
Edited by Aditya Menon
More in Catch:
Big Brother: why does the govt want to set up a media monitoring cell?
Every adult of this family has a National Award for craft & they all live in fear
New York's I View Film festival arrives in Delhi. We can't wait for these 7 films
Surge 2016 - Bangalore: where the tech world meets in a big, big way