Narendra Modi's Africa tour: 5 things you should know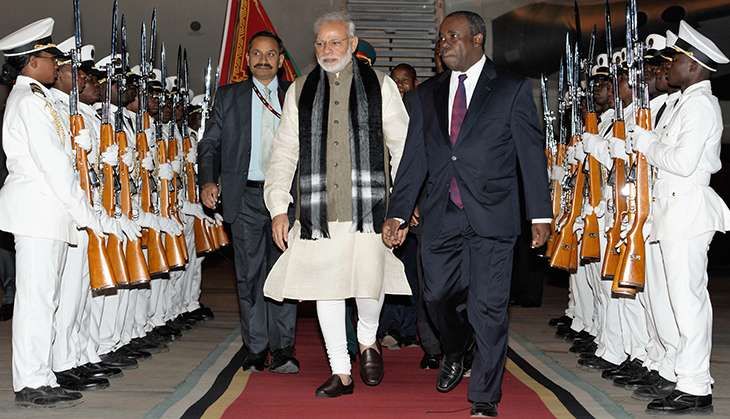 Two years into his tenure, Prime Minister Narendra Modi has embarked on his first visit to the African mainland. He will be visiting Mozambique, South Africa, Tanzania and Kenya, from 7 to 11 July. Before leaving, he wrote in an article published on LinkedIn.com that his visit is aimed at enhancing India's ties with Africa.
You can read the article here: https://www.linkedin.com/pulse/further-cementing-india-africa-economic-ties-narendra-modi
To get a perspective on India's relationship with these four African countries, Catch spoke to former high commissioner to South Africa Shiv Shankar Mukherjee. Here is a lowdown on what you need to know about the relationship.
Good links with Africa, but weak with specific countries -
According to Mukherjee, our relationship with Africa is good overall but we have not engaged with specific countries in a sustained fashion. In that sense, this tour was much needed, also because India has been playing catch-up with China on the continent.
Third high-level visit to Africa in a short time -
Mukherjee pointed out that this was the third high-level visit to the continent in the span of a few months. President Pranab Mukherjee visited Ghana, Cote d'Ivoire and Namibia in June and Vice President Hamid Ansari visited Morocco and Tunisia in May. This is an indication that this government will not be subjected to the same kind of criticism that earlier governments faced on the low level of engagement with Africa.
Indian private sector has been lazy -
The Ambassador said even India's private sector's engagement with Africa has been lazy. Indian companies have mostly interacted with only the Anglophone countries in Africa and West Africa has been entirely neglected. Also, Africa has been dependent upon our government's engagement in these countries. Indian companies should change this approach now and be competent and professional on their own.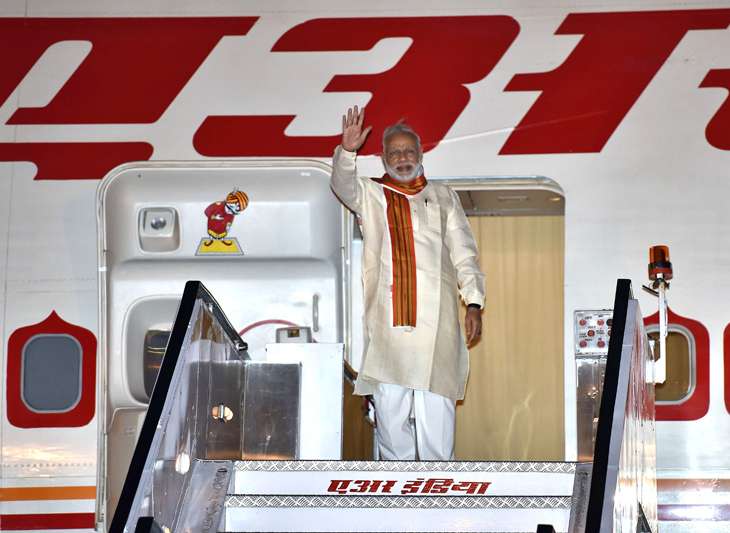 Prime Minister Narendra Modi boards his plane from New Delhi
India has expansive economic links in Africa -
Mukherjee also said there are huge economic linkages between India and the four nations Modi is visiting. Mozambique supplies raw cashew, minerals and coal to India, while it is, in turn, dependent upon India for building infrastructure. Its railways, for example, is in a mess and needs Indian expertise. India has already announced that it will be importing pulses from Mozambique.
In Tanzania, we are probably the largest investors in a large number of sectors such as textiles and engineering. Tanzanians also depend on India for medical treatment in a big way.
South Africa is a major exporter of coal to India, apart from gold and diamonds. It also has expertise in high-voltage power transmission. Almost every big Indian company is present in South Africa. Tourism sector also has vast potential in the country.
Connect with the Indian diaspora -
The Indian diaspora in these countries is a bridge between India and Africa. The political histories of no two other countries are more linked with each other than India and South Africa. They share a history of struggle for independence. The Indian community in South Africa is a bridge between the two countries. We are traditionally close with Kenya as well, which is home to an 80,000 strong Indian community.
While Modi has mostly high-level engagements lined up during his short stay in Mozambique, in South Africa he will address the India-South Africa business meet and will interact with the Indian community in Johannesburg.
In Tanzania, he will be meeting 'Solar Mamas', a group of women who are solar engineers in rural Africa and who have been trained in programmes supported by the Indian government. In Kenya, Modi will be participating in a meeting of the India-Kenya business forum and will also address the Indian community there.
Also read: African envoys put Modi regime in a spot: we won't attend Africa Day event
Also read: Why Africa is an investment hotspot
Also read: #IndiaAfrica: What Africa Expects Out of India