Mulayam says all's well in parivaar & party, refuses to name Akhilesh as CM candidate again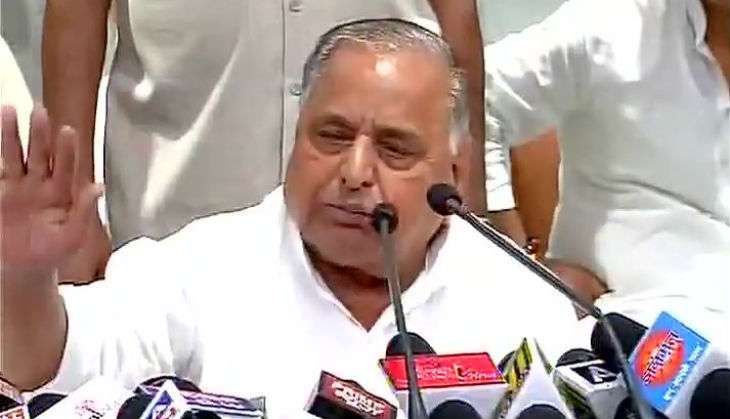 Mulayam Singh Yadav brokered another fragile truce between his warring kin and announced before the media that there was no infighting in either the family or the party.
"Party aur parivaar mein sab theek hai (all is well in the party and family)," said Mulayam, who was flanked by his brother Shivpal Singh Yadav and former ministry Ambika Chaudhary.
Akhilesh was conspicuous in his absence and that seemed to question the genuineness of Netaji's claim.
However, Mulayam did not elaborate on the terms of peace. When asked if Akhilesh had been asked to take Shivpal back as a minister, Mulayam said that it was for the chief minister to decide.
The fates of Gayatri Prasad Prajapati, Narad Rai, Om Prakash Singh, Shadab Fatima and Ambika Chaudhary were also in the hands of the chief minister. "Ask Akhilesh," was Mulayam's reply when he was askec about the return of these sacked ministers.
So far there is no indication of the chief minister rolling back his decision, suggesting that the fault lines within the family members are now permanent.
No truce yet
The chief minister, it was reliably learnt, is in no mood to take back the sacked ministers and is all set to start his Vijay Rath Yatra which will focus only on him and his government's achievements. Whether Mulayam and Shivpal have given in to Akhilesh's intransigence or not, remains to be seen.
Of late, the old guard has been gradually losing space on the publicity front to the young scion. In fact, the newspaper report which infuriated Akhilesh was about the inauguration of a Haj House in Ghaziabad where there was no photograph of Mulayam Singh Yadav at the venue. It prompted the newspaper to say that Akhilesh was behaving like Aurangzeb towards his father.
Mulayam said that in 2012 the party had won a majority because of him but ruled out taking over as chief minister at this juncture.
Once again, Mulayam refused to name Akhilesh as the party's chief ministerial candidate and said it will be decided after the election results were announced. But a defiant Akhilesh seems to be prepared to chart his own course without the help from family elders or organisational support of the party. But in doing so he clearly is putting his fledgling political career on the line.
The undercurrent of bitterness left behind after Monday's acrimonious exchanges between father, son and uncle could be felt as Mulayam read out a brief prepared statement.
There was no change in Mulayam's stand on other issues. "Don't drag Amar Singh's name into this. He won't be removed from the party," he told a reporter at the press conference. The chief minister, on the other hand, has given no indication of a change of heart towards Amar Singh.
On his cousin Ram Gopal Yadav, Mulayam said that his statements should not be given any importance now.
Beni Prasad Verma was meanwhile named as leader of the party in the Rajya Sabha.
Despite Mulayam's claim, the palace intrigues in the Mulayam family are far from over. Akhilesh has stood his ground vis a vis his uncle Shivpal.
Also read: Mulayam slams 'lying' Akhilesh, backs Shivpal: Highlights from the high-voltage Samajwadi Party meet
Also read: Sad to see Akhilesh trapped in vicious power play in Yadav family: BJP's Shatrughan Sinha
Also read: Will contest UP polls 2017 with Mulayam Singh Yadav, Shivpal says after Akhilesh split
Also read: Mulayam, Akhilesh, Shivpal wash dirty laundry in public as Uttar Pradesh watches on