Chhoti Bahu Aparna is 19th member in politics from Mulayam family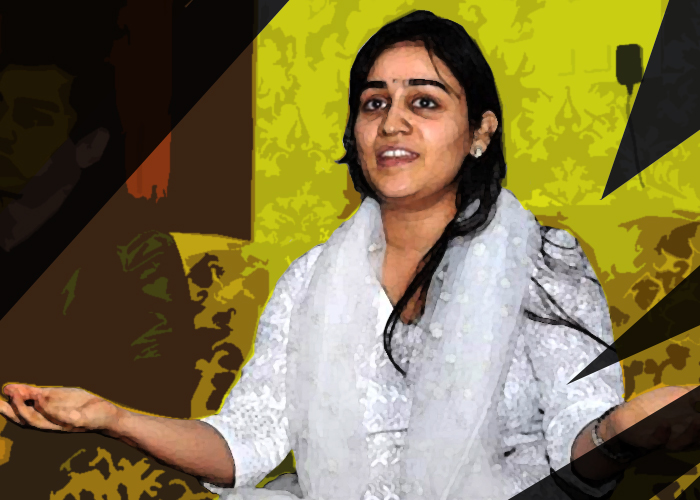 The candidate
SP will field Mulayam\'s chhoti bahu Aparna from Lucknow Cantt. in the 2017 polls

She is the 19th member of his family to enter politics

SP is the first party to declare its candidates
More in the story
The who\'s who of the Yadav clan

What are the SP\'s prospects?

The SP\'s first list of candidates
To understand what political dynasty is all about one should come to Uttar Pradesh. Here Mulayam Singh Yadav has made the Samajwadi Party a family party, or the Saifai Parivar Party, as the BJP called it. Mulayam's clan is perhaps the biggest political clan in the country. From the grassroots level to parliament, 18 members of the Yadav clan are now into active politics and the list continues to grow.
The latest entrant is Mulayam's chhoti bahu Aparna Yadav, who is married to Prateek, the SP's supremo's son from his second wife.
Also read - Rahul Gandhi 2.0: Pappu can dance! With a little help from Prashant Kishor
She will now make her political debut in the 2017 Assembly elections in Uttar Pradesh as she has been named as the party's candidate from the Lucknow Cantonment seat. Whether she wins or loses, she will be the nineteenth member of the clan to make a career in politics.
Two other kin waiting to be launched into state politics are Shivpal Yadav's son Aditya Yadav and Anurag Yadav, another cousin of chief minister Akhilesh Yadav. While Aditya is the chairman of the UP Co-operative Federation, Anurag is the national secretary of the Samajwadi Yuvjan Sabha.
Another one waiting in the wings is Shivpal's wife Sarla Yadav, who is the director of district co-operative bank, Etawah.
Aparna Yadav will contest from Lucknow Cantt. She's the 19th Yadav family member to join politics
It is a tough seat for Aparna, as the party has never won from here in the past. Since 1957, the Lucknow Cantonment seat has mostly been with either the Congress or the BJP. There were only three occasions - 1967, 1969 and 1977 - when the seat was held by others. At present the constituency is represented by Rita Bahuguna Joshi of the Congress.
Aparna joins a long list of Mulayam's family members in politics.
The family members in Parliament include:
Mulayam Singh Yadav

Ramgopal Yadav (Mulayam's cousin)

Dimple Yadav (Akhilesh's wife)

Tej Pratap Singh Yadav (Mulayam's grand-nephew)

Dharmendra Yadav (Mulayam's nephew)

Akshay Yadav (Ramgopal's son)
Those representing the family in the state legislature include:
Akhilesh Yadav (Mulayam's son)

Shivpal Yadav (Mulayam's brother)

Arvind Yadav (Ramgopal's nephew) .
The family has entrenched itself even in the local self government level. Abhishek Yadav, son of Mulayam's younger brother Rajpal, Sheela, Dharmendra Yadav's sister and Mulayam's niece, have been elected as zila panchayat chairpersons. Rajpal Yadav's wife Premlata and Meenakshi Yadav, wife of Ramgopal's nephew, are zila panchayat members.
Then Tej Pratap's mother Mridula Yadav, Mulayam's brother-in-law Ajant Singh Yadav and Ramgopal's nephew Billoo Yadav, are block presidents.
BJP spokesman Vijay Bahadur Pathak describes the SP as "Saifai Parivar Party" and wondered if there was some "palace intrigue" that led to only Aparna's name being announced two days after the first list of 142 candidates was released on 25 March. "Only her name has been announced now, that too from a constituency where the party's performance has been miserable. It is difficult to understand," Pathak said.
SP spokesman Rajendra Chaudhary said it was the decision of the party's parliamentary board to announce only Aparna's name. About the choice of constituency, he said the party's popularity being high no seat would be difficult to win.
Aparna's father, Arvind Singh Bisht, was made information commissioner after he quit his job in a national English daily published from Lucknow.
List
The SP is the first major party to declare its candidates for the polls.

Shivpal Yadav released a list of 143 candidates, 75 of them new faces.

The party has stuck to its Muslim-Yadav (MY) formula with 28 Muslims and 19 Yadavs making it to the list

The number of Muslims is high as the first list is focussed on western UP and Rohilkhand, where Muslims form a substantial chunk of the population.

Umar Ali Khan has been nominated from Behat in Saharanpur. He is the son-in-law of Syed Ahmed Bukhari, the Shahi Imam of Delhi's Jama Masjid.

SP has fielded Muslim candidates from Bareilly Cantonment, Bareilly City, Varanasi North, Varanasi South, 4 out of 5 seats in Bijnor, 3 out of 4 seats in Bulandshahr and 2 out of 3 seats in Shahjahanpur. Even from Chhaprauli, considered a stronghold of Rashtriya Lok Dal, the party has fielded a Muslim - Tarabuddin.

As the party will be contesting from all the 402 seats, the number of Muslim and Yadav candidates is most likely to go up.
SP has declared 143 candidates: 75 new faces, 28 Muslims, 19 Yadavs, 16 Rajputs & 11 Brahmins
Although there are 16 Rajputs and 11 Brahmins, the emphasis on Muslims and OBCs is more pronounced because of the outcome of last year's Assembly polls in Bihar.

If a poll survey and an intelligence survey are to be trusted, the predictions for SP are very disappointing. Both give the party number three position after BSP and BJP. "It is too early for such predictions," chief minister Akhilesh Yadav told the media.

The 142 candidates declared by the state's ruling party are all from seats it had lost in the 2012 elections. The party hopes to give these candidates enough time to start working in their respective areas.

"The battle is between SP and BJP", says BJP national vice-president and Lucknow mayor Dinesh Sharma, hinting towards a polarised election.
The competition
BJP: "A 14-member coordination panel has been set up to shortlist candidates and it will begin its work soon," said Sharma. About the party's inability to announce the name of its UP unit president, Sharma said that the name will be announced on "30 or 31 March".

BSP: The party's Lucknow and Kanpur zone coordinator Ashok Siddharth was quoted as saying party president Mayawati was busy collecting information about the prospective candidates from 3-4 sources. The exercise, apparently, is not yet over.

Congress: the party is yet to come up with any strategy. Party's poll strategist Prashant Kishore had asked the party leaders on 10 March to shortlist 20 dedicated workers from each district by the end of March. So far, only a few of them have been able to do so.
Edited by Aditya Menon
More in Catch - Is a BSP-Congress-RLD Grand Alliance emerging in UP?
5 reasons why the Congress is in a shambles in Uttar Pradesh