Mukul Roy vs Dilip Ghosh: Why West Bengal BJP is heading for a power struggle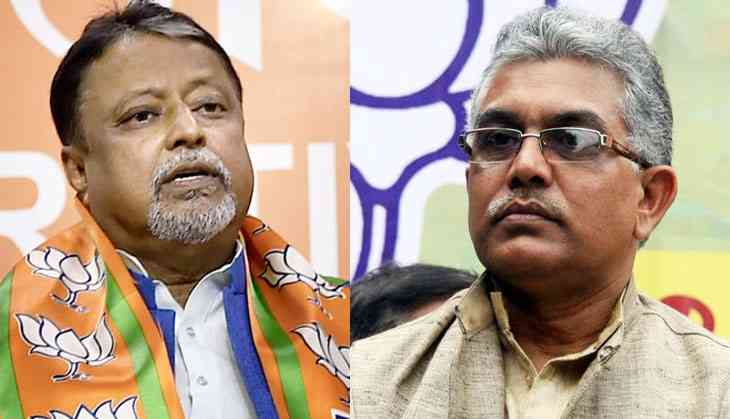 Newly inducted BJP leader Mukul Roy has rubbished speculation that there were differences between him and the party's West Bengal unit president Dilip Ghosh. Roy said that he will work under Ghosh's leadership.
After Roy came back from New Delhi, he held a press conference at the BJP party office on Monday and said" I will work under Ghosh as he is my captain in Bengal. In national politics, Amit Shah is my captain. There is no difference of opinion between Ghosh and me".
"My work is to strengthen the BJP's base in Bengal and then Odisha. I feel that BJP will win in both Gujarat and Himachal Pradesh. It will win Bengal and Odisha when polls are held here," he stressed.
He also promised to speak against his former party – the All India Trinamool Congress – at BJP's upcoming rally at Rani Rashmoni Road on Friday.
Sources in state BJP said that after Roy joined BJP, there was a debate as to who was the leader of the party in West Bengal.
On being asked whether workers will now join BJP under the leadership of Mukul Roy, Ghosh had said on Sunday, "The workers from various parties will come and join our party under my leadership. Why will they join BJP under Roy's leadership? It is not Trinamool Congress. BJP is a huge party and the party listens to the diktat of the national leadership".
When Roy reached Dum Dum airport on Monday, several of his supporters who were earlier with AITC welcomed him with chants of "Jai Shri Ram".
BJP sources said that the process of inducting Roy wasn't smooth and that there was a difference of opinion between national leadership and state leadership. Some state leaders opposed his induction as they knew he can become a threat to their authority.
They also told the national leadership that the BJP's image will suffer if it inducts a person who is accused in the Saradha and Narada scams. However, another section felt that Roy would help BJP strengthen its base in West Bengal.
On Monday, Ghosh said "Roy had relations with the BJP when the party was allies with the Trinamool Congress during Atal Bihari Vajpayee's prime ministership. Roy played an important role in the alliance so he is no stranger to the BJP. He worked in a pond earlier and we in BJP are now welcoming him to join the sea."
However, observers feel that this bonhomie may not last.
According to Amol Mukherjee, political analyst and former principal of Presidency College, "It is clear that a tussle over authority will take place arise as Roy has got significant support base. This is not the case with Dilip Ghosh. We can hardly remember supporters cheering him the way they cheered Roy after he landed in Kolkata. Ghosh is making these statements to preserve his position".