More trouble for Sasikala: Now Delhi Police summons Dinakaran
S Murari
| Updated on: 20 April 2017, 12:50 IST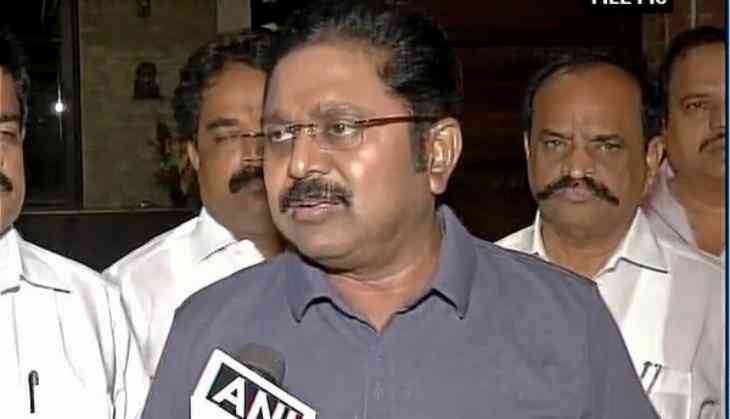 Two police officials from New Delhi on Wednesday night served summons to disowned AIADMK leader TTV Dinakaran in connection with a complaint that accuses him of trying to bribe the Election Commission (EC) to get a favourable order in the party symbol case.
The officers left without meeting the media in Chennai and took the flight back to New Delhi.
It was not immediately known whether they had fixed a date for Dinakaran's appearance before them in New Delhi where the FIR has been registered.
The case was registered following the arrest of Sukesh Chandrashekhar, a self-styled middle man against whom several criminal cases are pending. Chandrashekhar was arrested in New Delhi a few days ago.
Police claimed to have recovered Rs1.3 crore from Chandrashekhar which they said was part of a Rs 50 crore payoff Dinakaran had promised to bribe the officials and get the frozen 'two leaves' symbol in favour of his faction.
However, Dinakaran has said he had never heard of Sukesh Chandrashekhar. Speaking about police allegations of telephone intercepts of alleged conversations between Dinakaran and Chandrashekhar, the former said that it meant little because he talks to "so many people on the phone every day".
Dinakaran also said that his former supporters ditching him was "born out of fear" from the things that have happened over the last three days. Dinakaran had decided to bow out and pave the way for the merger of his faction with that of his rival O Panneerselvam on Wednesday.
He said they need not have gone public with their revolt against him and said, "Had they asked me, I would have resigned".
The decision followed a meeting last Friday, in which senior ministers told Dinakaran that they would be forced to sideline him if he did not withdraw from party affairs on his own.
Getting a green signal from Panneerselvam that he was ready for a merger provided Dinakaran and his jailed aunt Sasikala were kept out of the party, chief minister Edappadi Palaniswami went into a huddle with senior cabinet colleagues and they decided to accept the demand.
Finance Minister D Jayakumar announced late last night the decision to dump Dinakaran and Sasikala. He said this was the unanimous view of not only ministers, MLAs and MPs but also the party rank and file.
The Palanisamy government propped up by Dinakaran so far has a tenuous majority with 122 MLAs in an Assembly of 234 members. In the trust vote last February, the government won by 122 votes against 11 by the OPS camp.
Therefore, to pull down the government, Dinakaran needs the support of over 20 members whereas only a handful have come out in his support so far. Realising that the game was up, Dinakaran decided to gracefully quit instead of going for a showdown.
Meanwhile, Panneerselvam has called a meeting of MLAs on Thursday to work out the plan of action.
Also read: Dinakaran bows out, paves way for AIADMK merger. Is this end of Sasikala?
Also Read: Attempt to merge AIADMK factions fails as Sasikala, Dinakaran refuse to quit
Also Read: Trouble in the ranks: 20 senior AIADMK ministers revolt against Dinakaran after tax raids