Moily's tweet points to a deeper problem in Karnataka Congress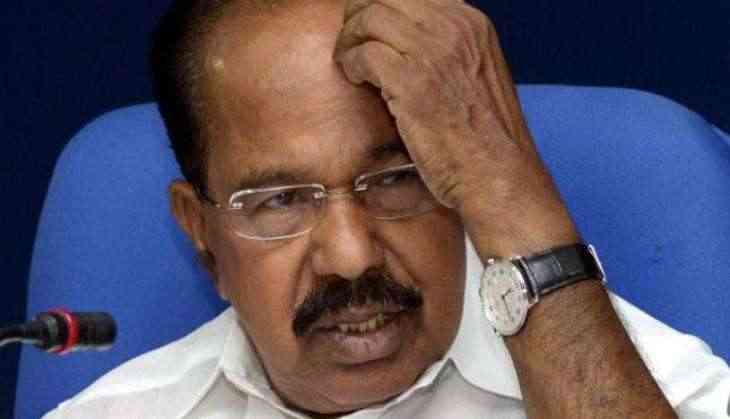 Internecine war between the 'original' Congressmen of Karnataka and 'migrants' from other parties, which remained suppressed for long, appears to have raised its head, with Veerappa Moily leading the charge.
The veteran Congress leader is known for calibrated moves. But this time he took to micrologging website Twitter to launch a savage, albeit indirect, attack on Siddaramaiah. The Karnataka Chief Minister is considered a migrants' leader in the Congress.
With Assembly elections round the corner, leaders are vying to obtain tickets for their kith and kin. Supporters can come later. And in the Congress – a party where 'dynasty' is no cuss word – at least a dozen leaders are trying to gain lateral entries to electoral politics to their progeny.
Moily's son, Harsha Moily is a serious aspirant for the Congress ticket from Karkala, which Moily Sr represented six terms, before moving to Parliament.
At a preliminary meeting presided by the Congress high command's representative KR Venugopal, leaders put forward their demands. Moily too batted for his son, saying Harsha had been cultivating Karkala for the past three years.
But Karnataka Public Works minister HC Mahadevappa, a Siddaramaiah confidante, reportedly sneered at Harsha's chances of winning and backed Uday Shetty, who had been with the party for over three decades.
Veerappa Moily, who earned Sonia Gandhi's trust at the Centre, reportedly silently fumed at 'migrant' Mahadevappa's jibe, but did not react immediately. But that night he set off a 'bomb' via his twitter handle.
"INC needs to solve money (problem) in politics. We can't afford to have road contractors and their nexus with state PWD minister determine how candidates are selected for upcoming Assembly elections." read Moily's issued around 10 pm.
He had tagged the Indian National Congress official Twitter handle along with those of party chief Rahul Gandhi and Karnataka Congress. It was retweeted by Harsha within minutes.
The father-son duo set the media on fire, putting the Congress completely on the defensive. State BJP boss BS Yeddyurappa joined the tweet-war saying, "Moily is right. We have been saying Siddaramaiah is 10% (commission) CM. With contractors filling PWD minister's deep pockets, state coffers and roads are in tatters. Cong veteran's view validates our point."
Moily and Yeddyurappa have both been CMs of Karnataka in the past. Moily later joined the central Cabinet under Manmohan Singh.
It took Moily more than 12 hours to rebutt the argument and claim that someone else was managing his Twitter handle and the remark attributed to him was "not authorised". He would never make such negative comments about the party publicly, he said.
Harsha also issued a denial saying neither he nor his father was in social media and it had been done by a 'third party' who had sent it "without our approval." Interestingly, they admitted that the comment had gone through their official handles, but neither of them retracted the content.
Allegations of money power holding sway in Karnataka was nothing new. Just a few months ago, the Income Tax department recovered a diary from Congress Member of Legislative Council Govindaraj with details of around Rs 600 crore paid to central leaders from time to time.
Govindaraj is known to be close to Siddaramaiah. Investigation into the incident is on.
What could have irked Moily more was that the state government has efffectivly sidelined old Congressmen like him in the last five years or so. Siddaramaiah and Mahadevappa joined Congress only in 2006-07.
The later has been aggressively promoting his son Sunil Bose. An internal party survey reportedly indicated Mahadevappa was on a weak wicket in his constituency, T Narasipur, and has planned to switch to CV Raman Nagar in Bengaluru. Bose then can debut from T Narasipur.
Bose, who faces police complaints regarding illegal transportation of sand, was nurturing the constituency for some time. He has even been allowed to undertake development works on behalf of his father.
He or Harsha are not exceptions. In fact, there is a long list of senior leaders in the Congress who are trying to push their sons or daughters into politics.
CM Siddaramaiah has declared that his son Yatheendra will contest from his constituency Varuna while he will move to neighbouring Chamundeshwari.
The list includes other ministers like TB Jayachandra – who wants a ticket for his son Santosh Jayachandra – Ramalinga Reddy and Kagodu Thimmappa (for their daughters Soumya Reddy and Nandini) and Roshan Baig for his son Ruman Baig.
The children of Assembly Speaker KB Koliwad, former deputy chairman of Rajya Sabha Rahman Khan and former Union minister Margaret Alva are also aspiring for Assembly tickets.
Congress has received about 2,000 applications for the 224 Assembly seats. Wherever it ignores loyal and experienced partymen to accommodate influence-peddlers, it will face rebellion from within. Rival parties may also snap up such rebels. Senior Congress leaders admit that in 2008, the party lost about 30 seats, thanks to bad selection of candidates.
Then party observer Prithviraj Chavan expressed dissatisfaction about the role of 'money power' in Karnataka and declared that if Congress lost the election, it had nobody to blame but itself. In 2008, Karnataka opened its doors to BJP for the first time, allowing Yeddyurappa to become the first southern BJP CM.
In a tight contest, as every seat is going to be crucial, Congress sources say that Siddaramaiah might withdraw his son Yatheendra's nomination, forcing other aspirants and their backers not to press for tickets.
By taking a high moral ground, Siddaramaiah would be killing two birds with one stone as he would not only brighten chances of Congress emerging the single-largest party, but he would also avoid the risk of shifting to Chamundeshwari, which intelligence agencies reportedly believe is "not very safe" a seat for him.
Edited by Joyjeet Das