'Modi took bribes from Birla & Sahara': Kejriwal tears into demonetisation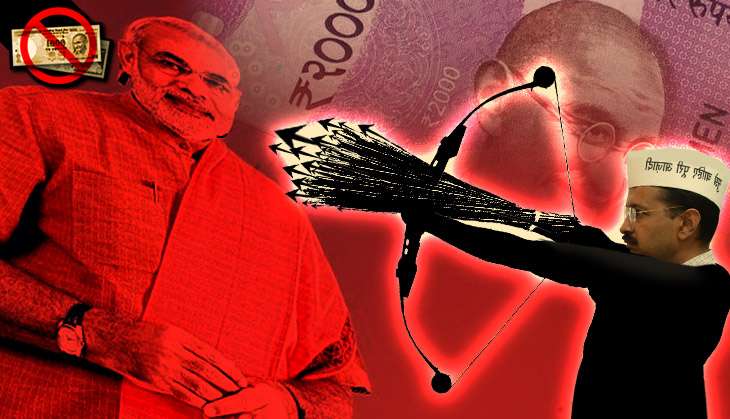 Delhi Chief Minister Arvind Kejriwal has taken a clear lead among all Opposition leaders in taking on the Narendra Modi government's shock demonetisation move. Three days after calling the measures a scam, the Aam Aadmi Party chief used all official gunpowder at his disposal to launch an unprecedented attack on the prime minister. His government convened an emergency session of the Delhi Legislative Assembly and used the brute 67-3 majority of AAP to run down Modi and his demonetisation move.
Kejriwal, Deputy CM Manish Sisodia and several other party MLAs took turns to highlight the tragedies that demonetisation has led to and puncture the purported anti-corruption credentials of the move. Kejriwal's attack was the deadliest, in which he just didn't propose a resolution for roll-back, he also attacked Modi personally, alleging that the PM himself had been named in sensational bribery incidents.
Bribes from Birla as Gujarat CM
Although Kejriwal had initiated the discussion and proposed a resolution on the issue to be presented to President Pranab Mukherjee, he had saved the most lethal part of his attack on Modi for the end. He brought out his ammunition at the end of the discussion, building up on what he has been saying for three days - that there has been no real action against black money and the prime minister had saved his friends.
He then flashed a set of papers that he claimed were a copy of appraisal report of Income Tax raids conducted against Aditya Birla group on 15 October, 2013.
The raid on Aditya Birla Group was a part of Coal Block Investigation of Hindalco- An Aditya Birla Group company.#ModiTakesBribes pic.twitter.com/i1XIeKFyZc

— AAP (@AamAadmiParty) November 15, 2016
Kejriwal claimed the papers revealed that the group's then executive vice president Shubhendu Amitabh may have given a bribe of Rs 25 crore to Narendra Modi as then CM of Gujarat.
Proof that Modi took 25 Crores as bribe from Aditya Birla Group in 2013 👇👇#ModiTakesBribes pic.twitter.com/FrhbklIIky

— AAP (@AamAadmiParty) November 15, 2016
Kejriwal also alleged that the case was soon sent to the Settlement Commission after BJP came to power at the Centre and was about to be quietly buried.
Bribe from Sahara as PM
Kejriwal then came up with his most sensational allegation to date. He claimed that the Birla papers was not the only instance of Modi allegedly taking bribes from corporates. He claimed that in raids carried out against the Sahara group on 22 November 2014, over Rs 130 crores and papers about transaction of another Rs 400-500 crores were recovered. These papers too carried Modi's name. This was 6 months after Modi became PM.
Interestingly, Kejriwal did not have these papers and told the House that he will soon acquire them and present. But what he lacked in evidence, he tried to make up for in rhetoric, by asking Modi to take cognisance of the allegation and show moral strength of character by stepping down as prime minister. He sought to remind Modi of the Jain-Hawala case in which BJP patriarch L K Advani was named. He advised Modi to take a leaf out of his senior's books and resign pending inquiry.
The resolution eventually passed by the Assembly urged the President to direct the government to withdraw the 'draconian' scheme, to institute a Supreme Court-monitored probe into allegations that the scheme itself was a fraud and to request SC to also order an enquiry into the Birla and Sahara bribe incidents.
Text of resolution on the issue of demonetisation moved by @ArvindKejriwal and passed unanimously by the @DelhiAssembly on 15 Nov. 2016. pic.twitter.com/Xk6si8slFK

— Delhi Assembly (@DelhiAssembly) November 15, 2016
The party soon launched a social media campaign on the issue. AAP is calling this the first ever incident of bribery allegations against a sitting prime minister and is publicising it widely.
Strongest evidence ever, against a sitting PM.
25 crore bribe from a big Industrialist.
Modi ji proved to be the biggest Black money holder. pic.twitter.com/QFRe3NJUcI

— AAP (@AamAadmiParty) November 15, 2016
Kejriwal's attack came on the back of reported lack of opposition unity in the all-party meeting held in preparation for the soon-to-be-convened winter session of Parliament. Other opposition parties have failed to show not just unity but also imagination in devising ways to convey their protest, highlight the tragedies and try to push the government on the back-foot. The Trinamool Congress could only think up to a march to Rashtrapati Bhavan and the Congress' idea stopped only at demanding a JPC probe, none of which found unanimous support.
Mourning the dead
Kejriwal, who had earlier been silent for nearly an entire day after Modi's demonetisation announcement, pulled no punches on Tuesday. Using the Assembly session, he amply demonstrated how to create a storm even if you are a party in a quasi-state like Delhi.
Sisodia began the proceedings, announcing that the shock and hardships accompanying demonetisation have led to 25 deaths and the assembly should observe a two-minute silence for the dead.Telling the House that traders, labourers and women in Delhi and across the country were in acute distress, Sisodia accused mocked the PM for "setting the house on fire instead of using pest control" to get rid of the menace of black money. Among other MLAs, Amanatullah Khan called demonetisation a "Tughlaqi farmaan" and Alka Lamba said it reminded one of political anarchy during the Emergency. Another MLA asked BJP leaders to accompany him to a JJ colony and say there what the PM has been saying in his speeches - that all those queuing up outside banks were black money hoarders.
Token opposition from Vijender Gupta
BJP MLA Vijender Gupta, leader of the two-member Opposition (one BJP MLA has been suspended), made a valiant token attempt to defend the union government and stand up to AAP. He mocked the emergency session saying AAP government's record of convening such session on issues beyond the remit of the Delhi Assembly was unprecedented. Gupta asked Kejriwal to answer whether demonetisation will not impact drug-peddlers, fake currency dealers and hawala operators and whether, by opposing it, AAP has positioned itself on the same side as these forces.
Gupta later also created headlines after Speaker Ram Niwas Goel ordered marshals to evict him from the House.
With this attack, Kejriwal has made his intentions of a no-holds barred attack on Modi clear. This time, the gloves are off.