Modi's reshuffle: Inclusion of Babus, promotion of greenhorns upsets hardcore BJP leaders
Anurag Dey
| Updated on: 4 September 2017, 21:48 IST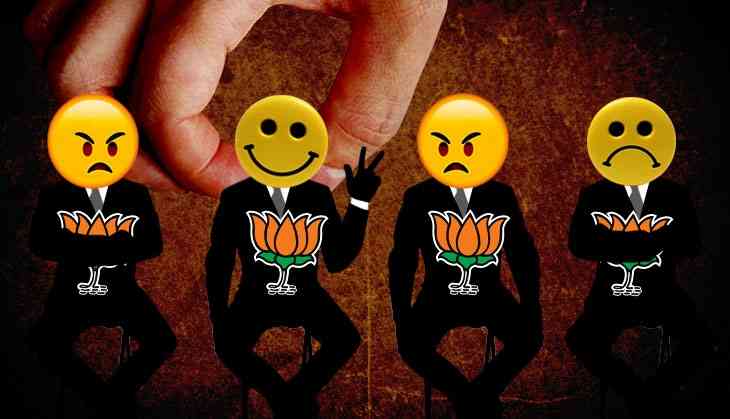 Prime Minister Narendra Modi's much-awaited Cabinet reshuffle has caused a significant heartburn in a section of the BJP. At the root of their pain lie the ministerial berths given to four former bureaucrats and the elevation of Nirmala Sitharaman and Piyush Goyal to important Cabinet positions, despite being "political lightweights".
The four former civil servants are – former diplomat Hardeep Puri, former IAS officers RK Singh and Alphons Kannathanam and former top cop Satyapal Singh – all of whom have been made ministers of state. What has irked BJP loyalists is that two of the new ministers – Puri and Kannathanam – are not even MPs as of now.
"Are they capable of winning an election? This holds true for even Sitharaman and Goyal. Can they even contest an election?" a party leader fumed.
With just 18 months left for the 2019 general elections, the rejig was expected to push the accelerator button on the implementation of several key policies as government has been facing flak for its underperformance.
Instead it has opened the party to criticism from outside as well as from within. While the inclusion of former bureaucrats has given the Opposition a chance to accuse the BJP of suffering a deficit of talent, many party leaders are upset that "outsiders" have been chosen.
The signal that the Cabinet reshuffle sent within the party rank and file is that the Modi-Shah duo does not trust the capabilities of their own party members. Even worse, it also gives the impression that loyalty is not being rewarded adequately.
"Neither merit nor loyalty is being rewarded. Why was Nirmala Sitharaman promoted? There was nothing to write home about her performance as commerce minister. And why do Suresh Prabhu and Radhamohan Singh continue to hold important portfolios despite a below par performance?" asked another party leader from a northern state.
The final list came as a shock to many leaders who were confident of making the cut. It is no coincidence that all those within the BJP who have been left disappointed have put in years of hard work for the BJP, even when the party was in Opposition.
"People, who have been serving the party for years, how should they feel when outsiders having no political background, are made ministers? It is not about becoming or not becoming a minister, it is about the loud message that has been sent- that the leadership has little faith on the elected members," said a party leader.
"The rejig is a stamp of approval on the claims that BJP has a talent crunch," the leader added.
Puri, Kannathanam and RK Singh, all political greenhorns, have been given MoS with Independent charge of key ministries like Urban Development, Tourism and Power respectively.
Questions over Mission 2019
While Modi and Shah gave due consideration to the factors like caste and RSS background, some say the inclusion of the "political non-entities" will derail BJP's Mission 2019.
The refrain among those left disappointed is that if Mission 2019 was the priority, why pick political lightweights?
"There was so much of talk of mission 2019, if it was really so then why pick up nonpolitical entities There are some who have never contested, some who don't have the ability to win an election on their own and some others who have recently joined the party," said a miffed party leader.
"When such people are promoted, it is natural that people who have long been working for the party, feel letdown," the leader said.
It was also pointed out that the BJP failed to accommodate two key poll-bound states in the reshuffle: Gujarat and Himachal Pradesh.
Questions over RK Singh
Even the RSS, which has got fair representation in the new look ministry, seems to be unhappy over inclusion of the bureaucrats particularly RK Singh.
As the home secretary, Singh in 2013 had claimed that Rashtriya Swayamsevak Sangh (RSS) and its affiliates were linked to terror acts including the Samjhauta Express and Mecca Masjid blasts.
"A ministry is not just about administration it is as much about grassroots. For the administration aspect you have the bureaucracy at your disposal. Knowledge of the grassroots is imperative to understand the policies both at macro and micro levels as also their political implications.
"An efficient administrator doesn't necessarily mean he will be a good minster. Political understanding is imperative and it is something which you don't acquire sitting in offices," said a Sangh functionary.
Among the new ministers with prominent RSS background are Ananth Kumar Hegde who is now minister of state for Skill Development and Entrepreneurship and Ashwini Kumar Chaubey, minister of state for Health and Family Welfare.
Ahead of the reshuffle, Shah held talks with RSS Chief Mohan Bhagwat.
Miffed allies
The reshuffle also was a royal snub for NDA allies particularly Nitish Kumar's JD (U) which had been harbouring hopes of at least one ministerial berth if not two. The Shiv Sena boycotted the swearing-in of the new ministers.
Talking about the implications of the reshuffle, Prof Sandeep Shastri of the Lokniti Network said that the discontent within the BJP ranks was unlikely to have much of an effect on the party.
"The entire exercise is reflection of a man who is in absolute control. Modi knows what he is doing and that he doesn't need to placate his own rank and file. Modi is getting his yes men in positions where he wants them.
"The fact that the NDA allies did not feature in the reshuffle is a signal of BJP's intent of going it alone in 2019. Moreover, the portfolios with the allies are not major. However, it is as much a fact that allies particularly the Sena won't let go of any opportunity to settle scores," said Shastri.