Modi raises Balochistan & PoK on Independence Day: What about India, sir?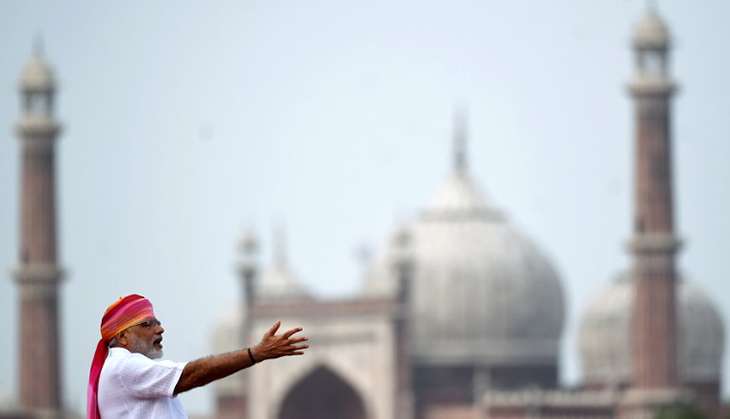 On India's 70th Independence Day, Prime Minister Narendra Modi addressed the nation from the ramparts of Red Fort but his speech left a lot to be desired. In his 110-minute long speech, the prime minister spoke about the achievements of his government and evaded other pressing issues like the violent unrest in Kashmir, recent spike in violence in north east and Naxalism hit areas, and others that needed his attention.
Instead, he, yet again, played the Balochistan card to corner Pakistan and as expected the media lapped it up ignoring other bits of his speech. "I want to speak a bit about the people in Balochistan, Gilgit, Baltistan, and Pakistan-occupied Kashmir. The world is watching. People of Balochistan, Gilgit and Pakistan-occupied Kashmir have thanked me a lot in the past few days and I am grateful to them," said Modi who spoke about Pakistan occupied Kashmir but not Kashmir.
Raising the usual national security rhetoric of Pakistan bashing, Modi said Pakistan was supporting terrorism which he said was in contrast to how Indians reacted to the after terrorists killed school children in Peshawar. "That is the nature of India. But on the other hand, look at those who glorify terrorists. What kind of people glorify terrorists? What kind of people celebrate when people are killed?"
Ironically, he forgot to mention how his government at the Centre and J&K have allowed security forces to act with complete impunity in handling protestors. Hundreds, including children, have been blinded and maimed by the pellet guns being used by the security forces. More than 50 people have been killed in Kashmir and Modi was concerned with what is happening in Pakistan. He could have used this opportunity to reach out to Kashmiris, instead he raised the Balochistan issue that is hardly of any concern for India or Indians.
"Did PM raise Gilgit, Balochistan & PoK in Lahore? Did Sushma & Rajnath raise it in Islamabad?Jingoism from Red Fort for domestic consumption," tweeted Congress leader Manish Tewari. Even others disagreed with the prime minister's new found obsession for Balochistan:
Former Union foreign minister, Salman Khurshid, also criticised the prime minister for his Balochistan reference said that it in no way help the Kashmir issue.
Another tweet, by Amitesh Gupta, said "We are not Pakistan. PM should have raised Gilgit, Baloch and PoK on another day. Now, media is focusing only on that. #IndependenceDayIndia".
Amid reports of increase in violence in Naxalism-hit areas, Modi appealed to the youth to shun the path of Maoism and join the mainstream. "A game is being played to kill innocents under the garb of Maoism, and in the name of militancy and terror. I want to tell those youths that this country will never tolerate violence. This country will not tolerate terrorism. This country will never bow its head before terrorism, never before Maoists."
Unlike his two previous speeches from Red Fort, the Prime Minister didn't make any major announcements and highlighted the good work done by his government. However, to the prime minister's credit, he avoided the chest thumping nationalism that was centerpiece of his speeches on the previous occasions. He, instead, dished out the report card of his government's performance and it seemed the prime minister is warming for the 2019 elections.
Reactions
Congress slammed the prime minister's address and called it an election pitch. "It wasn't a speech of PM's or CM's standard, it was very poor," said Congress leader Ghulam Nabi Azad.
Nothing else in his speech stood out as he went on to list the achievements of his government and how he is committed to change the lives of the common people. Usual suspects like GST, change in work culture his government has brought in, ease of doing business, delivery to the poorest, social justice, good governance, roads, energy, Aadhar cards, inflation, toilets, among others did find a mention in his long speech.
Ignoring the insensitivity with which his government handled issues like JNU controversy, atrocities on Dalits, attacks on institutions, rising intolerance and hate speeches made by his own party leaders, Modi said "Governments should be sensitive and responsive".
Known for his "election jumlas", the prime minister has now his eyes set on the several assembly elections and 2019 polls. Half way into his tenure, Modi knows that spelling out his achievements will get him votes and another term at the prime minister's office. And, today's speech was the beginning of his re-election bid.