Modi and Hindutva: how to read the good cop, bad cop routine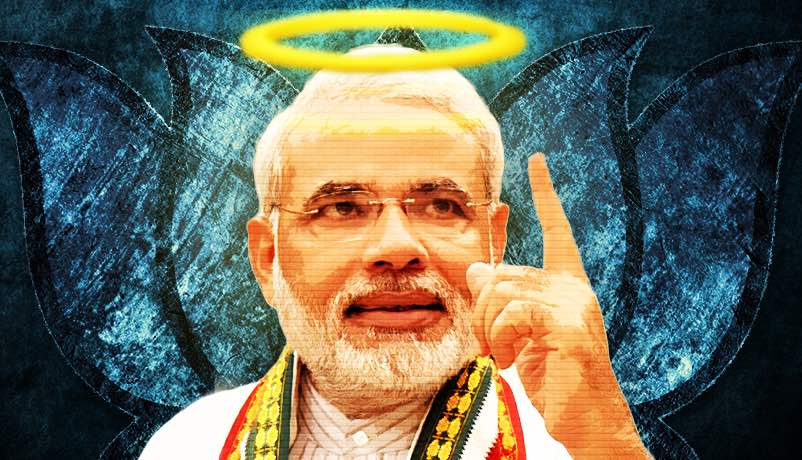 Good cop, bad cop
Communalism is on the rise under the current regime
But Narendra Modi tries to project a liberal image
Good saffron, bad saffron
PM Vajpayee also pushed the saffron agenda but was tied down by coalition compulsions
Modi\'s chosen ones are mostly political greenhorns
They don\'t care much about alternate points of view
More in the story
Why there won\'t be any let up in the communal agenda
What is the one thing that Modi really cares about
Ever since the Bharatiya Janata Party (BJP) government assumed power, there have been attempts to raise the communal temperature in the country.
Various strategies are in operation - hunting 'beef-eaters', running vigilante groups to check the movement of cattle to slaughter-houses, advocating 'ghar-wapsi' (re-conversion) of Muslims and Christians, burning churches, and agitating against inter-religious marriages in the name of preventing 'love jihad'.
These are not just carefully controlled strategies to communalise the social atmosphere before an election. They are tested modus operandi that have evolved over the last century at least, by proponents of Hindu nationalism represented in its most organised form by the Rashtriya Swayamsevak Sangh (RSS), the mother organisation of the BJP.
The reaction of the government, including that of Prime Minister Narendra Modi, has been one of calculated ambiguity. Modi, brands himself a liberal, urbane and patrician politician who stands for development and against strident communalism.
Simultaneously, the parliamentarians of his party and organisations associated with the RSS espouse an aggressively communal agenda. One sells the dreams of a resurgent India and the other fuels nightmares.
Even as Modi straddles the world stage as 'the leader of 1.25 billion Indians' in search of economic growth, his partymen hunt in the darkest recesses of our social psyche to pit citizens against each other in the name of religion and turn ordinary citizens into a lynch mob. When there is an outcry against this, Modi, the 'good cop', steps in to urge people to fight poverty instead of fighting each other.
However this is a false opposition. As everyone knows, a 'good-cop-bad-cop' strategy works only in tandem - two bad cops working as a team. Each knows which buttons to push and when to push them to achieve their common objective.
Not the first time
The BJP is not an independent political organisation like normal political parties. The RSS enjoys unprecedented psychological control over it. It has always been this way.
Despite his public persona, Atal Bihari Vajpayee was not a reluctant son of the RSS as made out by some. He too pursued the RSS agenda to the best of his abilities. Had he not appointed Hindutva ideologues to all cultural and educational bodies just as Modi is doing?
Under the Vajpayee government, BR Grover - who defended the RSS on the Ram Temple in Ayodhya - was made the head of the Indian Council of Historical Research; ML Sondhi, a former Jan Sangh MP, was given charge of Indian Council of Social Science Research (ICSSR); and Indian Institute of Advanced Studies was handed over to GC Pande, a well-known BJP and Aananda Marg supporter.
Similarly, Hari Gautam, an RSS-sympathiser was appointed the chairman of the University Grants Commission; LM Singhvi, a sitting BJP MP, headed the Indira Gandhi National Centre for the Arts; and JS Rajput, a known ideologue of Indianisation and spiritualisation of the school curricula, was appointed to the National Council for Education and Training.
Another BJP sympathiser and an exponent of the Yoga of Sri Aurobindo and the Mother, Kirit Joshi, was made the head of the Indian Council for Philosophical Research; and Hema Malini, then only a BJP campaigner but now an MP, was asked to head National Film Development Corporation.
Modi loves playing the good cop; but his nudge-wink style eggs the bad cops on
It was also during Vajpayee's tenure that the government funded the Indus-Saraswati Civilisation project which has now been revived. His government persuaded the ICSSR to start a Deendayal Upadhyaya Centre for Social Welfare and a Shyama Prasad Mukherjee Documentation Centre.
The City Centre of the Jawaharlal Nehru University was renamed Shyama Prasad Mukherjee Gateway of Social Sciences. The Archeological Survey of India funded excavations to establish the RSS' most fundamental contention - that Aryans were the original inhabitants of India. And the government sanctioned courses on Vedic Rituals and Astrology in universities.
That was not all.
Hindutva ideologues organised attacks on Deepa Mehta's film "Water", started a public campaign against Muslim heroes in Bollywood films through the RSS mouthpiece Panchjanya and branded Jamia Milia Islamia and the Aligarh Muslim University as breeding grounds for Pakistan's spy agency, the Inter-Services Intelligence (ISI).
The student wing of the BJP, the Akhil Bharatiya Vidyarthi Parishad warned youngsters not to celebrate Valentine's Day and prescribed dress-codes for girl students.
All of this happened barely a decade and a half ago. Yet there is a new found stridency of communal forces today.
Modi vs Vajpayee
Vajpayee's push for the RSS agenda was limited by two factors. One, Vajpayee projected an accommodative personality. And two, he and his government were under the moderating influence of his non-BJP allies. He could claim to be, or was indeed, limited by a secular common minimum programme.
But it is also important to remember that the face of the political elite was different under Vajpayee. A majority of the BJP MPs were people with several years of experience in legislative and public life. They knew how to communicate with the Opposition in a civilised manner and did not let differences of opinion come in the way of social interaction with them. They emulated Vajpayee who cultivated friends and had well-wishers cutting across the political spectrum.
With a clear majority of its own, there is no moderating influence of allies on the Modi government. He himself has had a strident and communally divisive image. Although he is now trying to moderate that image for international consumption, the nudge-and-wink style of his public speeches continues to signal to his followers where his own beliefs lie.
The new order
Most of those whom Modi's leadership has catapulted into public life have had little or no legislative experience. Those with experience of public life have either been marginalised or are sufficiently subdued to not affect a more urbane mode of public conduct.
The new lot of legislators at the Centre and in the states where the BJP has swept to power has only one icon to emulate - Modi himself. They may have been doctors, chartered accountants, policemen, army men, lawyers, sadhus and businessmen - leaders in their own right. However, they have not been socialised into the moderation required to facilitate a democratic public discourse.
They leave you bewildered by their unbridled disregard for the rights and dignity of others. Their only role model is a combative and fire-breathing Modi who leaves no room for anyone else's views but his own.
There is no dilemma in their mind about whether their public pronouncements or actions can hurt others or whether they are socially divisive. They see nothing wrong in reinforcing their own narrow Hindutva prejudices because they have not engaged with other world-views. They do not listen to those with contrary opinions or wish to hold a meaningful dialogue with them.
Perhaps their only concern is the possibility of criticism from international quarters. Indeed some ministers have voiced concern that communal incidents might give India a bad name abroad.
This is the only criticism that Modi cares about because he seems to like being liked by foreigners. His mega rock-star like shows in foreign capitals are not for the benefit of Indians back home. They are for the world at large - aimed at telling his non-Indian critics how wrong they have been about him; that even among their citizens he has an audience, that is fawning and deferential.
He wants the West to note that Indians of all hues - especially those who live in the Western world and presumably share its values - hail him as a great leader.
Modi is likely to be acclaimed as a great statesman abroad so long as he facilitates international access to the Indian market. If the investment atmosphere is conducive, there is unlikely to be any criticism of this government's communal agenda. The controlled communal seeding of the polity by the Hindutva acolytes of the BJP suggests that, any acute danger to internal stability in India may still be some way off.
Meanwhile, the brazen and cruel manipulation of the public sentiment, by Hindutva groups is likely to continue. Some will preach calm while others continue to set forest fires.