'Modi is god's gift to India': why is Venkaiah Naidu being a sycophant?
Ashutosh
| Updated on: 14 February 2017, 6:00 IST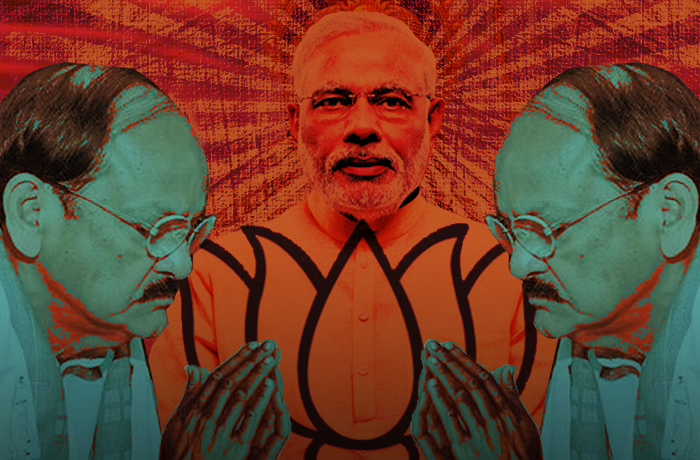 The statement
At the BJP National Executive, senior leader Venkaiah Naidu made what seems a sycophantic remark
Naidu said Prime Minister Modi was \'god\'s gift to India\'
The precedent
Just before the Emergency, then-Congress president DK Barooah had also made a sycophantic statement
He had said about PM Indira Gandhi: \"India is Indira and Indira is India\"
More in the story
Ashutosh speaks of how he has known Naidu for long, and tries to decode the reasons behind the statement
How the AAP spokesperson thinks the BJP is heading down the Congress path
(Ashutosh is an official spokesperson for the Aam Aadmi Party, and the former editor of a TV news channel. He gives his views on Venkaiah Naidu's recent comments, hailing PM Narendra Modi as 'god's gift to India'.)
Sycophancy may evoke contempt in the minds of common people, but in politics, it delivers dividends. It's no wonder, then, that chamchas are in great demand in Indian politics.
On Sunday, someone told me what Venkaiah Naidu had said about Narendra Modi at the BJP's National Executive meet: "Modi is god's gift to India".
I could not not believe my ears. I have known Naidu for long, having had many interactions and interviews with him. I know he loves coining catchphrases, and when he was party president, his press conferences were a joy to attend. But he was always someone who could be taken seriously, for he never indulged in loose talk.
Read: Kanhaiya episode coverage raises serious questions about freedom of press
Naidu was a favourite of LK Advani; in fact, Advani wanted him to be given another term as party president after Rajnath Singh in 2010, but the RSS prevailed and Nitin Gadkari was brought in from nowhere.
Naidu has always been a respected figure, which is why his statement on Modi comes as a surprise.
Just last week, it was MoS Home, Kiren Rijiju, who had written something similar on Facebook. He wrote that Nostradamus had predicted that a man will rise to power in India in 2014 and rule till 2026.
Now, Rijiju is a junior minister, and has no political weight. He is not in the BJP's core leadership. He owes his job to Modi, and therefore, one can understand his love for Modi. But if Naidu says something like this, it has to be understood in a larger context.
The modern-day Barooah
Long ago, Dev Kanta Barooah had used similar words about Indira Gandhi. Barua was the Congress president just before the Emergency when Mrs Gandhi was the Prime Minister. He had said: 'India is Indira and Indira is India.' It is most probably most quotable quote in Indian politics.
This was the time when Mrs Gandhi had shown exemplary courage, decisiveness and leadership to win the 1971 war and put India on the global map. She had done so at the peak of the Cold War, and at a time when a maverick like Richard Nixon was at the helm of affairs in the USA.
Senior leader Venkaiah Naidu said at BJP's National Executive that Modi was 'god's gift to India'
Nixon never had kind words for Mrs Gandhi, but she did what she felt was right. Among her admirers was Opposition leader Atal Bihari Vajpayee, who was also quoted as saying that she was an incarnate of Durga, though later, the BJP denied that he had ever said anything like this.
History has not been kind to Barooah. His name has become synonymous with sycophancy. Will Naidu also join this club?
One can argue that Naidu's term in the Rajya Sabha is ending soon, and if he doesn't get another term, he will cease to be a minister. In that desperation, he may have said what he did to please Modi.
But why should it not be argued that the BJP, under Modi, has gone in the same direction as the Congress under Mrs Gandhi? Modi is as popular as she was after the 1971 war; he is a strong leader and is considered very decisive, like her. It was said that Mrs Gandhi's secretaries in the PMO were more powerful than ministers.
Read more- #EkSaalKejriwal: We have achieved some things. Many more are left
Pandit Jawaharlal Nehru was a democrat. He gave sufficient freedom to his ministers to run their ministries, but Mrs Gandhi's cabinet didn't have that luxury. She was called the only 'man' in her cabinet; the rest were mere rubber stamps.
Modi's cabinet and its functioning reminds me of Mrs Gandhi. No minister has any power to take decisions. Nothing moves without the nod of the PMO. The PMO has become a supra-ministerial body.
The Sanjay parallel
Mrs Gandhi was very insecure, and never trusted anybody. Powerful ministers and leaders with mass appeal were cut to size, and sycophants were promoted to the top echelons of power.
Her insecurity gave birth to the Sanjay Gandhi phenomenon - which grew as a monster, and finally proved to be the cause for her downfall in 1977.
How powerful was Sanjay? I'll illustrate this with a story.
Naidu's comment is like Cong chief Barooah saying 'India is Indira and Indira is India' in the 70s
IK Gujral was the Information and Broadcasting Minister in the 1970s. Sanjay was not happy with his performance, as Doordarshan and All India Radio was not promoting him enough.
Sanjay gave certain instructions to him, which the future PM refused to pay heed to, telling him instead: "I don't report to you."
Though Mrs Gandhi was very fond of Gujral, but she removed him the very next day, and replaced him with Vidya Charan Shukla, Sanjay's chamcha.
Unlike Mrs Gandhi, Modi has no family. But Amit Shah can be considered his closest confidant. He is like a mix of Sanjay and VC Shukla. Shah has been to jail in a fake encounter case, and the SC had asked him not to enter Gujarat a few years back. But now, Shah is calling the shots. Like Sanjay, he too strongly believes in power politics.
Same path as Mrs G's Congress
It's not an accident that on the day Modi was anointed the BJP's PM candidate, Advani wrote a letter then-party president Rajnath Singh, stating that the party had moved away from the path of Atal Bihari Vajpayee, Syama Prasad Mookerjee and Deen Dayal Upadhyaya.
Also read- #OddEvenPolicy: AAP's Ashutosh examines its achievements & drawbacks
Advani is known as somebody who doesn't speak out of turn. He had also written that the party is out to fulfill the ambitions of one man.
Naidu's recent statement reflects that the BJP has moved a long way in the last two years. Senior leaders have surrendered to Modi. The PM is no longer the first among the equals, as prescribed in the Constitution. He has become the democratic monarch. For their survival, these leaders have no other option but to bow before him.
During Mrs Gandhi's time too, senior leaders had resisted her rise in the initial years, but all of them were later shown the door or made ineffective. After 1971, she was left with no challenger but chamchas, and those who were powerful, like Babu Jagjivan Ram, reconciled to their fates and waited for the opportune moment to leave the party.
History will repeat in a similar fashion in the BJP. Within a few years, I will be surprised if the present top leaders still continue in the cabinet, provided the BJP does not lose many more Assembly elections.
LK Advani warned the party about going down this path when Modi was anointed PM candidate in 2013
Mrs Gandhi remained a monarch as long as she could win elections for the Congress. When she lost in 1977, the Congress split into two, with Brahmanand Reddy forming his own Congress.
Unlike the Congress, Modi has one more impediment, and that is the RSS. It will prefer a weakened Modi to a monarchical Modi, and motivated men from the organisation instead of sycophants.
Naidu's words will be heard many times in the future, in many voices, but will the RSS let them echo endlessly? One thing is for sure - that the slide has begun. If today, the Congress is a shambles, it is thanks to what Mrs Gandhi started. Will the BJP/RSS learn from that history?
Edited by Shreyas Sharma
More in Catch:
MP Police use scrapped law to arrest 3 for morphing Bhagwat's pic
Karnataka Muslim official issues temple invites, Hindu groups take offence