Modi can no longer count on Varanasi youth's support. Here's why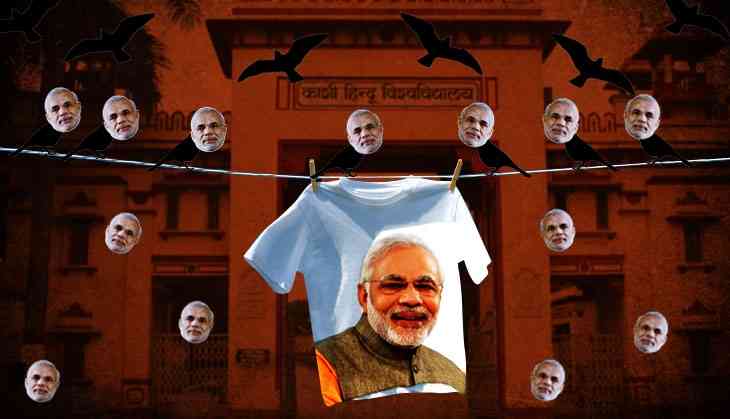 (Arya Kumar Sharma/Catch News)
"Narendra Modi sells hope and people continue to buy it even if it is only hot air," declares a cynic while sipping tea. Another critic joins in saying, "Modi ji iss desh ke sabse bade bhashan mafia hain (roughly, Modi is the mafia don of public speaking in India)."
I was asking them whether the Varanasi youth was still with the prime minister. And these comments were offered by way of explanation.
Some political observers, however, claim that the youth vote, which went in favour of the Bharatiya Janata Party (BJP) in 2014, is no longer as loyal a vote bank of the party as it used to be.
Also Read: UP polls: Facing a tough battle in Varanasi, BJP dials Modi
Anecdotal evidence on the ground seems mixed. A number of youngsters still swear by him. For them the prime minister still remains an iconic figure.
"The Modi wave is the same if not stronger than in 2014," says a young BJP leader. But then he is not expected to say anything else.
However, even those who are not members of the party still talk of Modi with admiration.
The waiter at my table in a restaurant at Varanasi's Gadolia Chowk comes up shyly to enquire whether I was a tourist or a journalist. When told I was a journalist, he asked, "Then you must have met Modi ji. Have you shaken hands with him?" When I shook my head instead, he says, encouragingly, "Then you must have been in his presence. You must have at least stood next to him in some meeting?" He seemed disappointed at the negative answer once again.
When asked what he admired about the prime minister, he says with a gleam in his eyes, "He has risen from below – neeche se uththe hain. If a chaiwala can rise to become the prime minister of India, then anyone can. Given his humble background, he must be thinking about how to uplift those who are still economically backward."
"He must be," I mumble. Changing the subject, I ask him who he thinks will win from his constituency which falls within Varanasi district. "This time the BSP has a chance," he replies. But he will still go home to vote, he says.
At Assi Ghat, Bhaskar, a local researcher and psephologist, says the youth in UP has traditionally been with the Samajwadi Party (SP). "In UP, only when the SP is in power are students' union elections held. And a lot of student leaders find their way into the Samajwadi Party government's cabinet," he claims.
The whole Yadav family drama, he points out, was about the youth in the party revolting against the old guard. "That is why I say that the youth is with Akhilesh Yadav and the SP," he claims. Also, he elaborates, the charges of goondaism that are levied against the SP are also because it has a lot of support amongst college and university going students who are "naturally hot-headed".
It is a fact, though, that there were 10 to 15 former student leaders in Akhilesh Yadav's cabinet. The prominent amongst them being Om Prakash Singh (former general secretary of the Banaras Hindu University Students' Union), Ramgovind Choudhary (erstwhile student leader from Ballia), Arvind Singh Gop (former president of the Lucknow University Students' Union), Kamal Akhtar (former president of the Jamia Millia Islamia Students' Union), and Narad Rai (former president of the Gorakhpur University Students' Union). Earlier also, there had been ministers like the late Mohan Singh (former president of Allahabad University Students' Union) and the late Brij Bhushan Sharan Singh (a student leader from Gonda) in Mulayam Singh Yadav's cabinet.
Also Read: Impatient with his 'alaap', people waiting for Modi to sing: Sankat Mochan Mahant
In this election, too, two student leaders have been fielded by the SP. Richa Singh, the first woman president of the Allahabad University Students' Union, is the party's candidate from Allahabad West. Nafees Ahmad, a former president of the Aligarh Muslim University Students' Union, is contesting from Gopalpur in Azamgarh.
"Isn't there a problem with women students and their safety, otherwise why would the BJP woo them by promising the setting up of 'Romeo Squads' to prevent sexual harassment?" I ask the youngsters sipping lemon tea at Assi Ghat.
"Akhliesh has already set up the 1090 telephone line to prevent sexual harassment. So this Romeo Squad is just a gimmick," one of them counters.
There seems to be a general agreement amongst the Assi Ghat crowd that within the SP there is a considerable amount of political space for youth. But does that mean that all youth has moved away from the BJP? "No, but sections of it have moved away since 2014," asserts Bhaskar.
Either a sizeable section of youth is still with Modi or those who support him are more vocal. "I often find that at chai shops if there is open criticism of Modi ji, suddenly some youngsters appear from nowhere and start shouting – 'Modi, Modi, Modi'. They use Modi as a stone to throw at you to silence you. This was never the culture of Varanasi, which is all about debate and discussion," says an old Bengali gentleman and a twenty-third generation Banarasi.
"Modi ji longon ko hamesha sitare ginaate hain (Modi points people to the stars all the time). I think sometimes he should come down to earth also. But his primary quality is that he does not stick to any idea for long. Every second ball of his is a bouncer. Some people like that," he remarks wryly.
But is he still able to sway the young and old alike? "Modi is like the Pied Piper of Hamelin. He can attract rats but I am not sure he can take human beings with him," he says nonchalantly, while putting a paan in his mouth.
The young autorickshaw driver who is taking me across the town says he will vote for the BJP. His reason: "I trust Modi ji."
About what, I ask him. "He is right that there are too many Qabristans (burial grounds) and too few Shamshans (funeral grounds). And more electricity is supplied on Muslim festivals than on Hindu ones," he says.
I ask him about his religion. "Waise to hum Christian hain, aur hamara naam Bunty hai (I am a Christian and my name is Bunty)," he replies. I am left flummoxed, unclear why he was complaining and why he wanted to vote for the BJP.
Also Read: Rajnath thinks UP will be a cakewalk for BJP. But he can't rest assured