Meet the man who made Lalu's sons look dapper at their coronation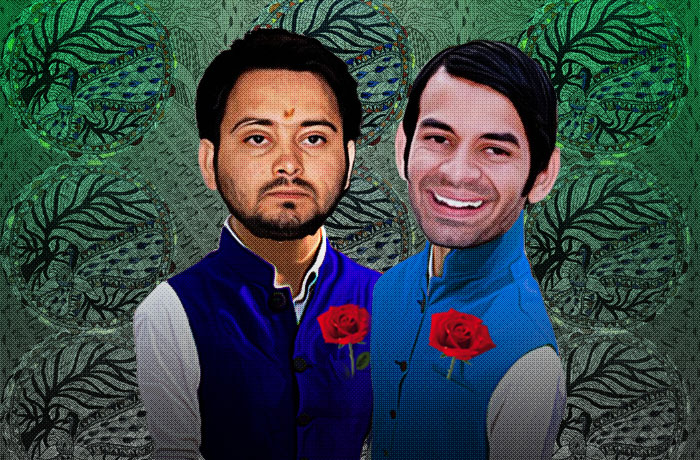 Dapper sons
Lalu\'s scions Tejaswi and Tej Pratap were sworn in as Bihar cabinet ministers on Friday
Both looked dapper in kurta-pyjamas and Nehru jackets
Man behind them
MA Rahman is a fashion design graduate from NIFT, Delhi
Lalu also presented the 2008 rail budget in a Rahman creation
More in the story
How Rahman got from Champaran to the fashion high table
Other notable politicos who wear his creations
Fashion designing and North Champaran, Bihar... these are not words that fit easily together in the minds of couture enthusiasts.
However, thanks to fashion designer MA Rahman, this improbable dream has become a reality.
Both of Lalu Prasad's sons and political heirs, Tejaswi and Tej Pratap Yadav, chose Rahman-designed kurta-pyjamas and Nehru jackets for the Bihar cabinet's oath-taking ceremony, held at Patna's Gandhi Maidan on Friday, 20 November.
Designer MA Rahman hails from North Champaran and has been designing for Lalu for a decade
Rahman's journey
The scions are only following in their father's footsteps, for even Lalu, more well known for his rustic choice in clothing, had donned a kurta-pyjama designed by Rahman while presenting the Union rail budget in 2008. That was Rahman's claim to fame as a designer.
But getting there wasn't easy. Like all Indian kids of a certain generation, Rahman's parents wanted him to be a doctor or an engineer.
Following his father's wishes, Rahman enrolled in an engineering course at a Bengaluru college after completing his schooling from Patna. But he wanted to do something more creative.
According to Rahman, he came to know about career opportunities in fashion designing through a friend's sister, who was a student at the National Institute of Fashion Technology (NIFT).
"I was always fond of good clothes. I realised this flair could earn me a living when I became aware about NIFT," says Rahman.
Not many parents would have endorsed the switch. But thankfully, Rahman's father was an exception.
In his own words, "My father was supportive of my decision to quit engineering and pursue fashion designing. He told me to follow my heart and advised me to do it well."
This encouragement was enough for Rahman to say goodbye to his engineering college in the year 2000. He packed his bags and landed in Delhi. His passion for the stream ensured him a place at NIFT.
But coming from a background in Bihar, how difficult was it for him to adjust to the westernised NIFT campus?
Rahman answers, "It wasn't much of a big deal as I was coming from Bengaluru. But, for the first time, I was part of a classroom that had 70% girl students."
Life-changing decision
After passing out of NIFT in 2003, Rahman worked for companies like Grasim and Nath Brothers. Still, the passion to make his own mark burnt inside him. According to Rahman, this desire took him closer to political corridors.
"Fashion designers working for celebrities like film stars and cricketers always get noticed. I realised no designer was focussing on politicians. I decided to work in this area," he explains.
Rahman's first big break came with Lalu in 2003. This opened up new avenues of work for him. But his moment of fame arrived in the year 2008.
"Lalu chose a kurta pyjama designed by me for presenting the 2008 rail budget. The news appeared in the media and many other politicians started noticing me. I have never looked back since," Rahman says.
Dozens of stalwarts, like Murli Manohar Joshi, Ahmad Patel, Sharad Yadav, Mani Shankar Aiyar, HD Kumaraswamy, S Narayan Reddy and Siddharth Nath Singh, have been donning Rahman's creations for almost a decade.
In addition, Rahman has also designed clothes for several top bureaucrats. Former cabinet secretary and governor Prabhat Kumar, senior IAS officer LV Saptarishi and senior IPS officer Gupteshwar Pandey are among his illustrious clients.
The gift
Lalu's family has special affinity towards Rahman. He has even designed clothes for Lalu's son-in-law and Misa Bharti's husband, Shailesh Yadav.
Rahman has known Tejaswi since 2005, and the latter has been wearing his designs for quite some time. But this occasion was special, as he was taking oath to purportedly become the deputy CM of Bihar.
"Tejaswi is very amiable and tries to connect with the youth. He is committed to making of a new Bihar that is free of unemployment, a Bihar where everyone gets education and employment," claims Rahman.
When asked about the dress he designed for Tejaswi's oath taking, Rahman says, "I have used cotton blended two-ply material for his kurta-pyjama. One of the Nehru jackets was made from blue pure linen, and the other from dark blue cotton silk."
Even Lalu was all praise for his work. According to Rahman, when the RJD supremo saw Tejaswi's dress, he remarked in his characteristic style: "the clothes are superb... go and wear them."
Asked if politicians pay as willingly as other celebrities, Rahman says: "I have faced no problem in getting payments from politicians. But the dresses for Tejaswi and Tej were gifts from my side. It was my way of congratulating them on their fabulous victory."