Meet Elvis Gomes, former bureaucrat and AAP's likely CM nominee in Goa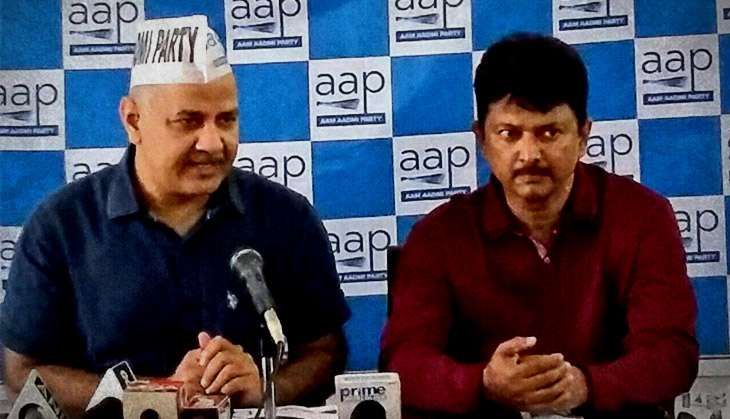 The Aam Aadmi Party has announced Elvis Gomes as its chief ministerial candidate in Goa. He was inducted into the party, by Delhi's deputy chief minister Manish Sisodia, on 5 October, just 10 days after he quit as the state's Inspector General of Prisons.
Gomes, a well known career bureaucrat of the Goa Civil Service, has held almost all important posts in Goa. Besides being IG, prisons, he held additional charge as director of urban development. Previously, he served as director of municipal administration and tourism, chairperson of Goa Housing Board, commissioner of the municipal corporation of Panjim, and Captain of Ports. He has even been elected president of the Goa Football Association.
Also Read: Ripe for the picking: why AAP is confident of winning Goa in 2017
His entry into politics, and through AAP, wasn't surprising because Gomes had been in conflict with the BJP government in the state for more than two years.
The state sends names of its senior civil service officers to the Union Public Service Commission for promotion to the Indian Administrative Service. Gomes' name was in the 2014 list as the second most senior officer, but he was moved to the 4th position after two junior officers sent representations asking to be moved up.
Gomes moved the Bombay High Court bench at Goa against the change. In July 2016, the high court upheld his allegation and quashed the change in the seniority list. By then, he had already resigned.
However, in September this year, the Supreme Court stayed the high court's verdict and is hearing the matter.
Eventually, Gomes' resignation was accepted and he was relieved from the Goan Civil Service on 27 September.
Around the time he resigned, Goa's anti-corruption bureau filed an FIR against Gomes for alleged irregularities during his stint at the Goa Housing Board. The case surprised many as it was a part of a larger "land scam" under investigation, but which took place when Gomes was not with the board. In fact, even Goa's deputy chief minister Francis D'Souza has gone on record expressing this, stating that Gomes was "politically victimised".
Gomes himself has minced no words about how this made him join politics. "I have seen this administration very closely for over 19 years, where I have noticed that lot of injustice has been done to bureaucrats. We have no idea as to whom they wanted to please and why at the cost of people," he said after his induction into AAP. In another statement, he said, "The current state government is completely collapsed with corruption."
Also Read: Newsmaker: Is Rajdeep Sardesai set to be AAP's candidate for Goa CM?
In an interview to The Goan Everyday, he said the "principal reason" he joined politics was because of "something that happened to me, where a grave injustice was committed and that too very brazenly, as if it could be done just like that to anybody. Then I realised if these things can happen to me, having worked at the highest level and for so many years, then it can happen to anybody else."
In the same interview, when asked if he would like to be the face of AAP in Goa, he responded with the stock line "if I am given the responsibility I will take it".
The last time this line was heard in this context was from Rajdeep Sardesai, the veteran TV journalist. In May, rumours were rife about him joining AAP and becoming the party's chief ministerial candidate in Goa, where Sardesai's family is originally from. Sardesai hasn't joined AAP; he recently launched a new quiz show on TV Today network, an indication that he may be staying put in broadcasting.
Another personality who was once talked about as AAP's chief ministerial candidate is Oscar Rebello, a physician, activist and popular orator who has been with the party since its inception and was also its most popular face in Goa. AAP's Goa unit reportedly nominated him as their choice for CM nominee in mid-September. In end-September, however, Rebello told the press he wasn't interested in contesting elections.
With Rebello pulling out of the race, Gomes has become the likely pick for CM nominee. In any case, AAP's Goa unit is excited about him, running the hashtag #ElvisjoinsAAP on Twitter after he joined, and posting photographs of him featuring his quotations.
#ElvisJoinsAAP pic.twitter.com/5lNi1HyEOa

— Aam Aadmi Party Goa (@AAPGoa) October 5, 2016
The only other possible CM candidate to have emerged so far is Valmiki Naik, the party's Goa in-charge. Although Naik couldn't be reached for comment, a recently announced AAP candidate said Gomes is the more plausible candidate due to his stature. "He is the first Goan 'A' grade officer to have quit the government accusing it of corruption."
The final decision though, the candidate said, will be taken by AAP's central leadership soon.
Also Read: Will Goa be the first state where RSS cadres work to defeat BJP?