Mayawati's Azamgarh rally: Modi, Mulayam and media on the firing line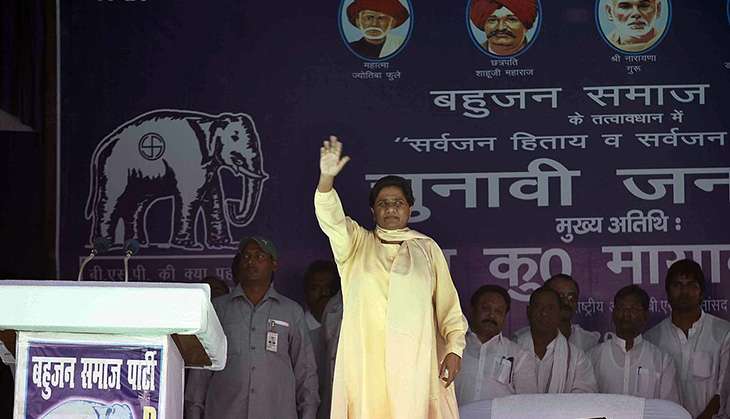 The Bahujan Samaj Party (BSP) chief Mayawati is a changed leader these days. Various pre-poll surveys have given her an edge over other parties and impressive turnout at her rallies in Agra and Mulayam Singh's home turf of Azamgarh last week would have bolstered her confidence further.
However, the real change lies in the tactical shift in Mayawati's ideological lines. Icons like Jyotiba Phule, Bhimrao Ambedkar and Sant Ravidas are no longer merely symbols of Dalit pride for her party; they now represent the vision of 'Sarvajan Hitay' (Welfare of All).
Tactical turns
Mayawati now demands reservation for poor upper castes and minorities as well. This paradigm shift in BSP's politics is sending her opponents into a tizzy, especially the BJP and the Samajwadi Party (SP).
The SP had advocated quota for minorities ever since the last Assembly elections. But, this has not been possible till date.
Besides sending a signal to the SP's core constituency, Mayawati has also sought to make inroads into BJP's upper caste vote bank by favouring reservation demand on economic criteria for them.
BSP's reservation policies go against the corporate sector that has always looked down upon the notion of positive discrimination. But, this hardly seems to deter a resurgent Mayawati in the run-up to the state polls.
The 'war cry' in Azamgarh
The reservation issue was the focus of Mayawati's speech in Azamgarh on Sunday. She started by training her guns against Congress and then slammed BJP and SP. The BSP supremo didn't spare the media either for its 'anti-Dalit attitude' either.
It was a significant rally for Mayawati in many respects. While a team of BJP's state leaders is camping in Poorvanchal, not far from Azamgarh, SP's senior leader Shivpal Yadav had also completed his Varanasi visit just a few hours before the rally.
The BSP supremo ascended the stage on a hot and humid afternoon. But, the weather had little effect on her supporters, hordes of which filled the rally ground. Almost thrice the number of people were standing outside the ground to listen to Mayawati speak.
Raking up reservation
Mayawati began her speech by acknowledging the impressive turnout and then immediately fired a salvo on the ruling party. "Mulayam Singh ke liye ye maidan bada hai, BSP ke liye chhota hai. (This ground might be too big for Mulayam Singh, but it is small for BSP)," she said, amidst thundering applause.
Then, Mayawati turned to the Congress. Criticising the recent statements of some Congress leaders over quota to the upper castes, she thundered, "Arey, Arakshan dena hota to itne saal sarkar thi tabhi de diya hota. (The Congress would have provided reservation long ago if it were serious on the issue)."
Addressing the Congress CM candidate Sheila Dikshit as 'Buzurg Mahila' (an old lady), Mayawati reminded the crowd that she had blamed the migrants from UP and Bihar for Delhi's ills as the Chief Minister of the capital state.
Targeting BJP
Mayawati apparently perceives BJP as a bigger threat than the ruling party if her Azamgarh speech is anything to go by.
Taking potshots at the saffron party, she accused it of courting BSP's 'rejected leaders'.
"Acche dino ke sapne bure dino mein tabdeel hone lage hain. Batao, kya sarkar ne ek bhi pakka makan aapko banakar diya hai? (The good days are turning into bad ones. Has the Modi government built a single cement house for you)," she asked.
Mayawati also slammed central government's employment policy and its attempts to implement the land acquisition law through the back door.
Her ambit of issues seems to be clearly expanding as she cautioned that the Modi government could declare a war on the country before the next general elections.
Taking on the media
Like SP and BJP, a section of the media is also 'anti-Dalit' in the eyes of Mayawati.
According to her, media deliberately reports Dalit-related issues with bias and shows only one side of the story.
"Hamare bare mein kaha jata hai ki hum ticket bech rahe hain, fir kaha jata hai log BSP chhod ke ja rahe hain, ye dono batein kaise ho sakti hain (We are accused of selling tickets. At the same time, they say people are leaving the BSP. How can both be true?)," Mayawati asked.
Mayawati has apparently learnt lessons from the Dayashankar episode and realises that an immediate reaction could backfire. Therefore, she asked her supporters to be patient and wait for their turn to react.
Edited by Jhinuk Sen
Also read: Battleground UP: how Mayawati is laying the groundwork for 2017
Also read: Will Mayawati bail out Kapil Sibal; will Subhash Chandra make the cut? Your RS poll guide
Also read: Mayawati sounds poll bugle, equates Mathura & Muzaffarnagar with Godhra
Also read: Mayawati and Arvind Kejriwal hit the ground in Punjab's Dalit heartland
Also read: Mayawati shows who's boss, reshuffles BSP rank and file