Mamata to attend Congress rallies in Punjab & SP-Congress rallies in UP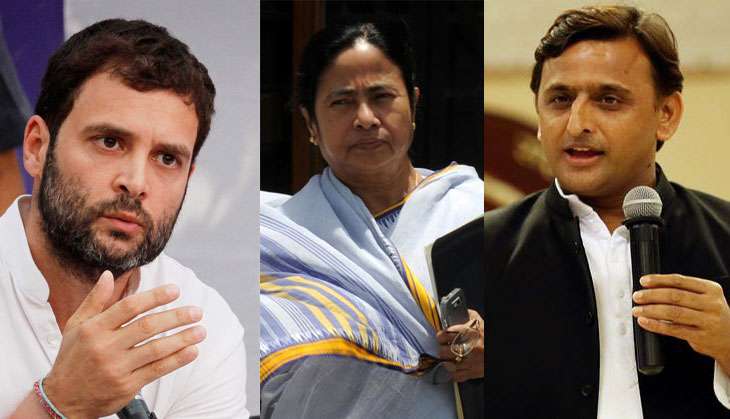 Trinamool Congress Chief Mamata Banerjee is likely to attend a couple of rallies of Akhilesh Yadav and Rahul Gandhi in Uttar Pradesh and some Congress rallies in Punjab in a desperate attempt to strengthen her non-BJP ties and to boost her anti-demonisation move against Narendra Modi.
The dates of the rallies will be finalised at a meeting to be held at Banerjee's residence in Kalighat on 30 January.
Top sources in the AITMC said that they would not field any candidates in UP as Mamata wants to highlight that she is against the division of anti-BJP votes in the state.
Sources also said that she will support the alliance and has urged voters to vote against the anti-people policies of BJP, thus strengthening her move against demonetisation.
Spreading out
In Punjab, AITMC has fielded candidates in 20 seats and with Congress support, the party wants to put up their base in Punjab.
A senior TMC minister said, "Mamata 's main intention to attend the Congress rally in Punjab is to get more support from the Congress during her protest against demonetisation and she is confident that without Congress support she won't be able to strengthen her base in Punjab either."
"If all things goes as per the plan, then Banerjee is likely to attend two rallies in UP as she had gotten Akhilesh Yadav's support when she had organised a rally in protest against demonetisation in UP. The dates of UP rallies and the place will be decided on 30 December," added the minister.
While Mamata has called a meeting with all her party MP's on 30 January, an all part meeting is scheduled to be held in the Parliament on the same date as well. Thus uncertainty looms on whether AITMC is joining the meeting at the Parliament or not.
The demonetisation issue
According to few Trinamool ministers, the protest against demonetisation will continue as per schedule and on 30 January it will also be decided how they are going to increase their protest against the issue.
Simultaneously, Banerjee's move to attend rallies supporting the Congress and Samajwadi party in UP and Punjab polls will give AITMC an edge on her move to set up a third front.
Senior TMC ministers said that Mamata wants to feel the pulse of the people of UP while attending rallies and it will help her to forge deeper ties with the anti -BJP parties to fight against demonetisation and to portray herself on the national political arena.
This will also help her to gauge the mind of the people before planning to field any AITMC candidate in the next Assembly elections in UP.
Few TMC ministers and MP's like Bobby Hakim, Sultan Ahmed and Mukul Roy are going to attend the rallies with the chief minister in both UP and Punjab.
Mukul Roy said, "Till now the dates for the Punjab rally has not been finalised, but Banerjee has expressed her desire to attend rallies of the Samajwadi Party and the Congress and we are trying to fix suitable dates by coordinating with other political party leaders too."
A bigger plan
Political analysts, however, are of the opinion that her decision to attend the Congress rallies in Punjab and joint rallies of SP and Congress in UP clearly indicates that she wants to strengthen her anti -BJP stand and wants Congress to remain by her side as they earlier had during her protest against demonetisation.
Eminent political analyst, Amol Mukherjee, said, "AITMC is desperately looking to strengthen its base outside Bengal and with CBI arresting party leaders like Sudip Bandhyopadhyay and Tapas Pal for their alleged links with the Rose Valley scam, Mamata is trying to seek more support in favour of AITMC from anti-BJP parties to raise her pitch against demonetisation."
Edited by Jhinuk Sen