Mamata's latest challenge: BJP poaching and RSS propaganda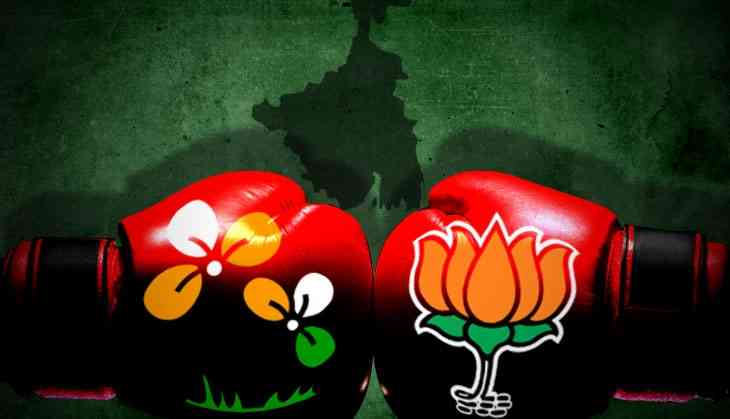 On Sunday, when the Bharatiya Janata Party (BJP) announced two-time Trinamool Congress (TMC) MLA Manju Basu as its candidate for the upcoming Noapara byelections, it seemed like a blow to the TMC. However, mere hours after the announcement, Basu issued a statement saying that she remained a "loyal soldier" of West Bengal Chief Minister Mamata Banerjee, and that the BJP had acted without her knowledge.

While the BJP has since selected Sandip Banerjee, its Barrackpore district chief, as its new candidate for the Noapara seat, this tussle for support is indicative of a fierce battle being fought between the BJP and TMC to maintain control over their followers in light of the upcoming Noapara and Uluberia bypolls. While the Trinamool Congress is trying hard to ensure that no TMC workers shift their allegiance to BJP, BJP workers are doing their best to poach from their rival's camp.
An ongoing battle
According to BJP state president Dilip Ghosh, Basu's decision to side with TMC was not without pressure. "TMC has threatened Manju Basu and that's why she supported Trinamool Congress," Ghosh claimed, adding, "The TMC leaders have taken law in their own hands and people are frightened to voice their support for us."

However, state parliamentary affairs minister Partha Chatterjee rubbished the claims. "It is not easy to poach our leaders by simply playing gimmick. People support Banerjee and we are confident that our vote share will increase in the upcoming by elections. BJP is trying to divide people on religious lines and that's why people support us," he reiterated.

This tussle has already had a casualty, a BJP worker named Anisur Rahman who had defected to the BJP from the TMC a month prior. On Monday, an FIR was lodged against Rahman, a resident of Panskura in East Midnapore, accusing him of sexual assault. He was subsequently arrested and produced in court. However, Ghosh alleges that this is nothing more than political vendetta, claiming, "Trinamool Congress is trying to frame false charges against Rahman as he joined BJP from TMC."
Mamata's RSS warning
On Tuesday, CM Mamata Banerjee stated that the Rashtriya Swamsevak Sangh (RSS) had set up an NGO that was sending RSS teachers to indoctrinate children in tribal areas. This, she said, was being done in the name of nationalism.

Speaking at a public rally in Alipurduar, North Bengal, Banerjee said "Do not accept such kind of proposal from any organisation. In the name of imparting education, RSS is trying to impart extremist education to children . I have also received information that one RSS backed organisation has distributed some booklets to Class II students at Uluberia in Howrah, where they have mentioned false claims against Prophet Muhammad." Mamata assured her followers that an FIR has been lodged against the offending NGO.

However, Mamata has a lot to be wary about when it comes to the RSS. According to the RSS, while in 2014 there were 1,280 shakhas in Bengal, that number has increased to 1,492 in December 2016. Of the total number of shakhas, south Bengal has the majority with 1,069, whereas north Bengal has 426. There has also been an increase in the number of RSS-affiliated schools, with around 309 RSS-affiliated primary schools in the state at present, with around 3,193 appointed educators teaching around 66,090 students.