Mamata offers to back Meira Kumar for RS, puts Congress in a bind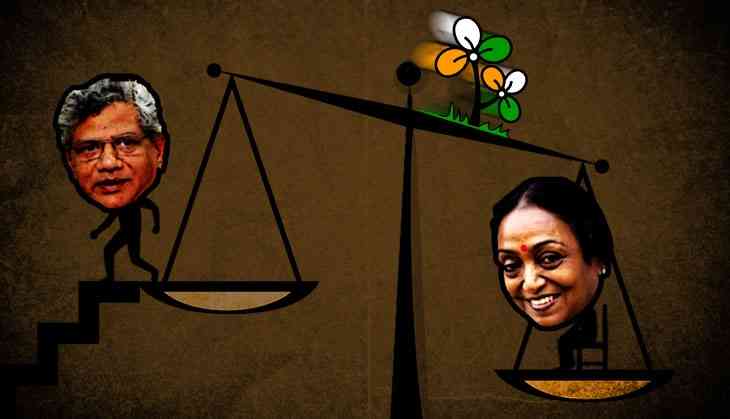 CPI(M)'s decision not to nominate Sitaram Yechury for another Rajya Sabha term and the All India Trinamool Congress' offer to support former Lok Sabha speaker Meira Kumar has left Congress in a tight spot.
The party is struggling to decide its nominee for the Upper House. Apparently, the party had already shortlisted Pradip Bhattachariya and Nilanjan Roy and Kumar's name didn't feature in the list.
Although the Congress has 43 MLAs, seven have shifted to the Trinamool Congress. One CPI(M) MLA also joined the TMC recently. There are 31 MLAs of the Left Front and it cannot get a Rajya Sabha seat on its own.
Congress sources said that the CPI(M)'s decision not to field Yechury has made matters difficult for the party and given an opportunity to CM Mamata Banerjee to try and drive a wedge in the Congres-Left alliance.
Trinamool already has sufficient numbers to get five of its leaders re-elected to the Rajya Sabha.
The TMC's announcement that it would support Kumar for the sixth seat has forced the Congress to rethink.
"We haven't finalised the names for the sixth Rajya Sabha seat. The Congress high command will take a final decision in this regard soon," Congress leader Abdul Mannan said.
Many say CPI(M) has committed a blunder by not renominating Yechury.
According to former Lok Sabha Speaker Somnath Chatterjee, "I feel that CPI(M)'s decision not to renominate Yechury to the Rajya Sabha is a political blunder. I am surprised by the decision of the party politburo".
Amol Mukherjee, former principal of Presidency University and political analyst, said "It's a political blunder. This has given an opportunity to the TMC to pressurise put pressure on the Congress. At a time when CPI(M) and Congress were fighting almost every election together, this decision must have left Congress red-faced".
The term of 6 Rajya Sabha MPs from West Bengal is ending in August -- Dola Sen, Derek O'Brien, Sukhendu Sekhar Ray, Debabrata Bandhyopadhyay (all Trinamool), Pradip Bhattacharya (Congress) and Sitaram Yechury CPI(M). Trinamool has re-nominated all its MP's except Debabrata Bandhyopadhyay as he is not keeping well. Manas Bhunia who shifted from Congress to TMC and Shanta Chhetri , have been nominated for the remaining seats by TMC.
On the other hand a section of Congress leaders feel that Mamata's decision to support Kumar is just eyewash as she knew that the party won't field her. This could be aimed at pressurising the Congress to nominate a name Banerjee can trust.
According to Congress leader Om Prakash Mishra, "We are not facing any sticky situation. The names are yet to be fixed. Moreover, we don't need the TMC's support. Although seven Congress MLAs have shifted their allegiance, they haven't officially done so. Therefore they will have to vote for the Congress nominee".