Mamata fires salvo at Modi after CBI nabs Sudip as BJP, Trinamool supporters fight it out
Two days after the arrest of Trinamool Congress MP Tapas Pal, the Central Bureau of Investigation (CBI) arrested TMC MP Sudip Bandyopadhyay in connection with the Rose Valley chit fund scam.
Chief Minister Mamata Banerjee has alleged that this arrest is a result of BJP's political vendetta over her party's raised pitch against demonetisation. She challenged Prime Minister Narendra Modi, saying her party would intensify their protests against demonetisation if the restrictions on money are not withdrawn.
Also read -Tapas Pal arrest: Mamata cries vendetta by Modi, demands he quit as PM
The CBI should arrests first Modi and the Amit Shah and ask them where Modi gets the money to buy jackets worth crores, she said.
Bandyopadhyay's arrest
CBI sources claim that many irregularities were noticed when Bandyopadhyay failed to answer several questions about several documents while he was grilled for four hours.
Bandyopadhyay has been taken to Bhubaneswar on 3 January and will be produced in court on 4 January.
The uproar
Soon after Bandyopadhyay was arrested, Trinamool Congress Chhatra Parishad (TMCCP) members ransacked the BJP party office at Central Avenue. Some BJP members were injured as TMCCP supporters hurled stones at them.
As the situation turned violent, the police tried to pacify the angry mob. The entire area was blocked off and several cars were damaged.
While the TMCCP supporters claim that Bandyopadhyay has been arrested because of BJP's political vindictiveness, BJP supporters claim that the attack on their office was planned.
BJP leader Siddharth Nath Singh said, "It was a planned attack on the BJP office in Bengal and Mamata Banerjee should answer why the names of TMC leaders are coming to the forefront in the chit fund scam."
Later, after the violent outburst died down, TMCCP supporters took part is a sit down demonstration to protest BJP's attempt to politically use the CBI to arrest their leader.
Later, a few BJP leaders met the Governor of West Bengal and submitted a deputation narrating the entire incident.
After Bandyopadhyay's arrest, a few TMC ministers and MPs also gheraoed the CBI office in Salt Lake.
Central forces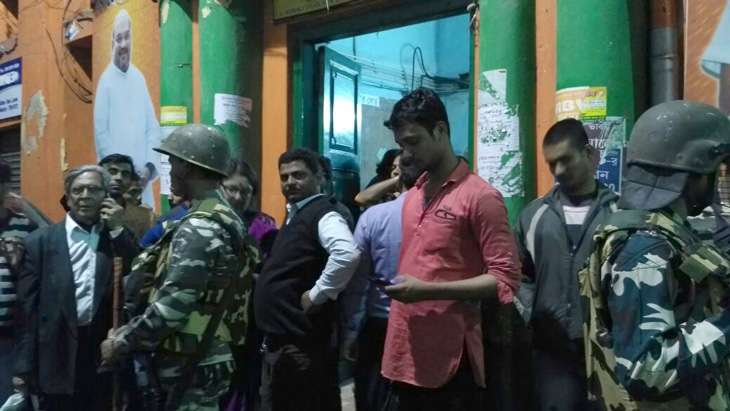 Catch News
Meanwhile, around 10 CRPF jawans were seen at the spot. BJP national secretary Rahul Sinha confirmed that they are there for his protection.
"It is constitutionally incorrect to deploy central forces without state permission," a TMC minister said.
More dharnas to come
After Bandyopadhyay's arrest, CM Banerjee alleged this was a case of political vendetta.
Banerjee said, "I received information from the Centre that I should stop raising my voice against demonetisation. They are arresting TMC leaders because I did not listen to them. Banerjee vowed to keep her high pitch against the note ban going if the CBI continues to arrest more leaders from her party.
Banerjee has also claimed that the names of Kolkata Mayor Sovan Chatterjee and state urban development minister Firhad Hakim are also on the list with the CBI and that they are likely to be next on the hit list.
Many TMC MPs will now head to Delhi this week to stage a dharna to protest Modi's political vindictiveness. TMC has also decided to launch statewide agitation and intensify the stir against demonetisation.
State parliamentary affairs minister Partha Chatterjee said, "We will continue our protest as long as BJP continues their political vindictiveness."
Edited by Aleesha Matharu
More in Catch - Tapas Pal drags Babul Supriyo's name into Rose Valley scam, Supriyo calls it political vendetta
TMC MP Tapas Paul arrested by CBI in chit fund scam case