Lok Sabha Elections 2019, Sixth Phase: Pitroda's intemperate outburst could cost Congress dearly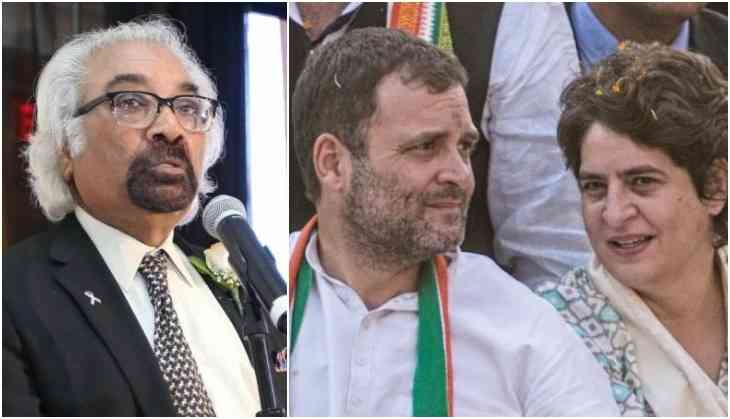 When seven constituencies in Delhi, the national capital, go to polls on Sunday, along with 52 other seats in six states, the focus will possibly be on the impact of Rahul Gandhi's 'guru' Sam Pitroda's shocking statement regarding 1984 anti-Sikh riots on the electorate.
The Congress has disowned Pitroda's 'Hua toh hua' remark and asked him to apologise, but whether his intemperate outburst will damage the prospects of the Congress candidates in Delhi, Haryana and Punjab with large Sikh populations – which together account for 30 seats – remains to be seen.
Having drawn a blank in Delhi in 2014 Lok Sabha elections and ceding much of the ground to the Aam Admi Party in the subsequent Assembly polls, the Congress was hoping to rebuild the party in these elections. It agonised for long over aligning with the AAP to offer a united challenge to the BJP, but former Chief Minister of Delhi Sheila Dikshit prevailed on the leadership to go it alone.
Octogenarian Sheila Dikshit is leading from the front by becoming a Congress candidate from North West Delhi. She is taking on Bhojpuri singer-actor Manoj Tiwari (BJP) and Dilip Pandey (AAP) in a triangular fight. In New Delhi, sitting MP Meenakshi Lekhi is pitted against Ajay Maken (Cong) and Brijesh Goyal (AAP).
The East Delhi constituency is facing a no-holds-barred contest between cricketer-turned-BJP candidate Gautam Gambir and Athishi Marlena of the AAP, who is credited with 'revolutionising' Delhi's education system, though she has also received equal criticism.
In the prestigious South Delhi seat, incumbent BJP MP Ramesh Bidhuri is facing international boxer-turned-politician Vijendra Singh (Cong) and Raghav Chadha.
The general perception is that by failing to adopt the ghatbandhan principles in Delhi, Congress and AAP might have eased the path for BJP to virtually repeat 2014 performance.
In the neighbouring Haryana, where all the ten seats are going to polls, BJP will be hard pressed to retain the seven seats it won last time. The performance of the BJP government led by Manohar Lal Khattar is far from satisfactory and the party is heavily banking on the 'Modi factor' to sail through these elections.
The Indian National Lok Dal (INLD), the party of the Choutalas, which secured two seats last time, has split since then, leading to the formation of Jananayak Janata Party (JJP).
Haryana's decades-long love affair with dynastic politics continues and the electoral field is filled with the dynasts of various hues.
In Hisar, for instance, it is a grand triangular fight among three dynasts: Dushyant Choutala (JJP), great grandson of late Deputy Prime Minister Devi Lal, contesting against Bhavya Bishnoi (Cong) grandson of Bhajan Lal and Brijendra Singh (BJP), son of Union minister Birendra Singh, and an IAS officer of Haryana cadre who resigned from service to stand for election. Brijendra Singh is also the grandson of well-known peasant leader, Chhotu Ram.
In Rohtak, which is a Hooda family stronghold, former chief minister Bhupinder Singh Hooda has put up his son Deepinder Singh Hooda to defend it for the third time. Choudhury Ranbir Singh Hooda, the grandfather, had also won from here twice. To make the family hegemony complete, Bhupinder is also contesting from Sonipet, though his eyes are set on the Assembly polls due in less than six months.
In Bhawani, it is another Congress strongman Bansi Lal's granddaughter Shruthi Choudhary who is giving a tough fight to BJP's sitting MP Dharamvir Singh.
Uttar Pradesh – where the BJP had won 12 out of 14 seats going to polls in this phase – offers the biggest challenge to the BJP as the SP-BSP alliance has overcome its initial hiccups and Akhilesh Yadav and Mayawati seem to have got their cadres to work together. The Congress also seems to be playing ball by covertly supporting the ghatbandhan candidates wherever they are in a position to defeat the BJP.
The inter-changing of constituencies between mother and son duo of Maneka Gandhi and Varun Gandhi at their request demonstrate the muddled thinking in the BJP. The voters of both Sultanpur and Philibhit don't seem to have taken it kindly and the BJP may end up losing both.
On the other hand, in the SP, Mulayam Singh Yadav has vacated his Azhamgarh seat to his son, Akhilesh Yadav and moved to his old constituency of Mainpuri and in the absence of a challenge from the BSP, they are expected to romp home comfortably.
In Bihar, the BJP and its ally, LJP are defending all the eight seats against an RJD-led ghatbandhan, which has roped in even smaller caste outfits like Vikassheel Insaf Party (VIP) of Mukesh Saini and Hindustan Awam Morcha of former Bihar CM Jitan Ram Majhi. Saini, representing a Mallah (fisherman) community, is expected to add value to the alliance, but how effective it will be remains to be seen.
Bhopal in Madhya Pradesh is witnessing a battle royal between former chief minister Digvijay Singh and Sadhvi Pragya Singh Thakur, an accused in the Malegaon blast case. Digvijay has paraded with like-minded Sadhus to prove his Hindutva credentials and he is no pushover in these polls. In Guna, Jyotiraditya Scindia of the Congress shouldn't have too much difficulty in retaining his seat.
There are eight seats at stake in West Bengal, all held by the Trinamool Congress. BJP is giving a tough fight to TMC by fully exploiting the Bengalis' growing uneasiness with the uninterrupted inflow of migrants from the neighbouring Bangladesh. There are reports suggesting that even some of the communist cadres are supporting the BJP to defeat their principal rival, Mamata Banerjee. BJP has to cross the threshold of 30 per cent votes across the state to be able to better its 2014 performance when it won only two seats.
The sixth phase now and the last one on May 19 together account for 118 seats, which, by and large, will decide as to who will call the shots in government formation: The BJP or its existing and potential allies.
Also Read - LS Phase Phase 6: Polling on 59 seats; Gambhir, Pragya Thakur among early birds