Lawyer Indira Sharma: Nitish started well, but has now lost his mind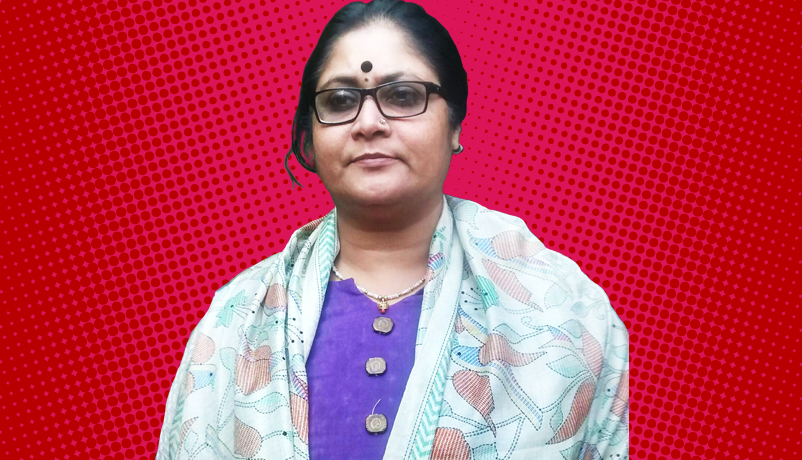 The person
Indira Sharma is a Patna-based lawyer
She specialises in domestic violence and dowry cases
The viewpoint
She feels that crimes against women have increased in the past one year
Bihar grew under Nitish Kumar. But he has squandered away all that was achieved
More in the story
Who will Sharma vote for?
What is her opinion on Narendra Modi?
Elections are not just about politicians. They're about people and issues. And what will really drive their vote.
Catch is, therefore, starting a 'People of Bihar' series, which will daily capture what different impact groups across the state are feeling. This is true insight on the Bihar election: up-close and hyper-personal.
Here we speak to Indira Sharma, a Patna-based advocate, who thinks Nitish Kumar has ruined himself.
The plight of women in Bihar is a subject close to Sharma's heart. The 50-year-old advocate practices in the Patna High Court and district courts, and specialises in domestic violence and dowry cases.
Indira herself is separated from her husband and lives alone in Patna. We spoke to her about the state of crime and other conditions in Bihar ahead of the assembly elections. Excerpts.
In Nitish Kumar's 10-year reign as Bihar chief minister, what has changed for the people of Bihar?
The biggest change that happened as soon as Nitishji's government took over was that there was a sense of peace and security. People were relieved that the reign of terror and crime was over.
Once that sense seeped in, a bit of business started coming in, some roads got built - people's hopes soared. Finally, Bihar was on the road to redemption.
In Patna itself, for example, a few hospitals were built, and good doctors started being hired to care for patients, rather than worrying about being kidnapped and running away from the state.
From a personal point of view, what is the biggest change you've seen or felt?
As a woman, the secure atmosphere was a great change. We could finally get out of the house again, and got a chance to work. Otherwise, our primary concerns used to be that while we were away, our houses would get burgled. If we went out, there was always a chance we could get kidnapped or molested. That fear had reduced.
You speak of all these changes in the past tense...
That's because things are back to square one. Women are again getting harassed, at home and outside, and cases don't get registered. The police has gone back to not cooperating.
In my practice, I come across so many women who have knocked on the court's door because no one is ready to listen to them. They are worried.
Patna is back to being dirty - in the literal and figurative sense. The stench in most places is unbearable, and there is no sense of cleanliness.
The two main alliances in this election are both made up of strange bedfellows. How do you perceive the coming together of bitter rivals Lalu Prasad and Nitish Kumar?
Look, casteist politics have been Bihar's bane for decades. No matter who you are, you want power for your own caste. Every political party has to exist within this framework and adapt itself to this reality.
It's a fact that Bihar was a living hell under Lalu and Rabri. The coming of Nitish was a ray of hope. But now, Nitish's time in the chair seems to be over, because he's exhibiting signs of vinaash kale vipareet buddhi (when the end is near, the mind flips). He has gone and aligned with Lalu. Does he think the people of Bihar have forgotten Lalu's misrule?
"The Grand Alliance is a maha-thug-bandhan," says lawyer Indira Sharma scornfully
Crime has gone back to the same level as the dark days, and Biharis are again running away to find opportunities in other states. Lalu is still harping on casteism, pitting Yadavs, Muslims and lower castes against upper castes.
This is nothing but the politics of division. This is not a mahagathbandhan (grand alliance), it is a maha-thug-bandhan.
And what about the NDA?
It seems the better option certainly. The aura of Narendra Modi is such that it again raises our hopes.
I'm not saying the NDA is free of caste politics. But the fact is, castes are unfortunately still the deciding factor in Bihar. So if they have brought together a few caste leaders like Jitan Ram Manjhi, Ram Vilas Paswan and Upendra Kushwaha, it's understandable.
At the end of the day, the NDA is still betting on Modi's charm. He has that image of being very aware in matters of safety-security and business. He is a workaholic and sets an example.
The people I meet on a daily basis still say they are swayed by caste. But somewhere, they all agree that the NDA should get a chance.
We are seeing a rise of communal tensions and a growth of Hindu fundamentalism across the country. Are you concerned about this in Bihar?
I don't see communalism rearing its head anytime soon in Bihar. Whenever there is even a whiff of it, people on the ground are handling it well.
Having said that, the three-four day period around Dussehra and Muharram will be crucial in areas like Bhagalpur and Bihar Sharif, which have seen communal tensions in the past. But if people use their brains, any trouble can be averted.
What is your wish list for the future?
For women to be safe, for there to be job opportunities, for there to be electricity. I wish there are more industries, more money pours into Bihar, and crime rates fall again.
In terms of corruption, the Nitish government has been even worse than Lalu's. The next government should realise that it sets example for the common people of Bihar, and acquit itself well.
The common Bihari is smart and hard-working - they show that in places like Delhi and Mumbai, where they make a key contribution to the economy. All they need is a good support system.
Also read: Dalit PhD student Krishna: 7/10 for Nitish, 3/10 for Modi
An ATM guard who's always with a book, and why he'll vote NOTA
Banka Silk founder Udayan Singh wants a third term for Nitish
Graduate Azra feels Modi isn't inclusive enough to vote for
Whoever comes to power must create jobs: front-office boy Divyanshu
Nitish is a better leader than Modi: Student politician Zeeshan
Nitish has ruined his chance by joining Lalu: Lakshmi, graduate, Muzzafarpur
There's little to choose between Modi and Nitish: wannabe cop Vinit argues for NOTA